Archbishop Unveils & Blesses Statue of St John Paul II with WYD Pilgrims
Catholic Communications, Sydney Archdiocese,
7 Sep 2015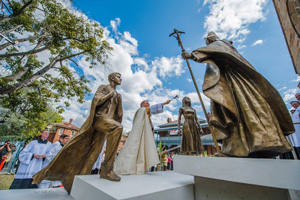 More than 350 attended the unveiling and blessing of a superb bronze monument of St John Paul II flanked by four WYD pilgrims on the steps of St Patrick's Cathedral, Parramatta by former Bishop of the Parramatta Diocese, and now the Archbishop of Sydney, the Most Rev Anthony Fisher OP.
Sculpted by Linda Karsfeld, the internationally-regarded Czech-born, Sydney-based artist, the monument was commissioned two years ago by the Archbishop, who was then Bishop of Parramatta, as a permanent tribute to St John Paul II who founded the Diocese of Parramatta in 1986 and who visited the new Diocese shortly after its creation.
The monument not only recognises St John Paul II as founder of the Diocese of Parramatta, to better serve the Catholic people of Western Sydney and the Blue Mountains, but commemorates the saint's deep love and faith in young people, and in particular his founding of World Youth Day.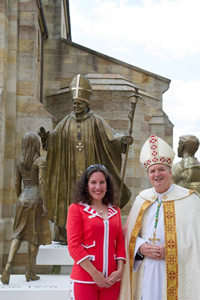 The monument which depicts St John Paul II surrounded by joyous young WYD pilgrims is a permanent tribute to World Youth Day, the initiative he established in 1985 and which remains one of his most important ongoing and ever growing legacies.
The four young pilgrims depicted in the monument created by Linda are wearing Australian flags, taking selfies and giving joyous thumbs up as they experience WYD for the first time.
"St John Paul II was truly the saint of the youth. He founded World Youth Day which enabled millions of young people to experience the faith in a new and almost revolutionary way," Archbishop Fisher says.
Archbishop Fisher is well known for his ease, understanding and rapport with young people and has had a long and close association with World Youth Day.
He was not only co-ordinator for Sydney's hugely successful WYD in 2008 but led a group of pilgrims from the Parramatta Diocese to WYD in Madrid in 2011. He also led a group from Parramatta to WYD in Rio de Janeiro in July 2013, which was also the year he commissioned acclaimed young sculptor, Linda Karsfeld to create a monument to be installed outside the main doors of Parramatta's St Patrick's Cathedral.
At just 39, Linda is one of Australia's best known and most in demand sculptors. Commissioned to create works by business leaders and mavericks such as Dick Smith, John Singleton and Gerry Harvey, she has sculpted two complete sets of the Stations of the Cross in bronze. One of these can be seen at Macquarie Park, Northern Cemeteries. The other is a much admired feature at the Eastern Suburbs Memorial Park.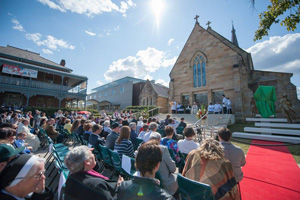 With her remarkable talent, Linda has build up a strong following, but she admits that creating the monument of St John Paul II and the four WYD pilgrims was one of her most difficult challenges.
"It was important to try and communicate visually what the young people were feeling through the use of body language. It was important to get across the emotion of the WYD pilgrims and the joy they were experiencing," she says.
It was also vital, Linda says, to portray St John Paul II as more than just a likeness, capturing the man himself, his presence and personality as well as the fact that not only was he a man of God, but also someone who had also been an outstanding athlete in his youth.
Linda studied hour after hour of films, photographs and videos of St John Paul II. But for the pilgrims she wanted real life models to help her capture their youth and exuberance.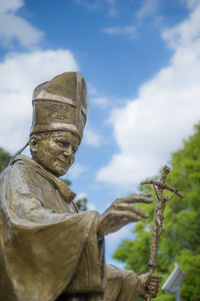 "I used one of my neighbour's young daughters, and for the other three I contacted a ballet school. With those trained in ballet they are not only extremely graceful but are strong enough to hold a pose for a longer than most people," she says.
The ages she chose to depict for the four pilgrims begin in the early teens and range from there to 17 and 21.
"I made lots of small models and would move them around and change position until I found a grouping that worked from all sides and hopefully keeps your eye being drawn to St John Paul II and the four young pilgrims."
From there Linda began work on the final monument, creating the sculpture in clay. A mould was then made of the figures and finally cast in bronze.
With the five figures together weighing just over a tonne, installation of the monument took considerable time and expertise.
For those who watched the unveiling on Saturday, there was an instant response with many calling the statues and group an outstanding achievement and a triumph.
Archbishop Fisher is particularly delighted.
"It is my hope this statue will inspire a new generation to get to know this great man, a towering religious and political strength in his time that saw tremendous growth in the Church around the world," he says.
Photos by Giovanni Portelli