Archbishop Presents Awards for Student Excellence
Catholic Communications, Sydney Archdiocese,
4 Sep 2015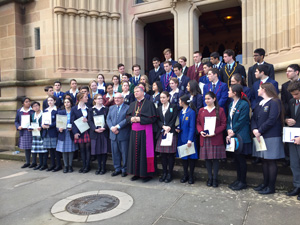 The Most Rev Anthony Fisher OP presented his first Archbishop of Sydney Award for Student Excellence to the outstanding students from each of the secondary Catholic schools, systemic and congregational in the Archdiocese at St Mary's Cathedral today.
The awards recognise and congratulate the leadership and example a number of young people have given in their schools as part of the Church's broader mission to preach the Gospel of Jesus Christ to twenty-first century Sydney.
The presentation was also attended by the Executive Director of Schools Dr Dan White, the three Regional Directors and a number of staff of the Catholic Education Office, principals and staff of the systemic schools, David Robinson chair of the trustees of Mary Aikenhead Ministries and other representatives of the congregational schools.
Many of the students families and friends were also present.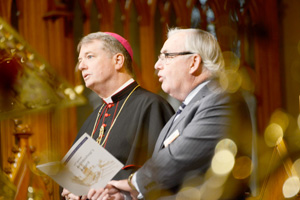 The Archbishop told the students;" Openly admitting that you are inspired by Christ and His Gospel, celebrating with and drawing strength from Him in the Eucharist and Reconciliation and works of justice and service, living as a Christian in today's culture can all seem rather uncool, unfashionable, putting you at risk of social death. Sure, you're unlikely to get 39 lashes but it can take 'guts' at times to live as women and men of character, integrity, of ideals. I honour that in you now. As you bishop I charge you with continuing to demonstrate such virtue and idealism in the studies, friendships and professions you embrace in the next stage of your adventure: in the vocations to marriage and Family or to the priesthood or religious life that some of you have before you."