Support & Solace for Those Who Lost Loved Ones to Suicide
Catholic Communications, Sydney Archdiocese,
3 Sep 2015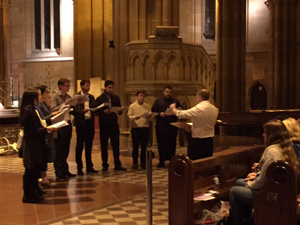 More than 200 families and friends gathered at St Mary's Cathedral last night to remember and pray for loved ones lost to suicide.
Auxiliary Bishop Terry Brady presided at the inaugural non-denominational remembrance service last night.
For those grieving over the loss of a precious son, daughter, father, mother or friend who died as a result of suicide, the service offered a sense of hope and peace. For others at the service, it was a show of support to the bereaved and a chance to pray for those they had lost.
An initiative of Catholic Cemeteries & Crematoria and Southern Metropolitan Trust, and supported by the Archdiocese, the "Mention My Name" remembrance service offered support and solace for families and loved ones. It is hoped it will become an annual service to help remove the stigma associated with victims of suicide, so they can be remembered for the lives they lived, not the way they died.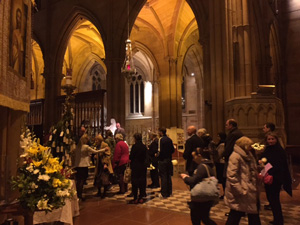 The word "Hope" was spelled out in candles and as people arrived at the Cathedral they were encouraged to write the names of the loved one they had lost to suicide on a special name card. They then took the cards attaching them to a Juniper Tree that had been placed in front of the sanctuary. The Juniper Tree, or Broome Tree as it is sometimes known, is an ancient symbol of hope and also of life's journey of twists and turns.
The music and hymns had been carefully chosen. These included "Be Still my Soul" sung by the St Mary's Cathedral Choir, "You Raise me up" and "Amazing Grace" by the Artes Christi Choir.
One of the most powerful moments during the service was when four men and women shared their own stories. Not only did this give them a chance to put a "face" as well as a "name" to those they had lost, but they were also able to talk about how shared experiences can help support others mourning the loss of a loved one to suicide, and finding both hope and healing.
The inaugural remembrance service also included the announcement of an ongoing "Mention My Name" Suicide Bereaved Support Program.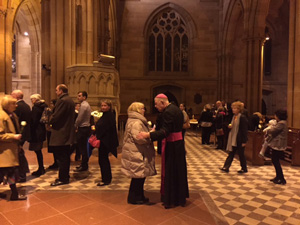 Peter O'Meara, CEO of Catholic Cemeteries and Crematoria spoke about the importance of this ongoing program.
From Monday, 21 September, guided by trained counsellors, grieving families and friends will be able to meet and share their stories at CatholicCare, Level 2, 2C West Street, Lewisham from 10.am until 11.30 am. Mention my Name groups will then be held at this time on the third Monday of each month at CatholicCare.
A Mention My Name program for the bereaved will also operate at Woronora Memorial Park. Counsellors will be on hand to guide families and friends and encourage them to share their stories. The first meeting at Celeste Cottage at the Park will take place from 2.30pm until 4.00 on Saturday, 26 September and thereafter every third Saturday of the month.
In addition, Mr O'Meara announced a Mention My Name Retreat Day at Benedict Abbey, Jamberoo on Monday, 21 September.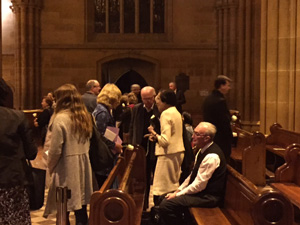 Together with helping to bring healing and hope to those who have lost loved ones to suicide, Patricia Thomas, Bereavement Consultant with Catholic Cemeteries and Crematoria is determined to remove the shame and stigma attached to suicide.
"Recent research shows us again and again that people who attempt or commit suicide are suffering from unrecognised and undiagnosed mental illness," she says, insisting that "People do not kill themselves. They die as a result of mental illness."
"Severe depression and anxiety are the two most common causes of suicide," says Professor Brett McDermott, Specialist in Child and Adolescent and Member of the Board of beyondblue.
However, even if someone you love is suffering from depression or anxiety, it may not be immediately obvious.
"It can also be hard for professionals to realise that someone is acutely depressed or anxious," he says pointing out that many people suffering from depression or anxiety are adept at hiding this.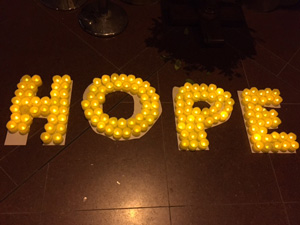 "The only way to find out if they are depressed or anxious is to ask them directly," he advises. "Don't assume someone is okay because they seem to be acting okay. They might not be showing any external signs but unless you ask them outright, you're not going to know," he says.
For almost all who take their own lives or attempt suicide the intention is temporary and the important message to get across, is that young or old, no matter what the triggers or stresses that lead someone to consider suicide they can be treated or mitigated, Professor McDermott says.
In Australia approximately 2100 commit suicide each year. The number is slowly decreasing with mental health support and organisations such as SANE, beyondblue, CatholicCare and suicide hotlines.
"We want to remember those we have lost no matter how they died with love and compassion. We also need people to know that grief is natural and a normal part of life," Patricia Thomas says, adding that while "time does heal - it's what we do with the time that matters."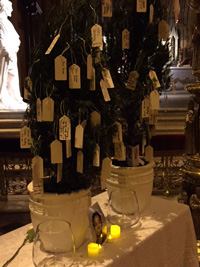 To find out more about Mention My Name groups at either CatholicCare or Woronora Memorial Park beginning later this month see either www.catholiccemeteries.com.au or www.woronoramemborialpark.com.au
Alternatively you can call Patricia Thomas, Bereavement Consultant and one of the driving forces behind the Mention My Name at 02 9649 6423 or you can email her at patriciat@catholiccemeteries.com.au
There are a number of organizations providing assistance for those who may need help or who are dealing with mental illness or thoughts of suicide. They include:
Postvention Australia, the National Association for the Bereaved by Suicide http://postventionaustralia.org/; beyondblue at www.beyondblue.org.au; SANE Australia at www.sane.org; and Headspace, National Youth Mental Health Foundation at http://headspace.org.au/