Matt Laffan Scholarship a Tribute to the Late Disabled Activist's Courage & Determination
Catholic Communications, Sydney Archdiocese,
28 Sep 2015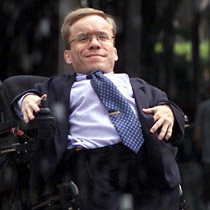 Matt Laffan, the late disabled activist, lawyer, Sydney Lord Mayor aspirant and member of the Rugby League Judiciary was just 38 when he lost his life-long battle with diastrophic dysplasia. But his courage, determination and outstanding achievements continue to inspire, and thanks to his family, his friends and St John's College Alumni at the University of Sydney, a scholarship in his name is helping others achieve their dreams.
Applications for the 2016 Matt Laffan Scholarship are now open to students with have a long-term physical disability, offering them the opportunity to reside at St John's College throughout the duration of their studies for a degree.
Worth as much as $20,000 per year and covering residential fees at Australia's oldest Catholic University College in Australia, applicants for the 2016 Scholarship must be enrolled or intend to enrol in an undergraduate or post graduate course at the University of Sydney.
Particular consideration will be given to those who are able to give evidence of their involvement in community service or involvement with a community organisation. Financial need and other measures of need among applicants will also be a consideration.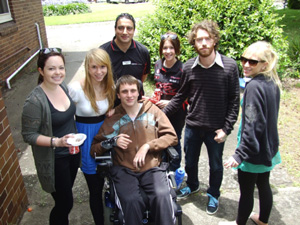 The first recipient of this important scholarship was Ben Kende, who at age 18 suffered a catastrophic spinal injury while playing in an international rugby competition in Hong Kong where his Australian parents were based. Rushed to Sydney for treatment, Ben continues to need physical therapy three times a week. He has no lower body movement, restricted upper body function and movement in just one of his four limbs.
Despite this, Ben not only graduated with a Bachelor of Commerce from the University of Sydney earlier this year, but won the St John's College Rector's Award for three successive years and was appointed Student Leader at the College.
Ben is now back at Sydney University and is living at Sancta Sophia College on campus while studying for a second degree, this time in law.
Like Matt Laffan, Ben is a high performer who continues to overcome extraordinary challenges and who refuses to be defined by his disability and what he cannot do, but rather by what he can do.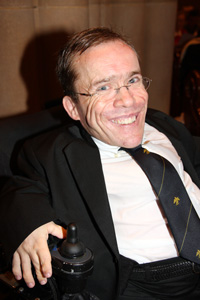 The next applicant awarded the Matt Laffan Scholarship in all likelihood will have that same drive and courage.
Established as an ongoing memorial to Matt Laffan and his remarkable achievements, the scholarship is funded by generous donations from the friends and family of Matt Laffan as well as the general public. Funds are also raised at an annual much-anticipated event known as "Laffo's Long Lunch."
To date more than $500,000 has been raised for the Matt Laffan Scholarship, putting this year's scholarship and those in the future on a sound financial footing, with applications for 2016 about to be advertised by the College.
"In addition to advertising we will also go through the University of Sydney's data base and contact all those with a disability who have applied for enrolment or are already enrolled to let them know about the scholarship, and invite them to apply," says Rector of St John's College, Adrian Diethelm.
When Matt was born to Jenny and Dick Laffan, former rugby union coach for NSW Country, NSW B and New South Wales teams, doctors gave the tiny baby who appeared to have dwarfism just a few days to live. But Matt proved them wrong and survived. Diagnosed with distrophic dysplasia or short limbs that fail to grow to normal length, he also suffered from coliosis and kyphosis of the spine. Twisting and causing constant pain, the condition of his spine became worse as he grew older. Although he was able to walk as a youngster, yet again defying the odds, by the age of 10, the twisting of his spine made it impossible for him to walk. That's when he underwent an operation to try to correct this. The operation was unsuccessful and from that time on Matt was confined to an electric wheelchair manoeuvred with great agility and skill.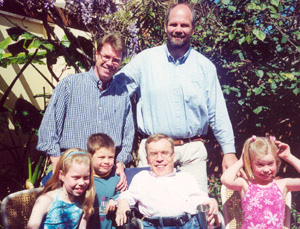 By the time he was in his teens, his father Dick was coaching the New South Wales Rugby Team. Two of Matt's heroes were players, Peter Fitzsimons and Nick Farr-Jones with each of whom he forged a strong and enduring friendship.
Matt's passion for the game was obvious from the start, Nick Farr-Jones told Australian Story for a program about Matt Laffan. "I saw a young fella who obviously couldn't play the game but his knowledge of the game and his passion for it was burning. And from then on we just became good mates."
Matt's passion for rugby continued throughout his years at St John's College. He wrote rugby articles for the student newspaper, Honi Soit, was involved in the organisation of the College's rugby team and after graduation became known for the player profiles he wrote for Rugby News.
During his years as a lawyer and public prosecutor, he became a serving member of the NSW Rugby Judiciary from 1996 until his untimely death in 2009.
"Matt Laffan isn't a disabled person. He is a man with disabilities. He's a man first and after it comes the disabilities," close mate Peter FitzSimons told Australian Story several months before the determined young lawyer lost his fight for life. "He has intelligence, he has humour, he has drive, he has great integrity, great honesty, great faith."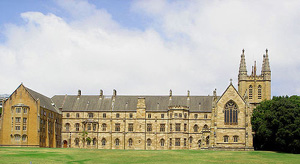 Throughout his 38 years Matt Laffan proved again and again that his disability was no impediment to living life to the full, having a wide circle of friends, a successful career and achieving in areas that are way beyond what most able-bodied people are able to achieve.
Thanks to Jenny and Dick Laffan, Matt's wide circle of friends including those he first met and befriended during his years at St John's College, with whom he continued to keep in touch, and the staff and alumni of St John's College, the Matt Laffan Scholarship gives others the opportunity to live at the College, study for a degree and to follow in Matt's footsteps.
Applications for the 2016 Matt Laffan Scholarship close on 27 November. To find out more about the 2016 Matt Laffan Scholarship and how to apply see http://www.stjohnscollege.edu.au/scholarship-bursaries/the-matt-laffan-scholarship/