World Meeting of Families Prepares for Papal Visit
Catholic Communications, Sydney Archdiocese,
25 Sep 2015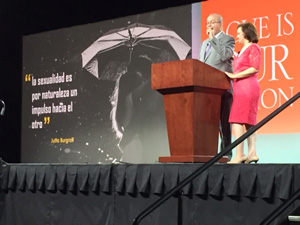 The Pope is heading to Philadelphia for the final two days of the World Meeting of Families - but there are a few stops before then.
Nearly 18,000 are registered at the Meeting in Philadelphia but numbers are expected to swell to perhaps one million when Pope Francis arrives for the Family Festival on Saturday and the Papal Mass on Sunday.
According to officials and organisers the World Meeting of Families has been a wonderful success.
Venues where the addresses, workshops and keynotes have taken place have all been packed with people from more than 100 countries - including Sydney Archbishop, the Most Rev Anthony Fisher OP who is also Chair of the ACBC Commission for Family, Youth and Life, and around 40 Australian delegates and families.
This morning Archbishop Fisher attended a talk by Juan and Gabriela de la Guardia on Meaning of Human Sexuality.
He said; "Very scientifically, well-informed and commonsensical. Exploring how deeply our maleness and femaleness run and what it means to say they are complimentary and made for each other. It seems so profound and yet so obvious: why can't the world see and hear this story?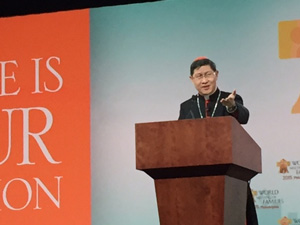 "They spoke also about the different ways men and women love, this natural difference that precedes celibate life, the celibate love we must learn before we can love conjugally, the marital love we must learn before we can love as families, and how all of these lead to and express love of God."
The Archbishop of Manila, Cardinal Tagle, who is often called the "smiling cardinal" (which he displayed when visiting Sydney not very long ago), was also one of today's speakers.
He spoke on the Family as a Hospital for the Wounded Heart but while the audience was listening intently all 10,000 broke into spontaneous applause when the Cardinal introduced his parents sitting in the front rows.
"There are lots of prayers here at the World Meeting of Families," Archbishop Fisher tweeted today.
"Really beautiful Masses. Faith-filled families. The procession of cardinals, bishops and priests takes 20+ minutes. On the hard bits they are really willing to take up the Cross and follow Christ!"
Meantime in Washington DC Pope Francis addressed a Joint Meeting of the United States Congress; visited St Patrick in the City Catholic Charities of the Archdiocese of Washington; flew from Andres Airfield to John F. Kennedy International Airport in New York and attended Evening Prayer (Vespers) at St Patrick's Cathedral.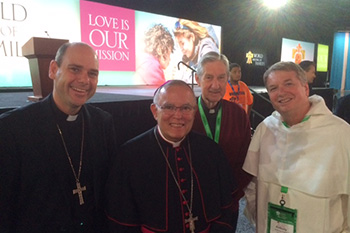 On Friday (New York time) he will address the United Nations General Assembly, attend a multi-faith service at the 9/11 Memorial and Museum at the World Trade Centre, visit Our Lady Queen of Angels School in East Harlem and the travel to Mass at Madison Square Garden via Central Park where crowds are already gathering in large numbers.
On Saturday morning he will depart for Philadelphia arriving to celebrate Mass at Cathedral Basilica of Sts Peter and Paul and later the for Festival of Families.
However the huge crowds are expected on the Sunday when the Holy Father will celebrate Mass for the conclusion of the World Meeting of Families. He will then meet with organisers and volunteers before departing for Rome.