World Meeting of Families Energises and Enlivens
Catholic Communications, Sydney Archdiocese,
24 Sep 2015
Thousands of people have packed into halls and venue sites in Philadelphia as the World Meeting of Families is in full swing.
Joining the 18,000 registered for the event is the Archbishop of Sydney, Most Rev Anthony Fisher OP who is also Chair of the ACBC Commission for Family, Youth and Life.
Along with the Australian contingent of pilgrims and the Bishop's Delegate for the Australian Catholic Marriage and Family Council, Bishop Michael Kennedy of Armidale, he joined Cardinal John Onaiyekan for Mass, the Catholic Archbishop of Abuja, in the morning before a full day of addresses, workshops and discussion groups. In his homily the Cardinal spoke of the unbreakable connection between truth and mercy, contrition and love.
As the part of the morning session, another Cardinal took up the theme of mercy, warning that efforts to "soften" Christ's teaching ignore the Good News of mercy.
Cardinal Robert Sarah, a native of the west African country of Guinea and Prefect of the Congregation for Divine Worship said in his address to delegates that even members of the Church can be tempted to soften Christ's teaching on marriage and the family.
Archbishop Anthony, who attended the address said: "Cardinal Sarah spoke on the family as a light in a dark world. Just as in the days of St Augustine and Athanasius, we rely on the African bishops to help us steer an orthodox course in confused times.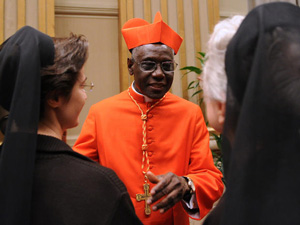 "He said we should not put the magisterium, the teachings of Christ and His Church, in a 'pretty box' as if they were irrelevant to pastoral practice and daily life. He said God's law for the human person and relationships does not 'confine' us: it opens up exciting new possibilities and ultimate happiness.
"This is not moralising, not finger-pointing, not being judgemental towards others but authentic family life shines as light in today's darkness."
Archbishop Fisher said there are umpteen "breakout" groups addressing all sorts of important topics.
"I heard Dr John Granowski talk today on the growing in virtue in the family.
"Some Christians thought married people were the 'B team' compared with martyrs, hermits and virgins. But other Doctors of the Church taught that spouses and parents give a particular witness to Christ, as Mary and Joseph did. Vatican II, St John Paul and now Pope Francis have presented the married vocation as 'the domestic church', as a place Christ heals our wounds and raises us in virtue. Marriage is not just 'a sacrament of mission' but also 'a sacrament of healing', redirecting our confused passions and cultivating holiness in us.
"Also reminds me of what Blessed Mother Teresa of Calcutta said to the question 'What can you do to promote world peace? Go home and love your family. "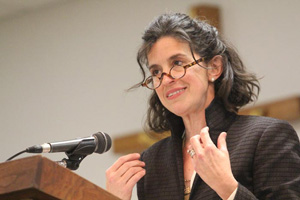 Dr Grabowski also had some advice for the upcoming Synod on the Family at the start of October in Rome. He spoke about the family as priestly, prophetic and kingly and the place people learn to pray and worship.
Dr Grabowski said the choice to marry and raise children is a prophetic act in a culture fixated on pleasure, power, money; families are centres of evangelisation when they hear and proclaim the Word of God. The family leads by the service of reconciliation, care and love and the Synods on the Family must be about empowering families to be these things.
Archbishop Anthony also attended a keynote address by mother of three, professor of law at George Mason University, Consulter for the Pontifical Council of the Laity, the US Conference of Catholic Bishops, Permanent Observer Mission of the Holy See to the United Nations and founder of Women Speak for Themselves.
Describing Helen Alvare as brilliant and an engaging speaker, Archbishop Anthony said; "She quoted Snoopy saying 'I love humanity, it's people I hate'. How are we going to learn self-sacrificial love towards strangers if we haven't learnt it first in a family? How are we to respond to a culture that does not welcome children, family, extended family, dependents, true community? That cuts off sex from love, children from sex? That reduces women's freedom to freedom from fertility and men's freedom to freedom from responsibility? The Good News, the therapy, is in good families."
The Archbishop also caught up with a number of religious sisters following a workshop on vocations and a few friends closer to home.

Along with Bishop Michael Kennedy and Emeritus Archbishop Barry Hickey of Perth he spent some time with Archbishop Charles Chaput OFMCap of Philadelphia.
"Of all the participants here at the Congress I think Emeritus Archbishop Hickey may just have travelled the furthest - 18,000 kilometres!," Archbishop Fisher said.
Pope Francis, currently in Washington, arrives in Philadelphia for the Family Festival on Saturday and Papal; Mass on Sunday which organisers believe could attract up to one million people.