MacKillop Scholarship Winner Earns Social Science Degree & Rediscovers Love of Art
Catholic Communications, Sydney Archdiocese,
21 Sep 2015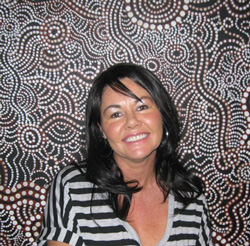 Since 1998 the Mary MacKillop Foundation has awarded Tertiary Education Scholarships for Indigenous Students, making it possible for them to go on to university. Many are the first in their family to have the opportunity of a higher education made possible by the Foundation which not only supports each of its scholars financially, but takes an active and personal interest in each one with regular phone calls and visits.
Over the past 17 years, 75 Indigenous students have graduated and are now working as lawyers, doctors, social workers, accountants, media consultants, IT specialists, actors, producers, teachers, nurses or some other field of endeavour.
In addition, the Foundation is currently supporting 66 Scholars at universities and colleges across Australia who are in their second or third year of undergraduate studies with a target figure of 200 by 2020.
Currently inviting applications for the 2016 Mary MacKillop Foundation Indigenous Tertiary Scholarship Program, the Scholarhips are open to men and women from Aboriginal or Torres Strait Islander backgrounds who are already studying for their first tertiary qualification. Successful scholars are asked to demonstrate their financial need for a Foundation scholarship and also show involvement in their local community.
There is no age limit for the Scholarships and those who apply can be studying any discipline at any of Australia's tertiary institutions.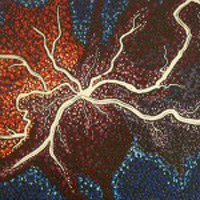 Like many awarded a MacKillop Tertiary Education Scholarship, the NSW Central Coast's Maria Watson-Trudgett is the first in her family to graduate from university. She is also one of the Foundation's many success stories and at 49 has found a new direction, new career and confidence in the future.
None of which she says would have been possible without the help of the Foundation.
"For 25 years I worked in the fitness industry as a personal trainer and also as a group fitness and yoga teacher. But as I hit my mid 40s I realised this was not a career that was going to support me in old age. I have always been passionate about supporting people who are not as fortunate or as capable. I wanted to be involved in a job where I could help people and make a difference," she says.
Deciding to study for a career in social work, Maria enrolled at the University of Newcastle as a mature age student. To find the money for tuition however meant selling her home.
"Studying at uni meant I could only work part time. Without a full time salary and struggling to meet the cost of textbooks, a lap top, an internet server, tuition and all the other things you need as a student, I fell behind in my mortgage," she says.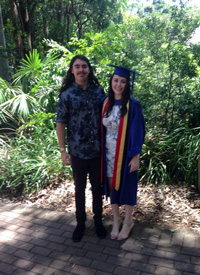 If she wanted to continue at university, selling her home seemed the only option. But for Maria this was a big wrench leaving her depressed and unable to see the future or her way clear.
"I can't remember how I found out about the Mary MacKillop Foundation Scholarships but I think it was a case of just searching the Internet for some sort of help so I could finish my studies," Maria says.
Her application was successful and financial support that came with the Scholarship enabled her to pay off a large chunk of her HECS loan.
"I didn't want to have a large bill at the end of my studies," she says adding that for her even more important than the financial help - "which was fantastic" - was the constant encouragement and support she received from those at the Foundation.
"Anytime I rang there was someone willing to talk to me, and always someone there to help me talk through things whenever I was having difficulties," she says.
Graduating with a degree in Community Service and Human Welfare, Maria immediately found work at Vision Australia which led to her present job as Life Skills Coordinator for Fairhaven Services where she supports and helps those with a disability learn all-important life skills.
It's a job she loves and one of the activities she recently as part of her work were art classes.
"I started painting when I was at uni to help relieve the stress and worrying about bills. And now I paint because it's something I love to do," she says.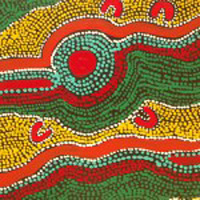 Maria is fast making a name for herself as one of Australia's up-coming contemporary Aboriginal artists. Over the past five years she has taken out the Gosford Annual Art Prize, contributed paintings to exhibitions throughout the Central Coast and earlier this year was judged one of the award winners at the 2015 Tony Donovan Reconciliation Art Competition. She was also recently selected as an entrant in this year's Parliament of NSW's Aboriginal Art Prize.
She has also donated many of her paintings to the Mary MacKillop Foundation and organisations such as One Sight Australia. This way her paintings can be auctioned to raise money for the Foundation's Tertiary Indigenous Scholarships or for One Sight Australia which supports Indigenous eye care.
"I'll donate my paintings to any worthwhile cause. All a charity has to do is help pay for the cost of a canvas and some of my paints," she says adding that the Mary MacKillop Foundation not only helped her find the job and career she loves, but was also instrumental in helping her return to painting which was one of her first loves as a child.
She is now keen to encourage other First Australians who are currently completing their first year at university or college to contact the Mary MacKillop Foundation and be among the applicants for the 2016 Indigenous Tertiary Scholarships.
"The Scholarships are transformative and literally change lives," says CEO of the Foundation, Maree Whybourne.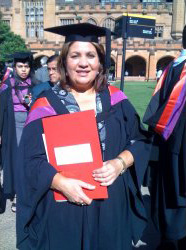 Three types of scholarships are awarded by the Foundation. One covers tertiary course fees as well as $3000 towards living expenses. Another is a living expenses scholarship which offers students $3000 per year to help with the cost of accommodation. The third is the Good Shepherd Reconciliation Scholarship which also offers living expenses of $3000 per year and is available only to female students.
While the financial assistance is greatly appreciated it is the mentoring, encouragement and one-to-one support given by the Foundation that can make all the difference during their time at university or a higher education institute.
"The challenges faced by Indigenous students are much more complex than those faced by most under graduates. Some have travelled a great distance and are a long way from home and everyone they know. In other instances their childhood may have been difficult and chaotic. For these and other reasons, our scholars need strong support and encouragement. We also make sure that each scholar has a mentor on campus to guide and look out for them as well," Maree says.
The involvement of the Foundation and the one-to-one personal attention is key to the constantly high graduation rate achieved by those awarded Mary MacKillop Indigenous Teritary Scholarships.
"Our Scholars have an 80% graduation rate which is well above the national average of 30% for Indigenous tertiary students," she says.
Applications for the 2016 scholarships close on 30 October. To download a PDF booklet on the scholarship, criteria for applications and more about the Mary MacKillop Foundation see https://www.mackillopfoundation.org.au/wp-content/themes/mmf/pdf/Scholarships-Brochure.pdf