Sydneysiders Gather at Cathedral for UN International Day of Peace
Catholic Communications, Sydney Archdiocese,
21 Sep 2015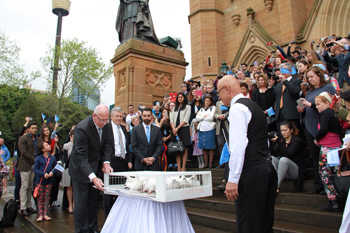 The Governor of NSW, General David Hurley and dignitaries from the United Nations attended the 10.30 am Solemn Mass at St Mary's Cathedral last Sunday ahead of today's 32nd UN International Day of Peace.
At a time of ongoing conflicts in Sudan, the Ukraine, Gaza, Nigeria, Iraq, Syria and the ruthless advance of Islamic State's bloody terrorist militias peace has seldom been more important or more urgently sought.
With an estimated 48 million people displaced due to persecution, conflict or invasion, the world is facing a refugee crisis not seen since World War II, more than 60 years ago.
Prayers for peace were very much a feature of yesterday's Mass which was celebrated by the Dean of St Mary's Cathedral, Father Paul Hilder and attended by more than 1000 men, women and children.
After the Mass a huge crowd gathered in the Cathedral Square and along the steps of St Mary's Cathedral to watch as the NSW Governor, General Hurley and United Nations Dignitaries released 25 white doves as a symbol of both peace and hope.
The doves which were all homing pigeons, circled high above the Cathedral against a clear blue sky before heading across the city to be reunited with their trainer and owner.
As the International Day of Peace fell on a Monday this year, it was decided to begin the international prayers for peace slightly ahead of time at the Cathedral and later with the special ceremony in the Cathedral Square.
Established by the UN in 1981, the International Day of Peace features a call by the United Nations Secretary-General for combatants caught up in conflicts worldwide to lay down their arms, if only for 24 hours "so all can breathe the air of peace."
Last week ahead of the International Day of Peace on Monday, 21 September, the current UN Secretary General, Ban Ki-moon urged the world to "make the International Day of Peace a day without violence and a day of forgiveness."
"If, for one day we can live in a world without aggression and hostility we can imagine how much more is possible," he said.
As part of commemorations for International Day of Peace at noon Monday bells rang out from churches and municipal buildings across the world.
Here in Sydney today there was a release of 194 white doves to represent each of the 194 member countries of the United Nations.