John Paul the Great Catholic Centre at Sydney University Officially Opened
Catholic Communications, Sydney Archdiocese,
17 Sep 2015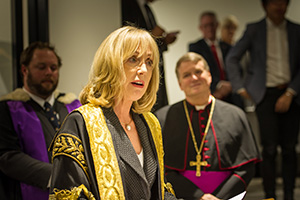 Students, academics, clergy, architects and builders all gathered together for the blessing and opening of a new Catholic Centre and Chapel at Sydney University last night by the Archbishop of Sydney the Most Rev Anthony Fisher OP.
The Centre and Chapel is named after one of the modern day and most popular saints - John Paul II.
However it is also to honour him as a scholar and published-theologian long before he was Pope although when he was Pope his teachings filled more metres of book-shelves than all his predecessors put together, ranging across many subjects.
The blessing and opening took place in the presence of the University of Sydney Chancellor Belinda Hutchinson AM and Daniel Hill, Convenor of the University Catholic Chaplaincies.
Continuing a long tradition of the Catholic Church's presence at the University, the complex also provides for student accommodation, a library, meeting rooms and lounge areas.
The project partners Urbanest, architects, Batesmart, and builders, Buildcorp have been successful in creating not only a complex and multifaceted project but have constructed new spaces alongside the restoration of old ones. The facilities for students are innovative and popular, especially a huge internal courtyard area complete with super maxi-screen for events and entertainment.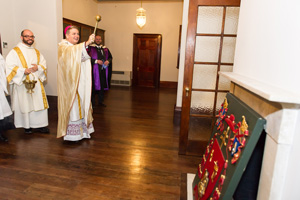 For Archbishop Anthony the blessing and opening of the Centre was a return to his alma mater after three and a half decades.
He reflected that for all students the university years are formative not just of their professional but of their personal and spiritual lives.
"Universities provide young people with knowledge and skills for professional careers, but they are so much more than that," he said.
"At least as originally conceived, they were places for young people, especially, to be immersed in a community of scholarship, where they could safely ask the b ig questions about God, the universe and themselves, and learn a wisdom beyond mere career advancement."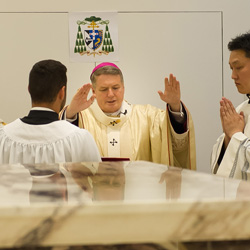 On many counts St John Paul II is a fitting patron for the new Centre and Chapel, himself being a university student, chaplain to university students and a university professor. He was also in the seminary in Krakow and later Auxiliary Bishop of Krakow - the youngest Bishop to be appointed in Poland at that time.
He visited Sydney three times, twice as pontiff, including a visit to Sydney University in 1986.
During the Archbishop Anthony's recent visit to Krakow, Poland, he asked the Archbishop, Cardinal Stanislaw Dziwisz, former Private Secretary of Pope John Paul II, for a relic of the saint to seal within the altar of the new Chapel. Cardinal Dziwisz happily obliged and the first class relic, fine strands of the saint's hair encases in a small locket, were sealed within the altar during the blessing and dedication. Archbishop Anthony also wore the vestments St John Paul II wore on his visits to Australia.
During his homily Archbishop Anthony spoke of St John Paul II's dedication to the priesthood and his role as pastor as he led a Church of a billion people through turbulent times for two and a half decades, travelling more than 1.1 million kilometres around the world and becoming the second longest serving pope of modern times.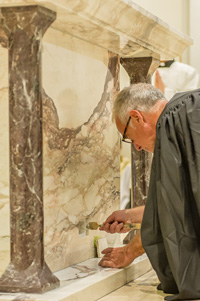 "His preaching and diplomacy helped end the tyranny of communism in Eastern Europe and Russia and so the Cold War. His advocacy for the weak brought him into contest with the Western powers, too, as he critiqued capitalist democracies that lack compassion for the unborn, poor and foreigners. He became a champion of human life and its cradles marriage, family and a truly civil society. His stance for Catholic faith and morals made him a prophetic and divisive figure at times; but he could also be a great reconciler, as he worked to bring together Eastern and Western Christians, contending European powers, or the economically divided North and South. He apologized to those the Church had hurt and sort to defeat old enemies by making them friends. John Paul II led the Church and the world confidently but humbly from the 20th and bloodiest of centuries into a new century with hope and vision; with an assurance we are not doomed to repeat the world wars, genocides and massacres of innocents; with a challenge to respect the dignity and rights of everyone, share our affluence with the needy, and honour God above all.
"Young people might call him 'Great' because he was so obviously their friend. His capacity to be close to them was already evident when, in the shadows of Nazis and Communists, he joined youth drama groups and a clandestine seminary, and later worked as priest, lecturer and youth chaplain. The students called him Wujek - Uncle - and they regularly joined him for trips that involved skiing, hiking or camping with conversations about the meaning of life and decades of the rosary. As archbishop and pope he made sure he still had opportunities to hear and talk to young people. His was the invention of World Youth Day, that draws together the young in unabashed Catholic celebrations every few years somewhere in the world including once in this fair city and on this university campus," Archbishop Anthony said.
Archbishop Anthony's homily in full here