Archbishop to Accompany Sydney Families to World Meeting in Philadelphia
Catholic Communications, Sydney Archdiocese,
18 Sep 2015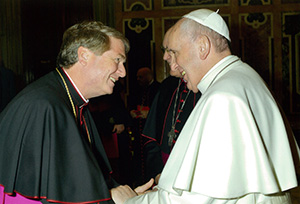 The Archbishop of Sydney, Most Rev Anthony Fisher OP will leave on Sunday for next week's World Meeting of Families Congress in Philadelphia.
He will accompany three Sydney families and their children and 32 other pilgrims from families in dioceses across Australia.
Held every three years and sponsored by the Holy See's Pontifical Council for the Family, the World Meeting of Families is the world's largest Catholic gathering of families.
Each World Meeting of Families has a theme that energizes and enlivens the event while adding great depth of meaning to our understanding of families. The theme of the World Meeting of Families - Philadelphia 2015 is "Love Is Our Mission: The Family Fully Alive," emphasizing the impact of the love and life of families on our society.
The Chancellor of the Archdiocese of Sydney and Director of the Archdiocese's Life, Marriage and Family Centre, Chris Meney will also be among those joining more than 10,000 pilgrims expected at the eighth World Meeting of Families.
While not attending daily events at the Congress Pope Francis will participate in the closing events on September 26-27. This includes the Festival of Families and an intercultural celebration of family life around the world.
Also travelling to Philadelphia will be Bishop Michael Kennedy of Armidale, Bishops' Delegate for the Australian Catholic Marriage and Family Council, and co-chairs of the Council, Dr Ron and Mavis Pirola who will act as pilgrimage leaders.
Founded by St John Paul II and held every three years, the WMF Congress in Philadelphia will run from 22 September to 27 September. Coinciding with Pope Francis' tour of the USA, the final two days of the Conference will include an opportunity to hear and see the Holy Father. On Saturday, 26 September the Festival of Families has been organised outside Philadelphia's Museum of Art made famous in the movie Rocky when actor Sylvester Stallone raced up the Museum's 72 stone steps.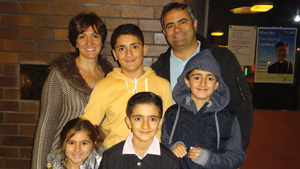 During the Festival which will include testimonies from families and performances by opera great Andrea Bocelli, Pope Francis will address the anticipated huge crowd from the top of what are now known as the "Rocky Steps."
The Festival will be followed on Sunday by an outdoor Papal Mass to be held at Philadelphia's Benjamin Franklin Parkway.
Archbishop Anthony, who has a long connection with family and life issues and is also Chair of the Australian Catholic Bishops Commission for Family Youth and Life, will be attending a number of workshops and meetings.
The Congress, an international Church event just a week out from the early October Synod of Bishops on the family at the Vatican, is seen as an important time for prelates and the Holy Father to hear and speak to delegates from around the world about their thoughts and vision for families today and into the future.
Dr and Mrs Pirola have had long experience with WMF, attending six of the seven of these important triennial meetings held so far.
Established in 1994, the WMF celebrates and strengthens the sacred bonds of families.
Sponsored by the Holy See's Pontifical Council for the Family, the WMF Congress is the world's largest gathering of Catholic families, energising and invigorating all those who attend while adding depth and meaning to our understanding of families and the role of marriage and family as the bedrock of society.
St John Paul II attended the first four WMF Congresses from 1994 until 2003. Pope Benedict XVI attended the next three in 2006, 2009 and 2012 and now Pope Francis will be part of the eighth global celebration of families.
"The WMF Congress always has two distinct parts with the first half involving workshops, keynote speeches, testimonies and interaction between families from every corner of the globe, while the second part is the great Papal gathering," Dr Pirola says.
Throughout the week Masses are also held for WMF delegates.
"And this year a special Mass has been arranged for the Australian pilgrims attending the Congress at Philadelphia's St John the Evangelist Catholic Church," says Mrs Pirola.
Among the total of 44 Australian families attending WMF from Australia are 23 children.
"They are all under 14 and include 15 boys and eight girls," she says, adding that the opportunity for children to meet and play with children from different countries, cultures and languages is an experience the youngsters will never forget.
"It is also a wonderful opportunity for families to spend quality time with their children to talk, exchange ideas and discuss the importance of faith and family," she says.
For the three families from the Archdiocese of Sydney there is no doubt that one of the main highlights is the chance to see and hear Pope Francis.
"I would love to hear Pope Francis talk about how we can bring back a renewed spirit to family life. He shows us in very practical ways how to be Christ on earth amongst the poor and marginalised. So my wife Tina and I can't wait to hear his views on how to bring Jesus back into everyday family life, and in what concrete ways we can make the Church a place that like a family unit, people long to be part of," says Dr Thomas Coorey of Kingsgrove who with his wife Tina and the couple's four children - Samuel 13, Luke, 11, Christian 9 and Gabrielle 5 - will leave Sydney for Philadelphia and the WMF Congress later this week.
He is also very much looking forward to the Papal Mass on Sunday, 27 September.
"Tiny and I have been privileged to attend World Youth Days and the Papal Mass is always special," he says, revealing that he and Tina originally met in the lead up to WYD in Paris back in 1997.
But for the Coorey family, it is not only the opportunity to hear Pope Francis, and be part of the Papal Mass, but the chance to meet other families to discuss and hopefully come up with solutions to the increasing challenges facing families in today's world.
"It is an amazing opportunity to hear ideas, suggestions and solutions on the ways we can ignite the fire of faith in families and the wider community and spiritually enrich each other's lives," he says.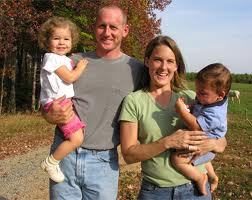 He points out that with so demands on family life these days finding time to stop and contemplate our faith can be difficult.
"We have work, school, homework, after-school sports every afternoon and on weekends, social demands and many other activities. This is something most of us have to contend with on a daily basis. The WMF Congress is a chance to stop, reflect and really contemplate the way forward," he says.
Dr Coorey and his wife also hope that when their four children see "this wonderful gathering of like-minded people from so many different places" that they will be able to stand strong in their faith as they grow and mature.
"If we as parents don't show our own children how to have a personal, loving relationship with Jesus who will? If parents don't lead by example, how will children learn the way?" he asks.
Gavin and Liz Duane from the St Margaret Mary's Parish at North Randwick will also be taking their two sons, Zac 8 and Noah 6 to WMF and describe the opportunity to be part of the Congress as "incredibly exciting."
The other Sydney couple who will be part of the Archdiocese contingent are John and Salome Yi from the Parish of Our Lady of Mt Carmel, Waterloo who recently celebrated 25 years of marriage.