ACU Sports Program is Changing Lives in East Timor
Catholic Communications, Sydney Archdiocese,
15 Sep 2015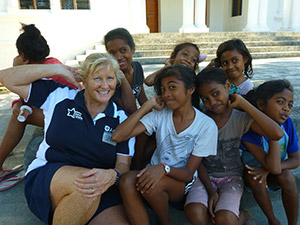 When the Australian Catholic University takes its short mid-semester break at the end of the month, Sandy Allen-Craig, Senior Lecturer in Exercise Science will head for East Timor for Baucau's inaugural Tournament Week where more than 1000 youngsters will have a chance to play in their first-ever official sporting series - a soccer championsip.
The Tournament and Baucau's newly-formed Central Bacau Football League for under 8s, under 10s, under 12s and under 15s are the result of ACU's remarkable Future in Youth Program.
Since 2010, each year during the winter semester break, teams of third year students in ACU's Exercise Science program, led by Anthony Whitty, Sandy and other lecturers from the Exercise Science faculty travel to East Timor's second largest city and spend three weeks teaching Timorese youngsters the joys of soccer and the fun involved with organised sport.
The program is hugely popular and during the three weeks teams from ACU conduct soccer training, an average of 600-700 children turn up each day rain, hail or shine.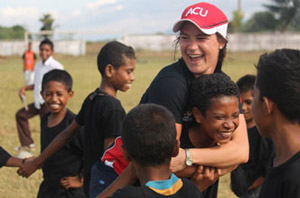 In a city where unemployment is extremely high and poverty is rife, ACU's program not only encourages young people's love of sport, and soccer in particular, but teaches valuable life skills such as working as a team, the importance of respect, fairness and justice, and playing by the rules.
Organised soccer games have also given Baucau's children a chance to engage in something they really enjoy rather than finding themselves at a loose end after school, and getting into mischief.
In addition ACU's now six-year-old Future in Youth Program fosters self esteem, confidence, a sense of pride and above all hope and the promise of a better future.
"Soccer is very popular in East Timor and is a sport everybody loves and knows how to play. But they don't necessarily know how to structure a soccer league for children to play after school and at weekends," Sandy Allen-Craig says and explains that this has been a key focus over the past several years.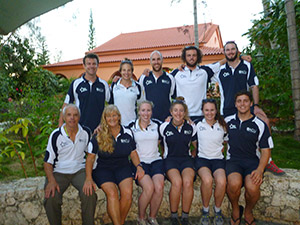 After winning the support of community leaders and teachers at local schools in Baucau, ACU's teams of lecturers and students from the School of Exercise Science have trained more than 40 to 50 volunteer coaches and referees.
"On each three week trip, we pair one of our third year students with a local community member or teacher from the local schools. This way we've been able to teach them how to run drills, exercise warm ups and how to run a sports program. Ad hoc games become a proper tournament with play offs, finals and championship matches," Sandy says.
Baucau's first-ever Tournament Week marks an important milestone in ACU's ground breaking Future in Youth program. However with upcoming finals, the group of ACU third year students who visited Baucau in July this year and helped empower community leaders and coaches as well as Baucau's young football players, will be unable to attend.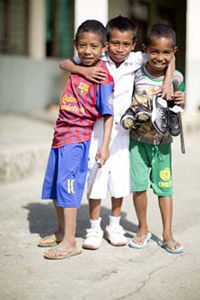 While it is still not known if the newly-retired founder of the program, Dr Ross Smith will attend, Sandy Allen-Craig who has been part of the program for the past six years along with the newly-appointed leader of the program, School of Exercise Science lecturer, Anthony Whitty and other faculty members will definitely be there.
ACU's presence will be felt at Baucau's Tournament Week in other ways. Not only has the university raised funds from private donations and sponsors to provide the uniforms proudly worn by each team as well as the 40-plus coaches and referees, but ACU has also supplied top quality soccer balls and other important equipment as part of its Future in Youth Program.
"The soccer pitches in East Timor are nothing like we have here. They are often rubble and rock and often not quite the normal size but simply a cleared space. There is a main stadium in Baucau but even that has grass that is knee high and has to be burned off before a game," Sandy Allen-Craig says, explaining that it was important to establish a steering committee of people in each local community to tell us what they needed.
"One of the things they wanted but didn't have was a junior football league and proper equipment such as balls and goals," she says.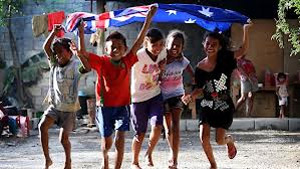 The success of ACU's Future in Youth program has spread internationally and shown how sport can be used not only to engage youth and give them both purpose and a sense of well being and self-esteem, but how the education and training of coaches can impart important leadership skills and empower entire communities.
In May this year, Sandy Allen-Craig was invited to give a presentation on ACU's Future in Youth program by the Church and Sport Section of the Pontifical Council of the Laity. Addressing the Church and Sport Section's two-day conference in Rome, Sandy says there was great interest in the program and the work ACU was doing in East Timor and how the education of coaches led to the development of social inclusion. There was broad interest in how organised and structured sports programs is turning around the lives of children in one of the world's youngest and poorest nations.
To donate to ACU's Future in Youth program to help make a difference to the children and communities of Baucau see http://www.acu.edu.au/alumni_and_giving/giving/projects_needing_your_support/future_in_youth