Final Concert in Cathedral's 2015 Acclaimed Grand Organ Recital Series
Catholic Communications, Sydney Archdiocese,
15 Sep 2015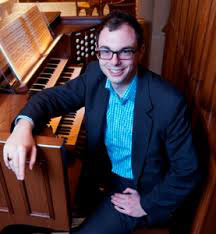 Highly regarded organist, Oliver Brett will give the final concert in St Mary's Cathedral's 2015 Grand Organ Recital series this Friday when he will perform a work from Louis Vierne's six symphonies for organ as well as compositions by Bach and 20th Century French composer, Olivier Messiaen.
As with each of the previous concerts in the series, the recital by Oliver Brett on 18 September at 7 pm has been eagerly anticipated by Sydney's music lovers.
British-born Oliver was appointed Assistant Director of Music at St Mary's Cathedral in 2012. Trained at Kings College, Cambridge before joining London's Westminster Cathedral as an organ scholar, Oliver has worked closely with St Mary's Director of Music, Thomas Wilson in developing the organ recital series.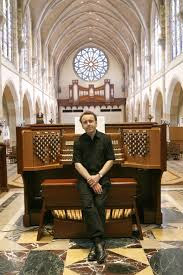 Since Thomas Wilson's appointment as Director of Music in 2010, the Cathedral's music reputation has gone from strength to strength. The choir, which can be heard at Sunday Mass, vespers and at special masses or concerts throughout the year is not only recognised around Australia but internationally as well. The musical education of choristers in the Cathedral's music program has expanded also to include youngsters who wish to learn musical instruments. And the Grand Organ Recital Series has been hugely successful.
"The series has had a wonderful response from the public, and we are delighted at the success of the series which we introduced last year," Thomas Wilson says.
The high regard in which the Cathedral and its music program are held has meant that the Cathedral's Grand Organ Recitals attracts some of the world's leading organists both here in Australia as well as the US and Britain.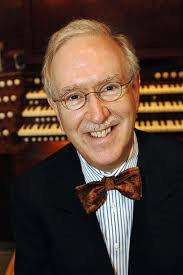 This year's series of Grand Organ Recitals was launched in February this year with a concert by Andrew Lumsden, Director of Music and organist at Britain's historic Winchester Cathedral. Performing Toccata, the final movement from Widor's Symphony No 5, he gave Sydney lovers of music an evening few will forget. A favourite at weddings of Royalty, the Toccata featured at the marriage of Crown Prince Frederick of Denmark to Australia's Mary Donaldson, and was also played at Westminster Abbey when Princess Margaret married Anthony Armstrong-Jones, when Princess Anne wed Mark Philips and at the marriage of Prince Edward and Sophie Rhys-Jones.
But as Thomas Wilson pointed out at the time, to be able to hear Widor's Symphony played by a master on the Cathedral's le Tourneau-built 3600 pipe organ in the magnificent setting of St Mary's Cathedral with its superb acoustics and outstanding beauty was a very special treat.
The second recital in the series featured a special program of Lenten organ and choral music. At this equally unforgettable concert, Thomas Wilson was organist and was accompanied by the Scholars of St Mary's Cathedral who sang Gregorgian Chant and polyphony by Victoria and Tallis to complement the organ music of Dupre, Bach and other much loved composers from the 18th, 19th and 20th Centuries.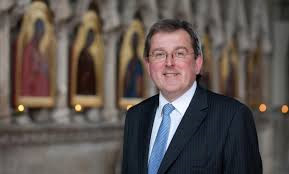 St Mary's Cathedral Scholars are an elite small group of St Mary's Cathedral College students who joined the Cathedral Choir as trebles and whose voices are either in the process of changing or have changed.
The third concert in this year's Grand Organ Recital Series was Colin Andrews, the highly-regarded American-based British-born organist. Adjunct Professor (music) at Indiana University's Jacobs School of Music, Colin Andrews' free concert was held at the Cathedral on 29 May and followed in July by the fourth recital in the series.
This was given by prolific English composer, improviser and organist David Briggs who presented Mahler's towering "Resurrection" Symphony in what Thomas Wilson urged any and everyone who loved music to attend.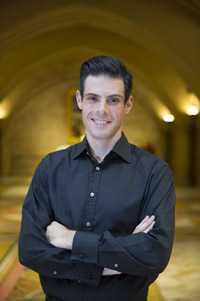 "Only a handful of living artists could pull off a performance of Mahler's Second Symphony which is scored for a full symphony orchestra, but which is single-handedly transcribed by David Briggs at the organ," Thomas Wilson said at the time.
The fifth concert in the Grand Organ Recital Series which took place at the end of July was given by Ben Sheen, Assistant Organist at St Thomas Church on New York's fabled Fifth Avenue who is regarded as one of the world's most exciting new talents.
Oliver Brett's concert on Friday this week will be the last in the series for this year.
As with all of the Cathedral's outstanding organ concerts, admission is free and there is also an opportunity for those who attend to meet the recitalist after the concert over a glass of wine.
The recital by organist Oliver Brett will take place at 7.pm on Friday, 18 September at St Mary's Cathedral. All are welcome.