Xt3 Wins More Accolades & Another Gong for Best Use of New Media
Catholic Communications, Sydney Archdiocese,
11 Sep 2015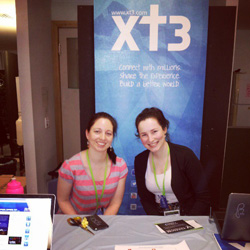 For the third year in a row, Catholic social networking site Xt3 has taken out the "Best Use of New Media" category at the annual Australasian Catholic Press Association (ACPA) Awards for Excellence.
Congratulating Xt3 on its latest win, ACPA's judges praised the social media networking site for the way it continued to expand its marketing through multiple platforms, enabling greater accessibility for thousands of young Catholics.
"The content of Xt3 is of a high standard, and connects with popular culture in a thoughtful way," ACPA's judges said.
The announcement of Xt3's latest win was made in Broome, Western Australia, where the 2015 ACPA Conference is being held. Hosted by the Diocese of Broome, the Conference which began on Tuesday this week was also a chance for members to celebrate the 60th anniversary of the Association's founding.
During the three day Conference, delegates had a chance to tour the University of Notre Dame's Broome campus where an address was given by respected Aboriginal elder, Patrick Dodson. They were also able to visit the St John of God Sisters who have been based in the Kimberley for more than a century and are much loved by the Aboriginal community for their dedicated work in education and assistance with nursing and health care.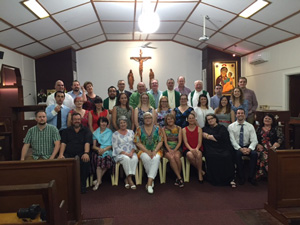 For Director of Catholic Communications for the Archdiocese of Sydney, Katrina Lee this year's ACPA Conference was particularly inspiring, not only because of Broome's spectacularly beautiful environment but because of the involvement of the local Indigenous people and the Bishop of Broome, the Most Rev Christopher Saunders who delivered the Conference's keynote address.
But like all Conferences, it was the Awards that created the most buzz and excitement, and Katrina says she is thrilled that yet again Xt3, which was established by the Archdiocese of Sydney in the lead up to World Youth Day in 2008, has yet again taken out one of ACPA's most prestigious awards.
The award given to Xt3 at this year's Conference brings the total number of ACPA gongs awarded to the international Catholic social networking website since 2011 to five.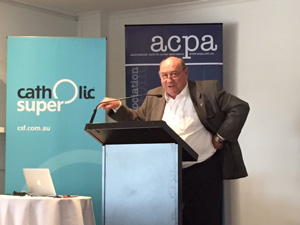 In 2011, Xt3 won the hotly-contested "Best Website for a Publication Award" and two years later not only won ACPA's "Best Use of New Media Award" but took out the ACPA's "Best Original Artwork" Award for the website's interactive Lenten Calendar.
Designed by Xt3 multimedia designer, Clayton Diack, the Calendar included traditional hand drawing brought alive by a series of digital techniques in what became an outstanding display of creativity and excellence.
"We are honoured and very pleased be acknowledged by the ACPA and delighted to yet again be considered a standout in the 'Best Use of New Media' category," says Mary Elias, Administrator and Content Manager for Xt3.
Since its founding by Archdiocese of Sydney's team at Catholic Communications in 2008 prior to the start of World Youth Day in Sydney, Xt3 has gone from strength to strength to become the "go to" portal for young Catholics.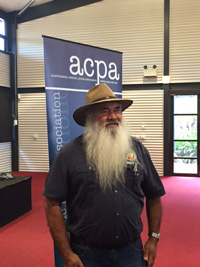 Using skill and knowledge of the latest in digital media, Xt3 not only keeps abreast of the latest in technology but uses diverse social networking sites and platforms to communicate the message of Christ to the social media website's target audience of Catholic youth not only here in Australia, but worldwide.
"During the past three years the social media landscape has rapidly changed as technology has advanced in leaps and bounds. We have endeavoured to keep up with all these changes and stay abreast of the latest developments in digital technology and communications," says Mary Elias. "Our App intake has greatly increased as has our popularity on networks such as Instagram and YouTube as visual material begins to take precedence over written content and hard copy."
Mary says Xt3 continues to be extremely popular on Facebook and Twitter, and is also gaining a large following on newer social networks such as Pinterest, Tumblr, Google Plus and Vines.
"We try to ensure no platform is left without a Christian message," she says.
In his keynote address at the Conference, Bishop Christopher Saunders said the Catholic media had a unique part to play in the growth of the Church in Australia.
"We've been inspired by his comments and Xt3 aims to make a real difference to the Church in Australia by 'Christianising' the world of social media, and exposing young people who use these platforms daily to the message and precious gift of Christ," Mary says.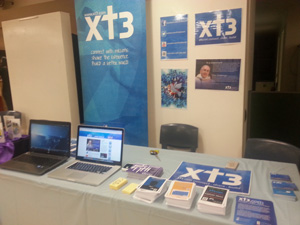 For the third year running, Xt3's Mary Elias and Laura Bradley will be at the annual Ignite Conference in Brisbane to be held from 24 to 27 September where they will once again be giving workshops and demonstrations on the best ways of using social media to evangelise, share Christ's Word and to interact and network with other young Christians.
More than 1,000 are expected to attend this conference.
The team from Xt3 will also play an active role at the Australian Catholic Youth Festival to be held in Adelaide from 3-5 December this year, and will be live streaming all main events at the Festival as hosting a stall at the Festival's "INcounter Expo" which will provide the more than 3000 young participants with the opportunity to learn about the many different Church communities, organisations and groups across Australia.