Archbishop of Sydney Most Rev Anthony Fisher OP Welcomes Government's Refugee Intake Decision
Catholic Communications, Sydney Archdiocese,
10 Sep 2015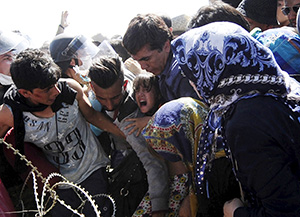 Following the Federal Government's decision to take an additional 12,000 refugees the Archbishop of Sydney, Most Rev Anthony Fisher OP said today he welcomed the decision as a good one and the right one.
He also welcomed the announcement that there will be additional funding to various groups assisting in the refugee camps.
The Archbishop also clarified his statement earlier in the week when he said Syrian and Iraqi Christians and other persecuted minorities should be given preference, not only Christians.
"I think we do know that there is a particular problem for Christians in that part of the world at the moment; that IS have stated their goal is essentially to wipe them out in that part of the world.
"So this ancient Church that goes all the way back to the first century is genuinely at risk of disappearing. They don't just want to wipe out all of the people, they're going to destroy their churches and monasteries and libraries and every last memory that they ever existed. So these people seem to be a group particularly in need of our help at the moment."
Archbishop Fisher also emphasised the importance of recognising the refugee intake is not just a job for government.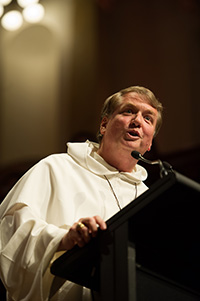 "We sometimes forget there are other parts of civil society that should be contributing, and the churches are amongst those.
" I would be looking to our families and parishes. Also in Australia we have a wonderful network of welfare organisations, schools and hospitals that the Church can also offer as ways of helping these people on arrival.
"We have groups like St Vincent de Paul that are so active in helping these new arrivals. I think in many ways we can complement whatever government is doing at the moment and help to perhaps relieve the taxpayer of the burden," he said.
Archbishop Anthony added there are many people in the Catholic community who have been through the refugee experience.
"It is not just then our religious leaders but our lay people who can speak to each other about what they have been through and how there is room in our hearts, in our homes and parishes for newcomers, for strangers."
Archbishop Anthony has already begun discussions with welfare agencies on the practicalities of the government's decision and will begin meeting with other faith leaders tomorrow.
Archbishop Anthony Fisher OP spoke with Geraldine Doogue this morning on this topic. You can listen to the full interview at the link below:
http://www.abc.net.au/radionational/programs/breakfast/catholic-church-calls-for-preference-to-persecuted-minorities/6764032