Australia's Priceless Artefact from Ancient Syrian City of Palmyra
Catholic Communications, Sydney Archdiocese,
10 Sep 2015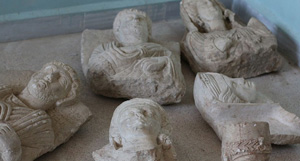 The Australian War Memorial's rare carved marble bust known as the Lady of Palmyra and dating back to the mid-second century is one of the world's few surviving artefacts from Syria's ancient desert city, destroyed by Islamic State extremists over the past several weeks.
"This priceless small piece of Palmrya has suddenly become even more precious because of the loss of so much of our human heritage at the hands of IS," says Dr Alan Cadwallader, Senior Lecturer in Biblical Studies at the Australian Catholic University (ACU).
A specialist in the archaeology of Turkey's equally ancient city of Colossae, with a special interest in funerary monuments and onomastics - the study of Aramaic scripts and names - Dr Cadwallader is appalled at the destruction of Palmrya.
Like the rest of the world he is also appalled and upset by the brutal murder of Khaled al-Assad, the 81-year-old archaeologist and long time Director and Curator of Palmyra's antiquities who died at the hands of IS militants after refusing to divulge the location of hidden antiquities.
The razing of many of Palmrya's famous burial towers is another tragic loss to the world and to human history, Dr Cadwallader says. But it was the destruction of these ancient multi-storey mausoleums that housed entire generations of wealthy families with each member having their own carved marble bust on which their names and genealogy are inscribed in Palmyran, a form of Aramaic, that jogged his memory.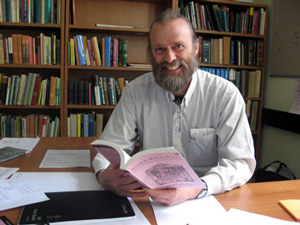 "That's when I remembered Hagar, the name written beside the exquisitely-carved marble bust of the Lady of Palmyra in an ancient form of Aramaic, which has been a part of the Australia War Memorial collection since the end of World War I," he says. "Around 25 years ago on a visit to Canberra, I'd gone to the War Memorial to see an exhibition of mosaics, and that's when I first saw the Lady of Palmrya and her beauty and the wonderful distinctive pinkish ivory colour of the marble stayed with me."
While there are other pieces of Palmryan funeral art displayed in museums around the world, including marble busts from Palmrya's tomb towers in the collections of Los Angeles' John Paul Getty Museum, the Louvre in Paris and the Berlin Museum, the Lady of Palmrya, Hagar at the Australian War Memorial in Canberra is possibly the most priceless of all.
"How she came to be a part of the Australian War Memorial collection is a wonderful story and this is what makes her even more valuable and important," Dr Cadwallader says.
In 1918 towards the end of the First World War, Australia's fledgling airforce had some of its pilots and personnel stationed near Palmrya. The Sheikh of Tadmor, the Muslim leader at the time, and his family gave the Australians protection and hospitality until Australia's famous Lieutenant General Sir Henry George Chauvel and his troops arrived to collect them.
"As part of a cultural honour, particularly among Arabs and Turks, Chauvel as Senior Officer of the Australian Imperial Force was given 'the Lady of Palmrya" along with a Turkish recruiting office plate," Dr Cadwallader says.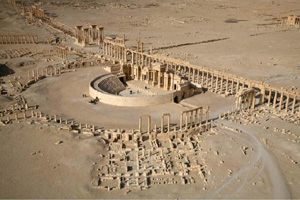 The gift of the ancient bust of Hagar, the Lady of Palmrya was later passed into the custody of the Australian War Memorial.
"This precious gift is not only a link with the ancient past but a sign of friendship and cooperation between different peoples and different faiths, in marked contrast to the destructiveness and lack of respect displayed by those who have destroyed this world-heritage site," Dr Cadwallader says.
But he is quick to point out that the wanton and horrific destruction of Syria's ancient desert city and the shocking murder of the site's aged curator is testament not only to religious extremism but is also an insidious example seen in most wars where the invading force seeks to overpower their so-called "enemy" by destroying the morale, culture, identity and whatever else is valued and precious to those they hope to subdue.
"Warring forces like to use religion and ideology as justification for what in fact in most cases is hardnose military intent to destroy a people's morale and identity," he says.
Dr Cadwallader is now spearheading a campaign for the Australian War Memorial to take the rare and precious Lady of Palmrya out of storage and put on permanent display.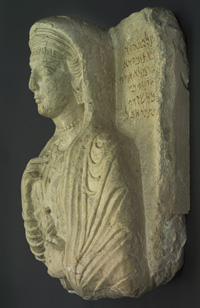 "I am appealing to Dr Brendan Nelson, Director of the Australian War Memorial to treasure this rare artefact and ensure she is put back on display," he says.
This unique superbly-carved treasure stands around 45 centimetres tall and depicts an elite and beautiful woman, with her exalted pedigree etched in Palmryan, a form of Aramaic which was used in the original Bible, on the left hand side of her image.
"She is depicted holding the symbols for weaving and the spinning of wool which show she was a moral, good and conventional woman," he says.
This priceless artefact is part of a larger tomb structure located in an area of Palmrya known as the Palace of Queen Zenobia, Dr Cadwallader explains adding that while it is probably anachronistic to suggest a link between Palmrya's Hagar and the Hagar mentioned in the story of Abraham, it is nevertheless worth mentioning.
According to Islamic belief, Abraham's wife Sarah asked Abraham to marry her Egyptian handmaiden Hagar, as she herself was barren. Hagar later gave birth to Ishmael, forefather of the Muslim faith whom Islamists believe is buried in Mecca.