Priestly Ordination for Former Lawyer of the High Seas
Catholic Communications, Sydney Archdiocese,
7 Aug 2015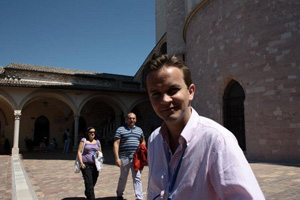 As former international maritime lawyer, Deacon Thomas Stevens prepares for his ordination to the priesthood by Archbishop Anthony Fisher OP at St Mary's Cathedral on Saturday, 15 August, he reflects on the life of a parish priest, and the past 12 months where he has worked alongside Monsignor John Usher serving the people of St Patrick's Parish, Mortlake.
"You see the incarnation of Christ in parish life and where Christ is in their lives as they journey through joy or sorrow. You also witness the sort of joy found in the Holy Sacraments and see and share in their journey with Christ," he says.
At 38, Deacon Tom as he is known by St Patrick's parishioners, is not only a little older than most men who are ordained priests, but had led a full and adventurous life before turning 30 and deciding to answer God's call and enter the Seminary of the Good Shepherd.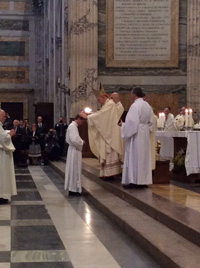 Educated at St Joseph's College, Hunters Hill, Deacon Tom studied Law at the University of Sydney where he majored in Maritime Law, explaining that his reason for studying the international law of the sea dated back to his years as a child.
"I know it sounds immature but as a kid I loved big ships so when I was at uni and discovered I could study maritime law, I couldn't resist," he says.
For the next five years Deacon Tom worked for a leading law firm in Sydney as a maritime lawyer before being offered a job in Singapore where he spent a further two and a half years as a maritime lawyer.
In addition to his work, Deacon Tom was not only an enthusiastic sailor, racing 18 foot skiffs on the Harbour along with other members of the Sydney Flying Squadron, but he was regular at Rosehill or Randwick racecourses most weekends.
"My father and my grandfather were both bookmakers so I grew up around racecourses. Dad was also a publican so we really were the traditional Irish family who were bookies and owned a pub," he says.
Not that he is a keen gambler, he is quick to add. "I'm not a punter. What I love is the atmosphere, the excitement and the amazing cross-section of people," he says.
But when Deacon Tom turned thirty he says he examined his life and asked himself where he was going and what lay ahead.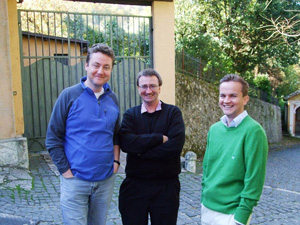 "That's when I decided that if I was going to have a go at becoming a priest, this was the time," he says.
With an uncle who was a priest in Wollongong, from the time Deacon Tom was a teenager, he had thought about the priesthood.
"I had seen my uncle's joy in his life as a priest, and also the enjoyment he had ministering to the people in his parish and getting to know his parishioners. So I left my job in Singapore, came back to Sydney and started life as a seminarian," he says.
Although from that moment, Deacon Tom had no doubt the priesthood was his vocation, he admits to struggling with life in the seminary.
"I was used to being independent so at times I found Seminary life a bit difficult," he admits.
He was also several years older than most of the other seminarians. Then two and a half years after he entered the seminary, the former Archbishop of Sydney, Cardinal George Pell offered the 34-year-old a chance to complete his priestly studies at the Angelicum, the Pontifical University of St Thomas Aquinas, in Rome.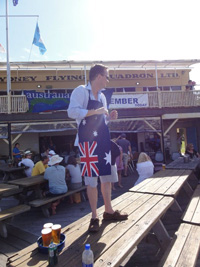 For the former maritime lawyer, the Rome experience was like no other.
"You can easily see the great world view of the Mission of the Church in Rome and one of the highlights of my years there was catching up once a month with an extraordinary group of nuns, brothers, priests from diverse countries, all with different experiences and years of service with the Church around the world," he says.
Although he returned to Australia from Rome in August last year, Deacon Tom is still in close touch with the group.
"We Skype one another and they continue to give me a broad picture of the Church and I learn a great deal from their wisdom and counsel," he says.
In June last year, joining 11 other priests-in-training from the UK, the Netherlands, Ghana and, including two other Australians - Nathan McKay from the Diocese of Cairns and Patrick Toohey from the Archdiocese of Perth - he was ordained to the Diaconate at Rome's historic St Paul's Outside the Walls.
Family and friends, many of whom travelled from Australia as well as from Singapore, Hong Kong, Japan and the UK, attended Deacon Tom's Ordination to the Diaconate, which was celebrated by Cardinal James Harvey, Archpriest of St Paul's Outside the Wall and former Prefect of the Papal Household during the Papacy of St John Paul II.
Two months later, Deacon Tom returned to Sydney and was appointed to St Patrick's Parish, Mortlake where he has spent the past year under the wise guidance of Mons Usher, the current parish priest and former Chancellor of the Archdiocese of Sydney.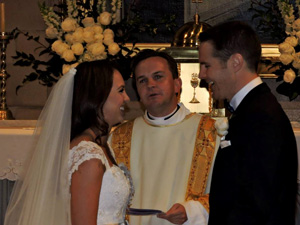 During the year Deacon Tom has not only ministered to the people of the Parish but has celebrated baptisms, weddings and a funeral.
Once he is ordained a priest, in addition to presiding over joyous events such as baptisms and weddings, as well as funerals, he will be able to celebrate the Holy Eucharist.
Not only will his father, five brothers and a sister along with their wives, husband, his many nieces and nephews be at St Mary's Cathedral for Deacon Tom's ordination to the priesthood on 15 August, but a whole bunch of his former classmates from his school days at "Joey's" will be there along with mates from the Sydney Flying Squadron and friends from the racetrack many of whom he has known since childhood.
Deacon Tom has spent time in retreat leading up to his Ordination.
"What I want to make evident to everyone is the great sense of joy to be found in the priesthood," he says. "Sometimes I think we don't necessarily express this profound joy in the best way and we need to. We need to show engage with society and go out and show them this joy so they are able to understand why the priesthood is such a precious gift from God."