The Church, Evangelisation and Education
Catholic Communications, Sydney Archdiocese,
7 Aug 2015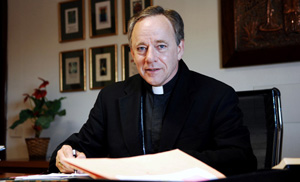 Catholic schools should play a vital role in the pastoral activity of the diocese as an important and integral contributor to the community.
That was part of the key message the visiting Archbishop of Vancouver and leader in Catholic education, Most Rev J. Michael Miller, CSB, expressed to a gathering of Sydney Catholic School representatives who came together this week for a professional; learning and development day.
Archbishop Miller has held many positions in education, from university president to the Vatican's Secretary, Congregation for Catholic Education.
The 180 who attended the day focused on how schools could implement Archbishop Anthony Fisher's Charter for Catholic Schools while having the opportunity to engage with Archbishop Miller and also hear of his experiences in Canada.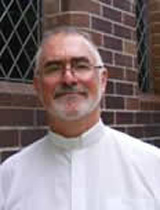 The CEO's Director of Religious Education and Evangelisation, Mr Anthony Cleary said the visiting Archbishop shared a great deal of his wealth of experience in education with the group.
"He challenged us to reflect upon our own commitment to our identity and mission as Catholic schools and how we will continue to give an authentic witness to this in the year's ahead," Anthony Cleary said.
The Religious Education Coordinator of Marist College, North Sydney, Mr Anthony Munro reflected, "As our College begins the process of Cyclic Review, Archbishop refreshed and deepened our appreciation for the vital role that the Catholic school plays in the life of the Church. He reminded us that every member of the Catholic school community plays an important part in allowing students to form a loving relationship with Christ through words and deeds. Regardless of the position or subject area, as teachers, every one of us models the Catholic faith to the students in our care."
Also at the conference was Very Rev Michael McLean EV, Episcopal Vicar for Education for the Archdiocese of Sydney.
Archbishop Miller's full address can be read here
Interview with Archbishop Miller and Fr Michael McLean below.