Notre Dame Med Student Determined to Make a Difference
Catholic Communications, Sydney Archdiocese,
6 Aug 2015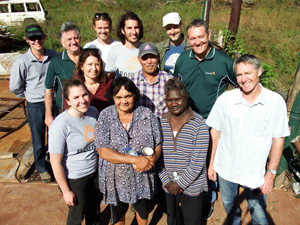 When powerful Tropical Cyclone Ita gouged a path of destruction across Northern Queensland in April 2014, among the remote communities hit hard was Hope Vale which lies 46ks NW of Cooktown. Roofs were torn off, trees uprooted, structures wrenched from foundations and the Yungee Healing Place, where community elders took at risk Aboriginal youth in a bid to turn their lives around, was totally destroyed.
Passionate about rural health issues and deeply concerned at the high number of suicides among Australian Indigenous children and teenagers, Morgan Jones, a second year student at the University of Notre Dame's Sydney School of Medicine is determined to help.
"Indigenous suicides account for half of all child suicides between the ages of 10 and 14 in Queensland, with the suicide rate for Indigenous children and teenagers more than five times the rate of their non Indigenous peers. The Yungee Healing Place offers a community solution to youth suicide. With its focus on positive programs and outcomes, the Healing Place was having real success. But then suddenly it was destroyed overnight," he says.
Morgan hopes to raise at least $10,000 towards the $20,000 needed to rebuild the Healing Place at the cocktail party and silent auction to be held in Sydney on 14 August. Further fundraisers are planned and building of a new Healing Place for Hope Vale is expected to begin next month.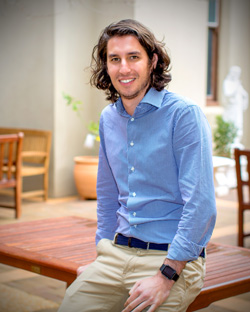 "I learned about the Hope Vale community and the Yungee Healing Place from a video on social media in February. It made me think about these issues and wonder how I could help. So I made a phone call to the Culture of Life and everything just escalated from there," he says.
The Culture of Life Campaign is a project of the People Culture Environment which supports and gives voice to the Indigenous-held passion that culture and connection to country are vital foundations for the social and emotional well being of Aboriginal and Torres Strait Islander Communities.
"Basically our project to rebuild the Yungee Healing Place was born out of that one phone call," he says.
Initially Morgan thought that it might be possible to do a "patch up job" on the cyclone damaged house owned and run by community elder, Des Bowen.
"But as we went on, the project evolved in more ways than I ever expected and now rather than a patch up, we will essentially build a whole new structure which will be on the same site and have the same floor plan, but be constructed of all new materials," he says.
In January, Morgan took over as co-chair of ROUNDS, the acronym for the student-run Rural Health Organisation of the University of Notre Dame Sydney. One of the reasons he was keen to be involved with ROUNDS was because he wanted to "advocate for something I was passionate about."
Morgan has already visited Hope Vale and spoken at length with the elders about what is needed in the remote community in the midst of rainforest.
"The Yungee Healing Place was where community Elders took at-risk youth to connect them with country and Aboriginal culture and history," Morgan explains. "The site of Yungee Healing Place, and where we will rebuild, is an hour's drive from community. That way, the young people needing help are away from family and possible issues of domestic violence, or other stresses as well as temptation."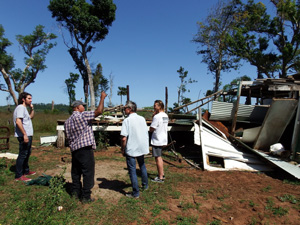 At the Healing Place, traditional stories were told. The young people were also taken on traditional hunting and fishing trips and a place was created where they felt safe and comfortable enough to talk about issues, some of which might involve methamphetamine or marijuana use, as well as issues involving alcohol and domestic violence. Depression and feelings of low self esteem and self worth were also tackled.
Before Cyclone Ita hit, the Yungee Healing Place had only been in operation for a few years and was still at an experimental stage. But the Elders had already found that by connecting their troubled young people to country, their culture, history and Aboriginality, not only improved their sense of well being and belonging, but importantly, their mental health.
But with the Healing Place destroyed by fury of the Category 5 cyclone, everything had had to be put on hold.
However with building set to start within the next four weeks and with Morgan and UNDA medical and nursing students at ROUNDS, this is about to change.
For many months Morgan has not only be working on a plan to raise the $20,000 needed for the rebuild but he has been lobbying corporations and organisations to become sponsors of the Yungee Healing Place Project.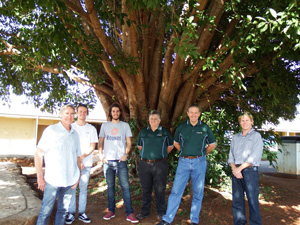 The Suncorp Group was one of the first on board and has offered to help with tradespeople when rebuilding starts. The Royal Flying Doctor Service, the University of Notre Dame, Palace Cinemas and Club Rhino (Rural Health in the Outback) are among others who have signed on as sponsors.
Jetstar is also a sponsor and early last month flew Morgan and a small group that included Jenny Stokes, a nursing graduate and now in her second year of medicine at UNDA, along with three members of Sun Corp, to the area to assess what was needed to rebuild the Centre.
"The committee on ROUNDS is made up of medical and nursing students and like me, all of them have a passion for rural and remote health care," Morgan says.
In addition to lobbying for sponsors, Morgan has also managed to come up with an incredible array of items for the Yungee Healing Place Cocktail Fundraiser on 14 August. Items include a trip to the US and three nights at a private Augusta Condo and entry to Monday's golf practice at the Masters. Another item to be auctioned is a set of Mizuno golf clubs and cart bag, which will also delight golfers. Sponsor GoGet is offering three yearly memberships on their Go Frequent plan. There are also cartons of wine, a hamper of products donated by sponsor Aesop, accomodation at the Crowne Plaza Hunter Valley and a range of other goodies to be auctioned.
"Our team of builders along with myself and members of the ROUNDS committee will be heading for Hope Vale in four weeks," Morgan says and hopes that the link between Notre Dame and the Community will continue not just for another year or two, but for many years to come.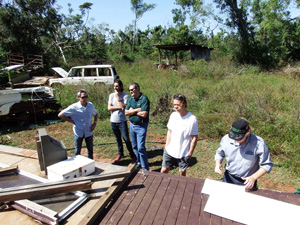 "It will be very useful to monitor the Yungee Healing Place and how young people respond over the long term and we have already been speaking to the Elders about this," he says.
UNDA are not only among the sponsors of the Project but have nothing but praise for Morgan Jones.
"Part of the vision of the School of Medicine, Sydney has for educating doctors of the future is to have a strong sense of vocation, recognising the privilege of their medical training and seek to apply their skills in ways that help those in greatest need, and to support their profession," says Joe McGirr Associate Professor and Associate Dean of UNDA's Sydney School of Medicine.
Notre Dame's Head of Aboriginal and Torres Strait Islander Health, Associate Professor Frankie Merritt says the Yungee Project illustrates how the power of an idea can be ignited by a passionate desire to make a difference.
To learn more about the project, the Cocktail Fundraiser on 14 August or to donate see http://yungee.weebly.com/