Holding Down a Job Means Much More than Simply Earning a Living
Catholic Communications, Sydney Archdiocese,
5 Aug 2015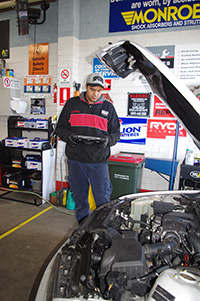 For Australians with a disability, a job is not only a chance to earn a living but brings with it independence, improved self esteem, dignity and a sense of purpose. Whether the disability is a result of autism, difficulty with communication skills, depression or other mental health issues, or a physical disability, a job can turn people's lives around.
Over the past 28 years, Sydney's CatholicCare has placed people with disability in a wide range of jobs and apprenticeships. In the past year alone Direct Employment, the agency's disability employment service has placed more than 500 job seeking men and women in employment.
Some have found work as landscape gardeners, others as commercial cooks, still others have found jobs in office administration or in factory production. Some work full-time. Others work part time.
Direct Employment not only places people in the sorts of jobs they wanted, but ensures those recruited to fill various job vacancies, receive the same wages and conditions as a business's other employees, and are judged on their abilities and skills, not their disability.
Working closely with local businesses and communities in Fairfield, Liverpool, Sutherland and Bankstown, Direct Employment now has more than 1000 employers who contact the CatholicCare agency when a vacancy occurs.
Thanks to the hard work, willingness, enthusiasm and cheerful disposition of Kevin Pale, the apprentice mechanic placed with him by Direct Employment almost four years ago, Eddie Koutalis, owner and manager of E & D. Koutalis Automotive Services at Clyde-Granville not only speaks highly of the agency who placed Kevin with him, but tells all his friends, business acquaintances and anyone else who will listen.
"Kevin is a great kid and he's done really well. Next month he completes his four year apprenticeship and becomes a fully-qualified mechanic. After doing an extra course at TAFE, he will also be a certified air conditioning repairman," he says and is delighted that when he asked Kevin if he wanted to stay on after he qualified, the young man's instant response was: "absolutely and forever, boss."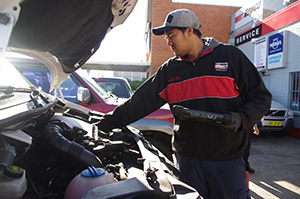 Kevin, a young Tongan migrant to Australia, spoke little English when he signed on as a first year apprentice with Eddie. He also had communication difficulties.
But for Eddie what was most important was that above anything else, Eddie wanted to be a mechanic. Becoming a mechanic was something he had dreamed about from the time he came home from school and found his Dad trying to fix the family car.
"He didn't know what he was doing and I wanted to help him. I started to learn about mechanics," he explains.
"Kevin knew exactly what he wanted to do and all we had to do was connect him with the right tools and resources to move him closer to his dream," says Dominique Ghaby, Operations Manager for Direct Employment.
Which was when Direct Employment contacted Eddie Koutalis about finding a place for Kevin.
For Eddie it couldn't have come at a better time.
"At the time I was looking for the right kind of young man for an apprenticeship with us. But two of the young men we tried hadn't worked out. They were too demanding and domineering, and when a kid comes across like that, you can't teach them anything," Eddie says.
Although there is a current skills shortage across Australia, today's young men seem less interested in making a career in mechanics than previous generations, he says.
"In my day kids grew up helping their father tinker with old cars or fixing some old bomb that would be theirs when they were old enough to get a licence. But cars today are far more technical with all the electronics and so on, and much more difficult to fix," he says, not that most need fixing he adds, pointing out that people don't hang on to cars the way they used to, buying new ones, or near-new ones every few years.
"Most kids these days like sitting inside in their play stations. They don't want to get into a hard trade like mechanics where you're liable to get dirty," Eddie says.
But Kevin proved to be the ideal apprentice, not only keen to learn but hard working and always cheerful.
"He has a great attitude. For him every day is a good day," Eddie says.
In the past few months, E & D Automotive Services have also hooked up with the Archdiocese of Sydney's Catholic Education Office to enable a Year 11 student in mechanics from the Southern Cross Catholic Vocational College at Burwood to spend every Monday with Eddie and his team.
On another day of the week, the student attends classes at TAFE and when he graduates from Year 12 will have completed his first year apprenticeship in mechanics.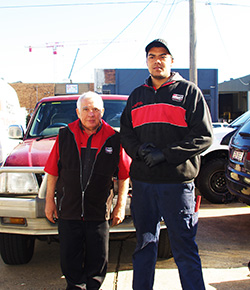 While E & D Automotive Services has a full staff at present, Eddie insists when a vacancy occurs, his first call will be to Direct Employment at CatholicCare.
In addition to supporting job seekers in the workplace, Direct Employment also helps those looking for work with their resumes, job applications and job interview preparation. Under a scheme called "Job in Jeopardy," the agency also provides support for people with a disability who are already in employment but need extra skills training to avoid losing their job or to meet the demands of a new role or position.
Funds to Direct Employment by the Department of Social Services also enable the agency to modify a workplace to someone who may need wheelchair access or has difficulties moving about.
"One young man with cerebral palsy is a gardening apprentice. But he had difficulty lifting equipment off the truck, but through funding from the Department of Social Services we were able to organise a hoist so he can unload the truck without assistance," Dominique says.
To find out more about Direct Employment, CatholicCare Sydney's disabled employment services see http://www.catholiccare.org/disability/employment/direct-employment