Gracefest - Archbishop Celebrates One Year to WYD in Krakow
Catholic Communications, Sydney Archdiocese,
3 Aug 2015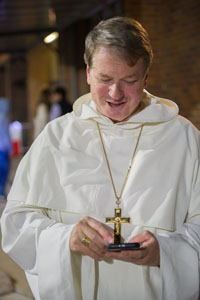 More than 250 young people from around the Archdiocese came together last Friday night to join Archbishop Anthony Fisher OP at Gracefest and celebrate one year until the next World Youth Day in Krakow, Poland.
The evening began with a barbeque at St Joachim's Catholic Church at Lidcombe and introductions to a number of the chaplains who will be travelling with the young pilgrims to Krakow next July - many of whom will be visiting the Holy Land or other Holy sites on the way to Poland.
Organised by the Archdiocese of Sydney's Catholic Youth Services, there were also testimonials from students who travelled to the last WYD in Rio.
Stephen Kirk and the "Graceband" - a group of musicians who come together especially for Gracefest kept the crowd entertained prior to the arrival of Archbishop Anthony and his Catechesis address which fell on the Feast Day of St Ignatius of Loyola.
Archbishop Anthony spoke of the early life of St Ignatius, his conversion to being a disciple of Christ, the adventurous spirit of his followers and fidelity to the Church and the growth of what has become the biggest and most influential order of priests in the world.
For young Catholics of the Archdiocese, Archbishop Anthony said the pilgrimage to Krakow and WYD promises to be an adventure of a lifetime, an encounter with divine mercy, and an important step on the spiritual journey to maturity in Christ and hopefully sainthood.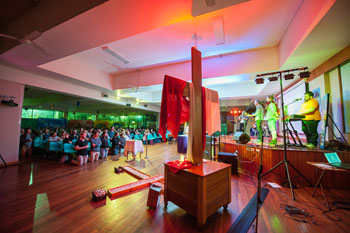 "During your WYD exploration you'll cross the world to visit places, meet people and experience things that will affect you deeply. You can expect an immersion in full-on Catholic life, when faith goes public, goes viral, amongst millions of your peers from every nation on earth. They are ordinary young people like you, yet God has extra-ordinary plans for them, Archbishop Anthony said.
"In Laudato Si Pope Francis, himself a Jesuit follower of Ignatius, says we are only going to turn around the problems of disadvantage and environmental degradation in our world if we are turned around ourselves. He says "profound interior conversion is needed" (217). He calls for "new habits" (209) and "little daily actions" (211). We need to lead the way in living simpler, humbler, less greedy, more ascetical lifestyles. So let's try this ourselves for the next twelve months. Try to be less selfish in your habits and think of your God, your neighbour and your world. Try to spend less on yourself (that'll also help saving for WYD!). Try to face up to yourself, in the spiritual mirror that is Confession, and receive that great sacrament of mercy. Let's spend time in the society of Jesus, in company with Christ and His saints, by regular Mass and prayer before the Blessed Sacrament. Tonight is great practice for this! Let's practice the virtues of simplicity, humility, receptiveness to mercy. Having received mercy yourself, be merciful to others. Become agents of divine mercy, mercy men and women! And get ready for the adventure of a lifetime!"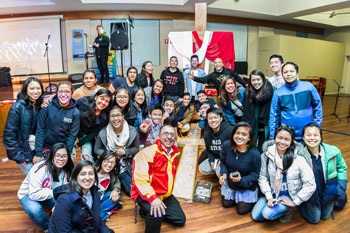 Archbishop Anthony also launched the Archdiocese of Sydney free App which features news, the latest information on WYD, the Archbishop's Facebook page, homilies, videos and podcasts as well as locations and Mass times for Archdiocesan parishes.
Adoration followed the Archbishop's Catechesis.