Governor General Delights & Inspires Students at His Former Paddo Primary School
Catholic Communications, Sydney Archdiocese,
31 Aug 2015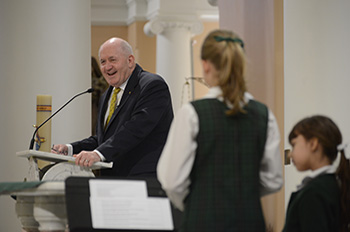 Five-year-old Mikaela wanted to know "what types of jobs" the Governor General, Sir Peter Cosgrove "did for the Queen," while a Year 2 student wanted to know his favourite subject when he was at school and Year 4's Hugo wanted to know what sort of job he dreamed about when he was at primary school.
For the 230 children at Paddington's St Francis of Assisi Regional Catholic Primary School the visit by the Governor General on Thursday last week was a chance to quiz him about his time at St Francis of Assisi more than 55 years ago.
With his easy warmth and qood humour, Sir Peter recalled the Sisters of Charity who had been his teachers and how in the days when he attended St Francis of Assisi, one of the Sisters used to take the boys to Centennial Park to teach them rugby.
In full habit, the nun would hitch up her skirts and instruct them on the finer points of football including using head high tackles which the children she coached discovered later was not allowed and was in fact illegal.
He also talked about the friendships he made while he was at St Francis of Assisi, credited the strength of his faith to the influence of the Sisters who taught him as well as his parents.
"I am an example of someone who had a good schooling, a loving school here and then at high school. I had no idea where life would take me but when I look back I wouldn't swap a day," Sir Peter told the youngsters.
Accompanied by his wife Lynne, Lady Cosgrove, the Governor General's visit will be long remembered by students, staff and parents alike, says Acting Principal, Gai Melville.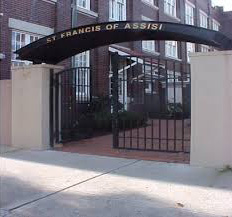 "Before the arrival of their Excellencies I am not sure the children, particularly the younger ones, grasped the significance of the visit but from the moment Sir Peter and Lady Cosgrove arrived in the official car with its crown, they began to grasp the importance of the visit and how lucky we all were to be honoured in this way," she says.
The visit was the fulfilment of a promise made by the primary school's most famous old boy several years ago, when unable to accept an invitation to an event at St Francis of Assisi, the Governor General promised that as soon as his crowded schedule permitted, he would make an official visit to the school.
Formally notified earlier this year that Sir Peter and Lady Cosgrove would visit the school on 27 August at 11.30, Acting Prinicpal Gai Melville says this gave teachers and staff time to brush up on protocol and to send out invitations for the special day to priests across the region which encompasses five parishes including St Patrick's Church Hill and St Canice, Rushcutters Bay.
In addition parents of the children at St Francis of Assisi were also invited and like the staff and students were keen to be present and to hear and speak with one of Australia's most outstanding and admired former soldiers, who is a former Chief of the Defence Force Armed Forces, the leader of the taskforce that helped Queensland communities recover and rebuild in the wake of Cyclone Larry, as well as a former Chancellor of the Australian Catholic University, and now Governor General of Australia.
With such a surge in numbers, rather than the school hall, it was decided to switch the event to the much larger adjacent St Francis of Assisi Catholic Church.
For the Governor General, who gave his address from the pulpit, there was a lovely irony as he would later recall to staff how he had been a failure as an altar boy and had been banned from serving after the then parish priest arrived in the vestry unexpectedly to find a young Peter Cosgrove dressed in some of the priest's robes and giving an impromptu service.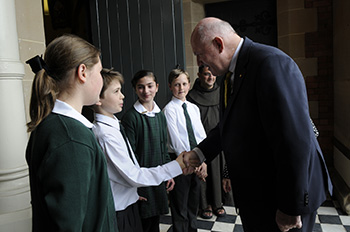 Sir Peter spoke about his own time at school and how as a schoolboy he too had sat in the pews of St Francis of Assisi Church.
"It's remarkable for me to look at you and imagine myself sitting in those pews as young as you are now. I certainly didn't look as tidy," he told the children with a broad smile.
He then set about answering their questions.
"Each class had come up with one questions and decided on which student from the class would put the question to His Excellency," says Gai Melville.
Asked by Eleni from Year 5 who were his role models during his years at the primary school, Sir Peter revealed that his hero had been Richie Benaud, the great cricketer who would later become acclaimed as one of the world's outstanding cricket commentators.
His favourite subject had been English, especially reading, he told the youngsters and admitted that as a schoolboy he was not sure about what he wanted to be when he grew up. It varied between wanting to be a policeman or a teacher. He had also thought about being a soldier as his father and grandfather had both been soldiers.
"His Excellency did not speak down to the children but spoke to them," says Gai Melville who says the children are still excitedly talking about the visit and reliving the day.
The Governor General congratulated his former school for the consistently high performance of the students and said he was delighted to see the primary school as "one of the very best primary schools in NSW - and because we're proud of our State let's say it's one of the best schools in Australia."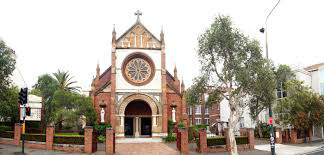 The Acting Principal says children as well as the staff and parents pride in their school was palpable and that the visit was not only memorable but inspirational.
The former Sisters of Charity primary school has not lost its links with the congregation. Sister Mary Frances Gould RSC,is a learning support officer and member of staff.
"The Governor General remembered the Sisters who taught him and was keen to meet Sr Mary Frances," Gail Melville says.
The visit ended with the school singing the St Francis of Assisi Regional Primary School Song.
Photographs by Kitty Beale