Newest Primary School in Archdiocese Celebrates National Book Week With Some Old Favourites
Catholic Communications, Sydney Archdiocese,
25 Aug 2015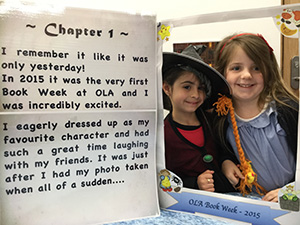 School Principal Cathy Young dressed up as Goldilocks, Deputy Principal Siobhan Van Den Nieuwenhuizen came as Snow White and amongst other members of staff at North Strathfield's Our Lady of the Assumption Primary School there was a Mary Poppins complete with brolly and a fairy tale Princess.
At North Strathfield's Our Lady of the Assumption Primary, the Archdiocese of Sydney's newest school which opened its doors to students in kindergarten and in Years 1 and 2 earlier this year, the principal and staff pulled out all the stops at the start of the week to celebrate National Book Week with a parade, a reading of favourite stories and a special performance of the characters and plot of Scary Night by Australian author, Lesley Gibbs.
The performance of Scary Night, announced 2015's Early Childhood Book of the Year yesterday, was set to music and acted out by school's Year 1 and 2 youngsters.
For the 55 kindergarten students aged five and six, the day was a chance to be part of a book parade dressed as favourite characters from books read at school as well as those they read at home. Among the throng of youngsters were Little Red Riding Hood, the Cat and the Hat, Fancy Nancy and a witch straight out of the Wizard of Oz.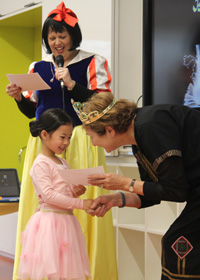 With parents providing an enthusiastic audience, the parade began at 9.am as the children marched around the school grounds to plenty of applause and shouts of encouragement.
The Archdiocese of Sydney's 150th school, Our Lady of the Assumption Primary at North Strathfield is the fourth Catholic primary in what is one of fastest growing areas in Sydney.
Although three other Catholic primary schools already educate 1300 youngsters, over the past few years, enrolments at St Ambrose Primary at Concord West, St Margaret's Primary at Strathfield, and St Mary's Primary at Concord have exceeded capacity as more and more families have sought a Catholic education for their children.
"Catholic schools have never been as popular with parents," says Dr Dan White, the Archdiocese's Executive Director of Schools.
In this its first year of operation, Our Lady of the Assumption Primary has enrolled 55 youngsters in kindergarten and just 17 in years 1 and 2. Next year more children will be enrolled in Years 1 and 2, as the youngsters currently in these years move into Years 3 and 4. This will continue until the school reaches capacity and is educating children from kindergarten right through to Year 6.
For Principal, Cathy Young the aim of Sydney's youngest primary school is to "maximise learning opportunities for every one of our students, regardless of their ability, experience, achievement or success."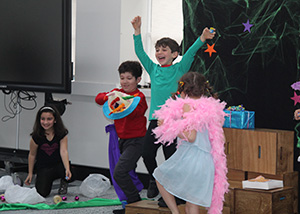 This week is not only the first time students at the new primary school have participated in National Book Week but also means an opportunity for the school to reach out and involve the local community.
"Along with parents yesterday, we had a Family Educator from our local parish which is a wonderful way to reach out to the community. She also talked to the children about faith and held what is known as SPAR - a time to Stop Play and Reflect," Deputy Principal Siobhan says.
Celebrations for National Book Week will continue all week at Our Lady of the Assumption with special book readings and on Thursday a visit from well known children's book illustrator, Cheryl Orsini, the talent behind books such as Caravan Fran, Let's Do It! and the ABC Book of Cars, Trains, Boats and Planes.