Archbishop Urges Mothers to Raise Their Child in the Ways of God
Catholic Communications, Sydney Archdiocese,
25 Aug 2015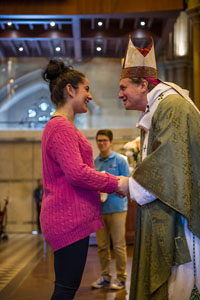 Archbishop Anthony Fisher OP celebrated the Archdiocese of Sydney's annual Mass for Pregnant Mothers urging them to raise their child in the ways of God by praying with them, even in the months before they are born.
More than 100 expectant mothers, their husbands and families attended the much- anticipated Mass for Pregnant Mothers at St Mary's Cathedral on Sunday, 23 August.
Each of the mothers-to-be were individually blessed by the Archbishop who used his homily to thank them for "choosing life, for serving life and for collaborating with the Author of Life - God the Father."
Speaking out against what he called the "self-idolisation of modernity," the Archbishop expressed his concern at the plummeting fertility rates in the Western world and said many couples today considered children an optional extra, something to think about after the pair had set about achieving what they considered the "really important things" such as career advancement, the acquisition of real estate and overseas travel.
"If babies are welcomed at all, it is often to fulfil adult desires and we have various tests and scans to ensure they measure up - or else," the Archbishop said.
He compared the recent media and public outrage at the shooting of Cecil the Lion in Zimbabwe by an American recreational hunter with the relative silence about recent revelations in the media that abortion provider Planned Parenthood regularly traffics in foetal body-parts.
Citing US commentator, Elizabeth Scalia, he spoke of her dismay at the way women are increasingly made to feel unwelcome for bringing their children into shops, entertainments, doctor's surgeries, and even churches.
Even more troubling for Scalia is the puzzled awe that crossed the faces of some people when they saw babies, as if they are aberrant artefacts or sweet hallucinations worthy of a passing smile, before returning to their own child-free normality.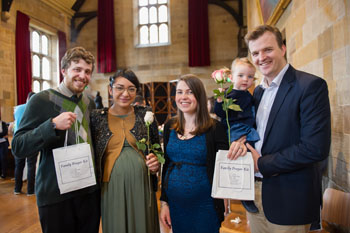 "Our pregnant mothers today are counter witness to this," Archbishop Fisher said pointing out that mothers uniquely show the pursuit of self is not all there is to life, or even what is most fulfilling.
"By this Mass the Church in Sydney recognises the dedication of women who bring new life into the world and the Christ-like self-sacrifice of the parents who care for those children thereafter," he said.
Quoting Pope Francis and his critiques of the all-too-common attitudes to children that make them a population or ecological problem, or a threat to personal life style, or a kind of project aimed at satisfying the needs of others, the Archbishop reminded those at the Mass that children are a gift.
"Not just because they are cute, not just for the joy they can bring, but precisely because they are so demanding; they demand our love and care," he said adding that there was no better strategy designed by nature to make adults really grow up, accept responsibility and compromise their comfort than the birth of a baby.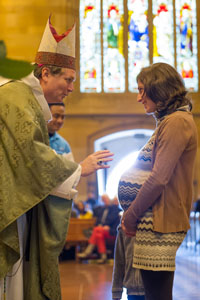 Archbishop Fisher also spoke of his recent introduction to a popular internet site for funny ultrasound photos of unborn babies. He talked of how some babies looked like Shrek the swamp dwelling cartoon ogre, others who high fived or gave a thumbs up seemingly waving at the camera. But it was a recently posted video that charmed the Archbishop as well as all those who have seen the footage of an unborn baby clapping along to the song "If you're happy and you know it, clap your hands."
Even if a baby is not yet born they are sentient beings who respond to music, voices, emotions and the world beyond the womb.
"Who knows what our unborn babies will do after today's blessing," the Archbishop said.
"The Church our mother joins with you, praying for you and your child, and calls you to raise your child in the ways of God by praying with them and for them, even now.'
The Mass for Pregnant Mothers is now in its eighth year with a number of those who attended at the weekend bringing along their toddlers and school age children, who were unborn when they attended their first Mass for mothers-to-be.
Archbishop Fisher's homily can be read here
http://sydneycatholic.org/people/archbishop/homilies/2015/2015823_113.shtml
Photography by Giovanni Portelli