Notre Dame Student Takes on the Final Frontier
Catholic Communications, Sydney Archdiocese,
19 Aug 2015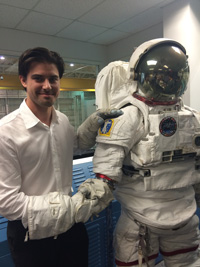 For any youngster who grew up with stars in their eyes, University of Notre Dame final year medical student, Andras Szomor's recent experience at NASA's Lyndon B. Johnson Space Centre would surpass even their wildest dreams.
During his time in Houston, Andras was not only given a detailed tour of the famous Space Centre, but met with current astronauts, explored the inside of a cockpit of one of a NASA shuttle, witnessed ground staff communicating with astronauts on the International Space Station and had a first-hand look at the engineer facility where NASA is building the Orion Spacecraft to be manned by astronauts on a future mission to Mars.
He also had the chance to experience hypo and hyperbaric chamber sessions, which are part of an astronauts training, and discovered what it is like to be in a low pressure environment similar to that found on the summit of Mt Everest.
But for Andras his time in Houston went far beyond simply being an observer and opened the door to aerospace medicine.
While researching information on this rare but ground-breaking field of medicine in space, the 27-year-old Sydney-based student discovered that NASA together with the University of Texas conducted an intensive four week course for final year medical students during America's summer university break. Open to final year medical students world-wide entry into the program is hotly-contested with just 20 selected from the many hundreds that apply.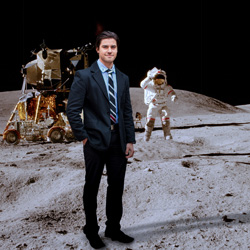 Andras was one of the 20 selected for medical students in their final year selected to take part in the program this year and in July, instead of enjoying Notre Dame's winter semester break, he took off for Houston, Texas and NASA's Johnson Space Centre.
The majority of students selected for the 2015 program came from the US and Canada, with several German, British and other European nationalities taking part. Andras, however, was the first Australian to ever to take part in the program.
The young Sydneysider not only broke new ground but as Captain Kirk of the Star Ship Enterprise would put it, in a search for new frontiers "he boldly went where no (Australian) man has gone before."
Throughout the jam-packed four week program, Andras attended lectures given by 40 of the world's experts in aerospace medicine. These included lectures by the current Director of NASA's Medical Unit, flight surgeons from recent space missions, and lectures by professors and cutting-edge researchers from the University of Texas' School of Aerospace Medicine.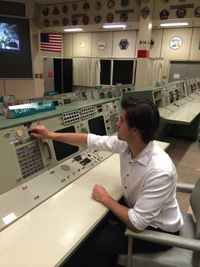 The young Australian also had the opportunity to meet and talk with astronauts at Houston's Johnson Space Centre and with commercial space flight specialists from Virgin Galactic, Space X and Boeing.
"I've always been interested in flying. When I was a child, my family moved around a lot. I went to kindergarten in Japan and we always seemed to be boarding a plane for somewhere," Andras says.
That air travel from an early age triggered Andras' life-long interest in aviation, which he says later extended to a fascination with space.
Initially, however, Andras saw his future in aviation and aerospace as an engineer and designer.
Graduating with a Bachelor of Engineering from the University of Sydney, Andras joined Qantas as an engineering intern. But within a few weeks, he rethought his career and enrolled at the University of Notre Dame's School of Medicine where he is now in his last year of a Bachelor of Medicine/Bachelor of Surgery degree.
"With doctors in my family, I grew up around medicine, so my decision to switch to medicine didn't come as a big surprise, and the family have encouraged me all the way," he says.
Far from being wasted, Andras' degree in engineering is very much a plus. Not only did he study mechanical space engineering as part of his degree, but many areas of engineering and medicine overlap, he says.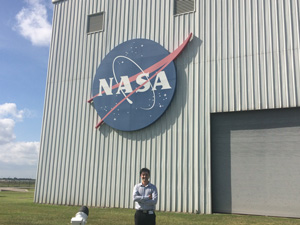 His engineering degree in all likelihood also played a major role in his selection from the many hundreds of applications for NASA and the University of Texas sought-after Space and Aviation Medicine Program.
His knowledge of engineering was also extremely useful in understanding latest developments in spacecraft and aircraft design to help combat health risks faced by pilots and astronauts, such as radiation, motion sickness and disruption to circadian rhythms.
"I enjoyed studying the medical considerations and the significant impact these have on rocket engineering and the building of space equipment, in particular the space suits worn by astronauts," he says.
Since its inception more than 50 years ago, NASA has fundamentally been an engineering organisation with most US astronauts trained pilots and scientists. But among the astronauts are a small number of trained physicians. These medical professionals or flight surgeons are not only trained to deal with medical emergencies in space but help oversee research, 65% of which relates to medicine and life sciences.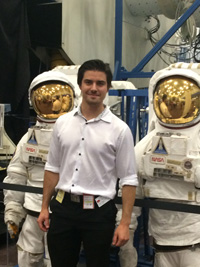 In Houston, aerospace and aviation medicine continues to forge ahead as doctors and researchers tackle flight-related medical concerns for those working and living in outer space. These include finding ways to mitigate the loss of bone and muscle mass while in space, motion sickness on re-entry, radiation damage, vision impairment, Intracranial Pressure Syndrome and ways to better maintain healthy nutrition in a weightless "unnatural" environment.
Even pregnancy in a weightless and space environment is being investigated and although as far as is known, no female astronaut has been pregnant during a space mission, aerospace experts believe the combination of radiation, weightlessness and G forces on re-entry would have a disastrous effect on the foetus.
Although this is not an issue for today's astronauts working on the International Space Station, it will become an issue in the not too distant future when colonising missions may be sent to mine minerals on the Moon or on Mars.
Now back in Sydney and at Notre Dame, Andras has already been offered a medical internship with St George's and Sutherland Hospitals after he graduates in November. Eventually, however, he hopes to specialise in aviation and aerospace medicine.
"It's a very exciting field and I would love to be able to contribute but and stay here in Australia," he says.