Push for Australia's Frontier Wars to Be Included in School Curriculum
Catholic Communications, Sydney Archdiocese,
18 Aug 2015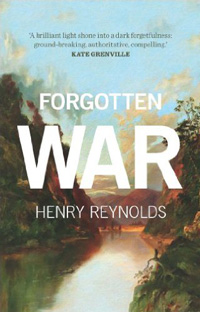 Indigenous sportsman and award-winning educator, Mark Heiss would like to see Australia's Frontier Wars included in the national school curriculum.
Health education graduate with a Masters in Education leadership and now Curriculum Administrator at Marist College North Shore, Mark grew up with the stories of Australia's Frontier Wars and the bravery and heroism of his people. He also learned the terrible price Australia's First Peoples paid in the Frontier Wars where more than 30,000 Aboriginals lost their lives in their bid to defend their families and their lands.
Armed with cannon, muskets and gunfire, the Europeans casualties were just 3,000, or 10 times less than those suffered by Australia's Indigenous peoples.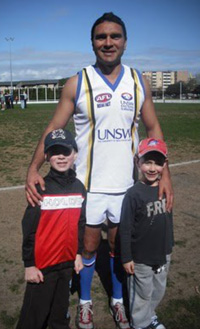 "These stories are passed down from Aboriginal family to Aboriginal family," he says recalling how he first learned about the Frontier Wars and Australia's early colonial history from stories told to him by his mother well-known Elder, Dr Elsie Heiss and by other family members.
As he grew older and curious to find out more he read books such as Bruce Elder's "Blood on the Wattle" and Peter Stewart's "Demons at Dusk" about the Myall Creek massacre.
"Like so many Indigenous people I was interested in our history and wanted to learn about this chapter in our history," he says and during a recent period during which he taught history at Champagnat Marist College, Pagewood, he found that whether Indigenous or not, youngsters were fascinated by the Frontier Wars and keen to learn more.
"Young minds love a good story. They are full of curiosity and when I was teaching history to Year 7 through to Year 10 I found there was enormous interest in the Frontier Wars," he says.
Mark hopes the upcoming Conference organised by the Marist Family Peace and Justice Group, "Both Ends of the Gun: Aboriginal Australians at War" will help raise awareness and lead the way in placing Australia's early history, and in particular the Frontier Wars, on the school curriculum in every state and territory across Australia.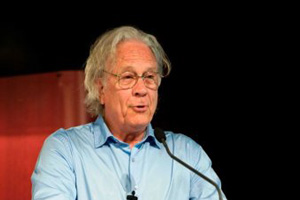 "It is important we redress the imbalance and address the lack of knowledge and lack of interest that is so profoundly at heart of foundation of this nation," says Father Jim Carty SM who is one of the driving forces behind the Conference which will be held at Strathfield's Santa Sabina College on Saturday, 29 August.
He points out that Indigenous soldiers were among those to whom the nation paid tribute this week during 70th anniversary commemorations marking the end of the War in the Pacific in August 1945, and Japan's surrender.
Fr Carty also points to the Centenary of Gallipoli commemoration held on ANZAC Day this year where Australia's Aboriginal members of the armed forces were also remembered and praised for their gallantry and courage.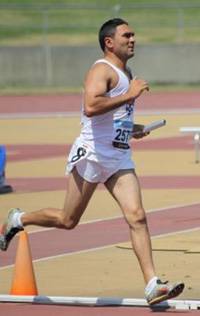 "It is important the contribution of Australia's First People in both the First World War, Second World War, Vietnam and other conflicts be recognised. But it is equally important the many thousands who fought against the white man in the Frontier Wars be neither overlooked nor forgotten," he says.
In New Zealand, the great chiefs of the Maori Wars of the 19th Century, are not only remembered but revered by contemporary Pakehas - non Maoris - and Maoris. Many landmarks are also named after chiefs such as Hone Heke and Te Kooti, with Maori culture, history and language celebrated and taught in schools.
"Few young people in Australia today have any idea of the huge losses sustained by Australia's Aboriginals during the Frontier Wars let alone the many individual feats of bravery and heroism," Fr Jim says.
He admits his own knowledge was also limited until he picked up a copy of "The Forgotten Way" by eminent Australia history and award winning author, Henry Reynolds.
"I am very much a Johnny-come-lately to the Frontier Wars but the more I read and uncover, the more disturbed I am that this part of our history has been overlooked and presented instead as a peaceful handing over of land," he says, insisting that no matter how painful it may be to have to confront difficult chapters in our history, it is important that we do so in order to come to terms with what happened and to grow as a people.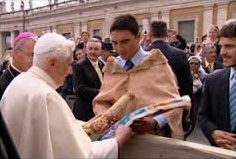 The keynote Speaker at the Conference will be 77-year-old acclaimed historian, Henry Reynolds. Although the septuagenarian seldom gives interviews or travels far from his home in Tasmania, the author of more than 10 books including major works such as "Aborigines and Settlers: The Australian Experience 1788-1939" and most recently "The Forgotten War", Henry Reynolds agreed to make an exception after being approached by Fr Jim.
"It's hard to remain uninvolved when confronted by such passionate men as Fr Jim, Brother Paul Hough SM and Jeff McMullen all of whom are organising the conference," says Mark Heiss revealing that although he initially agreed to be a consultant for the Conference, thanks to the efforts of Fr Jim, Br Paul and Jeff McMullen he is now also a member of the organising committee.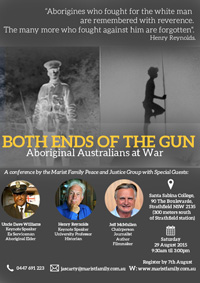 Also closely involved in mounting the Conference is the Archdiocese of Sydney's Catholic Education Office (CEO) with Director of the Inner West Region, Michael Krawec and Elizabeth Burke, Aboriginal Education Advisor working with the organising Committee since the idea was first mooted just over 12 months ago.
In addition to Henry Reynolds, an address will be delivered by Uncle Dave Williams, a long serving Naval Officer and Indigenous Elder. Jeff McMullen, journalist, founder of AIME (the Aboriginal Indigenous Mentoring Experience) and trustee of the Jimmy Little Foundation will also speak.
Mark Heiss will be among the facilitators at the Conference to answer questions and help promote discussion. More than 350 are expected to attend including senior school students, university students, historians and interested members of the public. To register for the Conference to be held from 9.30 am until 3 pm on Saturday, 30 August see www.maristfamily.com.au or email jascarty@maristfamily.com.au