Very Different Journeys to the Priesthood for Two Archdiocesan Men of Faith
Catholic Communications, Sydney Archdiocese,
17 Aug 2015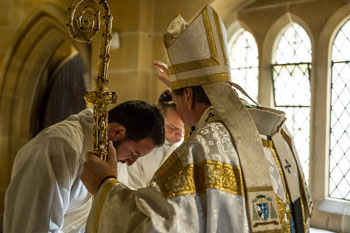 On the Feast of the Assumption of the Virgin Mary (Saturday 15 August) two deacons were ordained into the priesthood at a beautiful ceremony at St Mary's Cathedral.
The Archbishop of Sydney, the Most Rev Antony Fisher OP was the principal celebrant for the ordination to the priesthood of Rev Fr Thomas Stevens and Rev Fr Lewi Barakat but it was very much a "universal" gathering with family, friends, fellow priests and religious gathering from not only Sydney but interstate and internationally.
While Fr Tom Stevens was raised in Sydney his early profession as a maritime lawyer took him overseas and later when he joined the seminary further studies took him to Rome.
Friends from both walks of life were keen to join him on Saturday.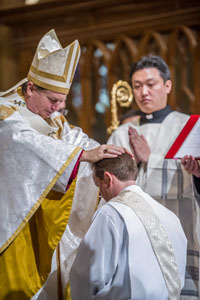 Fr Lewi is of Syrian background but has also studied in Rome, and fellow priests and seminarians travelled to Sydney for his ordination. Family also arrived from Syria just hours before the ceremony began. The Patriarchal Vicar of the Syriac Catholic Church in Australia, Msgr Michael Berbari was also one of the concelebrants along with Auxiliary Bishop of Sydney Terry Brady, Vicar-General Very Rev Gerry Gleeson, Rector of the Seminary of the Good Shepherd, Very Rev Danny Meagher and Msgr John Usher, former Chancellor of the Archdiocese and also Tom Steven's parish priest.
During his homily Archbishop Anthony said; "Tom Stevens' journey to seminary and priesthood is a tale of a growing certitude and repeated "putting it off". Like his bishop, he was born in the Mater, blessed with an excellent Catholic education (though on the other side of the river) and studied law. I've often said we all have shameful things in our past and one of mine is that I was a lawyer. Well, Tom took even longer to repent but finally crossed over from the courts of law to the courts of our God. His faith and vocation were nurtured by his mother Robyn and father Ron, his diocesan-priest uncle and the Marists who schooled him and with whom he worked. Like Lewi he had the advantage of seminaries both in Sydney and Rome and pastoral experiences that confirmed for him and for me his suitability for priestly service.
"Lewi, a youngest child like Tom, is of Syrian background. We are especially conscious of the suffering of Syrian Christians at this time, at the hands of the evil I.S. organisation and others, the daily martyrdoms, exile and other torments. That a beautiful Syrian-Australian heart is being offered today for priesthood can only be a cause of hope and healing for these suffering people. Lewi studied and practised as a fitness professional rather than a legal one, and so has less to repent of. While serving the Church of Sydney and youth of the world at World Youth Day 2008 he discerned God's will for him. There are many answers one might give those who wonder whether World Youth Day is worth all the bother: one will lie in our sanctuary today."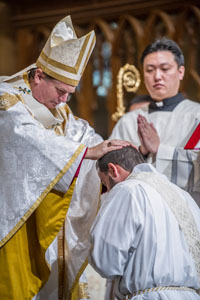 Archbishop Anthony went on to say that from this day people will event the two men to share in the most crucial points in their lives: their births, marriages and deaths, their sins and aspirations, their hunger and truth and love, their moments of touching the divine but also of desolation. He asked everyone to pray for the two new priests but also that "the Lord of the harvest will send us many more".
Following the ordination and the mass the Archbishop received a blessing from each of the new priests and each from the other.
They then spent nearly an hour in the Cathedral blessing all their family, friends and parishioners.

Then for each new priest a traditional celebration - Fr Tom in a local pub and Fr Lewi with a small Syrian get-together of around 300.
Fr Lewi will return to complete to complete his studies and Fr Tom will remain at Mortlake parish where he has served as deacon this past year.
The full Ordination to the Priesthood can be viewed here