Pacific Island Nations Accuse Govt's Climate Change Targets as Too Little Too Late
Catholic Communications, Sydney Archdiocese,
17 Aug 2015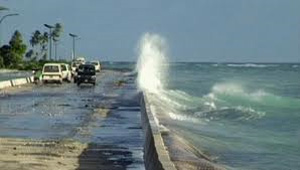 Threatened by rising sea levels, salinisation, erosion and loss of land, Kiribati, Tuvalu, Samoa, the Marshall Islands and other Pacific Island nations have expressed deep disappointment at Australia's Climate Change Targets post 2020 describing them as "too little too late."
The Australian Government has committed to a 26-28 percent reduction on 2005 emissions by 2030. This amount, however, is lower than most other developed countries, including Canada which has committed to 30% by 2030 and the US which pledges to reduce emissions by 26-28 percent by 2025, and by 41% by 2030.
"My country has few resources and is trying hard to survive," says Maria Tiimon-Chi Fant says and fears that Kiribati's population of 105,000 are facing the very real possibility that they will be forced to relocate to other countries due to climate change.
"The people of Kiribati are resilient and are working very hard for survival. But they desperately need more help from countries like Australia," she says.
While grateful for Australian aid and the work of Caritas Australia in a Disaster Response and Preparedness program over the past three and a half years, Maria urges the Australian Government to do more in terms of emissions.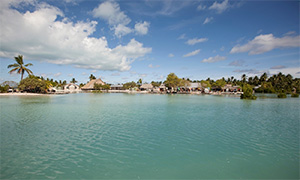 In a bid to get her message across, Maria travelled to Canberra to address a meeting organised by Caritas Australia at Parliament House. The meeting, chaired and moderated by Caritas Australia CEO Paul O'Callaghan hopes to raise awareness of the plight of our Pacific Island neighbours and lobby all politicians to vote for an increase in Australia's emission post 2020 targets.
The Caritas-sponsored event was open to Federal politicians, the media and will also be attended by representatives from a range of Catholic agencies including Catholic Mission Australia, Catholic EarthCare Australia and the Edmund Rice Centre's Pacific Calling Partnership.
Catholic Mission Australia is very much aware of the impact of reported rising sea levels on low lying Pacific island nations and in 2009 together with the Catholic Diocese of Bougainville helped evacuate the entire population of just over 1000 from their island homeland.
Swamped by the rising sea, leaving drinking water contaminated by salt and any arable land either too salty to grow crops or eroded and disappearing into the ocean, the Cateret Islands which had once been considered an island paradise off the coast of Papua New Guinea, had become uninhabitable.
The evacuated Cateret Islanders were resettled on 76 acres in Bourgainville but the move created deep trauma and anxiety among those forced to leave their homeland, culture, ancestors and hundreds of years of history.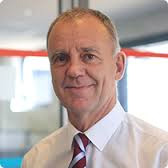 Now as sea waters continue to rise, inhabitants of Kiribati and other Pacific Islands are struggling to save their islands but unless rises in the ocean can be mitigated, and the effects of climate change brought under control, they face a similar fate to the Cataret Islanders.
Maria who works with the Edmund Rice Centre's Pacific Calling Partnership says elders on Kiribati are already urging the young people to take the opportunity now to move to other countries in order to create a future for themselves and their families. With a lack of wells and water storage and drinking water increasingly contaminated by salt, Kiribati is also struggling with crop failures and the loss of land as well as roads and other infrastructure to the inexorable rise of the sea. Life for those on the Islands is not only extremely difficult but is also becoming a health risk particularly for the very young and very old.
"A retired teacher on Kiribati told me she could not see a future on Kiribati," Maria says. "But despite being encouraged to go, 20-year-olds in Kiribati do not want to leave. As one young woman, said: 'my ancestors, my great grandparents, and my parents are buried here. There is no way we are leaving them behind.'"
Although very aware of climate effects on Kiribati, the young woman told Maria that she loved her country and that this was where she wanted to live her life.
"Climate change is the defining challenge of our time," says Paul O'Callaghan, CEO of Caritas Australia and calls on the Federal Government to increase its post 2020 targets and to contribute more meaningfully to climate financing in order to help Pacific island nations combat the encroaching sea.
"The Governments emissions targets announced last week are disappointing," he says and believes that Australia not only as a wealthy country, but as one of the highest per capita emitters globally, has a responsibility to do more in cutting emissions as well as helping our Pacific island neighbours in their ongoing battle against rising sea levels.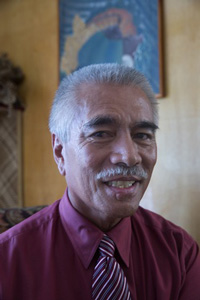 With no resources and struggling economies, there is no money for island nations such as Kiribati, Tuvalu, the Marshall Islands and Samoa to build sea walls or to protect what land is left from further contamination from salt or being swept away in storms and tidal surges.
Although an area with higher ground than many low lying Pacific Islands, Vanuatu has nevertheless been impacted by severe weather and in March this year experienced the worst tropical cyclone to make landfall in the Pacific. Tropical Cyclone Pam displaced 75,000 people in Port Vila, destroyed 96% of the Islands' food crops and destroyed roads, bridges, houses, businesses and entire villages.
Paul O'Callaghan also cites Pope Francis' Encyclical, Laudati Si' in which the Holy Father emphasised that it was the poorest and most marginalised communities that were already being disproportionately impacted by climate change.
In Kiribati and other Island nations there is also deep concern about Australia's proposed new mega coal mines.
On Friday last week the President of Kiribati, Anote Tong made a plea to world leaders for a moratorium on new coal mines, including the massive coal mines planned for Australia. In a letter to world leaders, including Australian Prime Minister Tony Abbott, Kiribati's President said halting the development of new coal mines was "an essential initial step in our collective global action against climate change" and vital for countries such as his own which face "a very uncertain future."
A growing body of research and evidence by New Zealand coastal geomorphologist Paul Kench, of the University of Auckland's School of Environment and colleagues in Australia and Fiji have also been studying how reef islands in the Pacific and Indian Oceans respond to rising sea levels and if they are destined to sink beneath the waves.
A National Geographic article on their research published earlier this year reported that Kench and colleagues found that reef islands change shape and move around in response to shifting sediments, and that many of them are growing in size, not shrinking, as the sea level inches upward.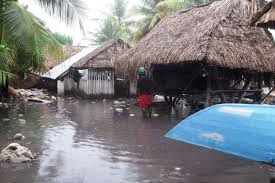 The implication being that many islands, especially less developed ones with few permanent structures, may cope with rising seas well into next century. However for places like Kiribati, Tuvalu and Maldives it is a different story. Human development has resulted in many structures like seawalls, roads and water and electricity systems that are locked in place. The analysis, which has extended to more than 600 coral reef islands in the Pacific and Indian Oceans, indicates that about 80% of the islands have remained stable or increased in size. Only 20% have shown the net reduction that's widely assumed to be a typical island's fate when sea level rises.
This week South Africa's Archbishop Desmond Tutu launched his own internet petition calling for nations worldwide to "help turn back the tide of climate change."
"We are called to care for the earth, which shelters all life and protect it from further harm. For this reason I am joining with the believers of the world's diverse religions and so many other men and women of good will to take small positive actions in my own life," he said.