Australia's "Larrikin Poet" Inspires Students at Notre Dame & Campion College
Catholic Communications, Sydney Archdiocese,
14 Aug 2015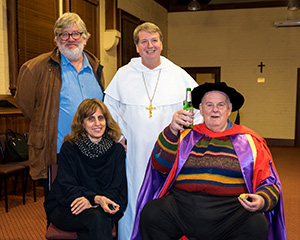 Liberal Arts student, Sam Rebbechi was among the hundreds of Campion College students who turned out in force last weekend for the chance to meet, ask questions and hear Australia's pre-eminent poet, Les Murray read some of his acclaimed works.
The "Afternoon with Les Murray", organised by Campion College Students Association (CCSA), took place last Saturday, 8 August when the 77-year-old poet spent more than two and a half hours with the students. He signed books, talked about inspiration for his poetry and also about his profound Catholic faith.
Les Murray was also on hand for the unveiling of a portrait by well-known Sydney artist Bob Baird which has been gifted to the College and will be hung in one of the main student tutorial rooms.
"We study Les Murray's works in second and third year so it was tremendous to actually meet and spend time with him," says Sam. "He's very much Australia's larrikin poet. He is a true Aussie and completely down-to-earth and straightforward."
Les Murray's renowned larrikin sense of humour also delighted the students.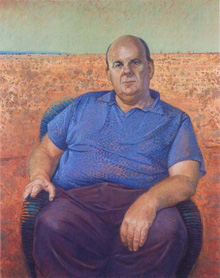 For the poet, who had several months of ill health earlier this year, the past two weeks have been a busy time. He has given students at two of Sydney's premium tertiary Catholic institutions a chance to pay tribute to his work and his faith.
On Tuesday, 28 July the man regarded as one of the world's greatest contemporary English-language poets received his ninth honorary doctorate.
A Doctor of Letters Honoris Causa in recognition of his "vast achievements" and "exceptionally distinguished literary career" was awarded to him by the University of Notre Dame Sydney at a ceremony held at St Benedict's Church, Broadway attended by a large cohort of students, faculty members as well as many dignitaries including the Archbishop of Sydney, the Most Rev Anthony Fisher OP.
In her citation at the ceremony, UNDA Vice Chancellor Professor Celia Hammond spoke of the many international awards Les Murray has received, and his many award winning books of poetry and verse including his "Subhuman Redneck Poems." She also spoke of his book "Killing the Blackdog" which using both prose and verse he revealed his battle with depressive illness.
Awarded the internationally prestigious Queen's Gold Medal for Poetry in 1999 on the recommendation of Ted Hughes, Britain's poet laureate at the time, Les Murray shows no signs of slowing down with his latest book of verse, "Waiting for the Past" released last month.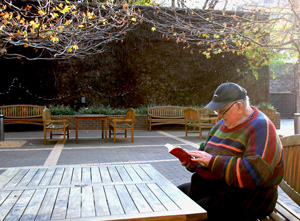 Professor Hammond used the words of the late Peter Porter who described Les Murray as "the custodian of Australia's soul," and said his writing had helped "define in cultural and spiritual terms what it meant to be Australian."
The ceremony at St Benedict's was a formal occasion and there was no doubt Les Murray enjoyed the evening, but with his typical lack of pretension and with an open beer bottle in hand after the event when he relaxed to speak with Archbishop Fisher, Professor Hammond and UNDA Acting Chancellor, Associate Professor Peter Prendiville, he insisted that while being awarded a doctorate was "a great compliment" he didn't think it was anything for the media or anyone else to get too excited about.
At both Edmund Campion Liberal Arts College at Toongabbie and in his keynote address at the UNDA ceremony in late July, Les Murray did what he says he usually does - "say a few words and read a few poems."
As president of the College's Student Association, Sam Rebbechi says organising the event began early in the first semester of this year.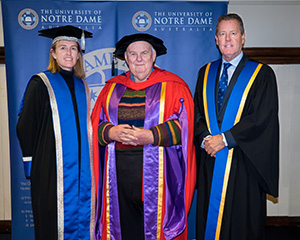 "But due to ill health the initial dates planned had to be postponed," he says.
At Campion Les Murray is not only studied by students but is also well known as a benefactor to the Campion College Library donating books and other works.
Well over his bout with sickness and insisting he is just fine, Les enjoyed his afternoon at Campion last Saturday as much as the students who queued to have books signed while he answered their questions.
"We asked him where he got his inspiration for those really strong images he uses, and he said that when writing poetry he prefers flashes of inspiration over long considered thought. He said this way things came out pure and natural," Sam says.
Poetry is a big part of the Liberal Arts College's English literature program with students not only inspired by visits from such greats as Les Murray but also by Dr Stephen McInerney, the College's Associate Dean of Studies and Senior Lecturer in Literature, who is also a recognised highly regarded poet.