Mass for Pregnant Women a Chance to say Thank You
Catholic Communications, Sydney Archdiocese,
14 Aug 2015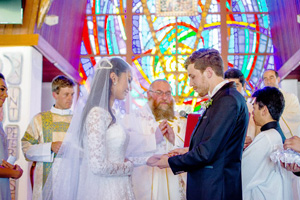 With the couple's first baby due in less than a month, young married Sydney couple Monica and Mark Aarts will be among the more than 90 mothers-to-be and their families at the Archdiocese of Sydney's annual Mass for Pregnant Women to be celebrated by Archbishop Anthony Fisher OP at St Mary's Cathedral on Sunday 23 August.
"I heard about the Mass for mothers-to-be last year. I thought it was a lovely way to give thanks to God for the precious gift of children, and even though I wasn't pregnant at the time, when I heard about the Mass, I remember thinking what a lovely idea it was," she says.
What Monica and her husband didn't expect was to discover shortly after they returned from a romantic honeymoon in Venice, that they were expecting their first child.
"Initially when we were told we were having a baby, we were shocked. We just stared at each other, unable to even speak," she says, explaining that she and Mark had married on 29 November last year, had taken off on a wonderful honeymoon, but that on their return in early January she found she was continually tired.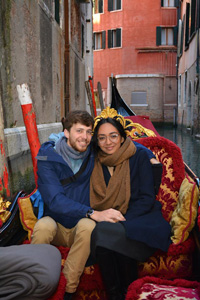 "I thought I better check that out with my doctor, who told us the day after my birthday on 15 January that I was pregnant.
"But once we got over the shock, we were thrilled. Now with the baby moving constantly and the birth so close, we are filled with joy," Monica says.
Not wanting to know whether their baby is a boy or a girl until he or she is born, Monica and Mark had already planned to go on a two day retreat on 21 and 22 August in preparation for the birth and to give thanks to God and ask for His blessing.
"Then we found out that this year's Mass for Pregnant Women at the Cathedral was being held on 23 August, just one day later and we thought attending the Mass would be a perfect ending to the retreat. What could be more beautiful than coming together as a community of pregnant women and being able to share in the physical passion of Christ and give thanks," she says.
Their two fathers are best mates and Mark and Monica have known one another virtually all their lives.
"With our Dads being best friends and both our families living nearby, I can't remember a time when I didn't know Mark. He tells me he had a crush on me and asked me out. But I was only 13 and not interested in boys or anything like that," she says.
For the next five years the pair remained friends, then after Mark entered the Seminary of the Good Shepherd to study for the priesthood he became Monica's mentor and guide, sharing the joy of profound faith with her and bringing her back to the Church.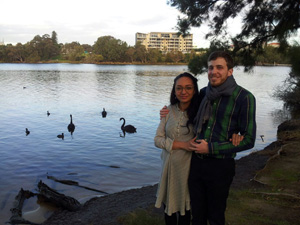 "My father, Adam Ochudzawa and Mark's father, Cornelius Aarts are both passionate Catholics and love discussing their faith and the Church's teachings with one another. But although I come from a Catholic background, as a teenager I didn't keep up with my faith and drifted away from the Church," Monica says.
But at 18, having left school, she was overwhelmed by a deep a sense of desolation.
" I needed guidance, but what I needed most of all was the Holy Sacrament," she says which is when she turned to Mark whom she says was not only "my only really good Catholic friend" but a seminarian as well.
"He helped me out and encouraged me to enrol at Campion College to study liberal arts, but most of all to learn more about my faith and Catholic teachings on ethics, philosophy and theology," she says.
Monica already had a passion for English literature and at Campion, she rediscovered the Church and developed a passion for her faith.
Mark continued with his priestly studies but after four years of prayer and discernment, he realised his vocation was not with the priesthood.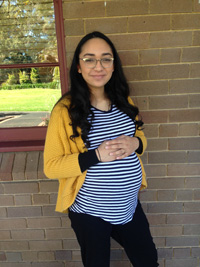 "We had fallen in love and he needed time and prayer to discover whether his vocation was to be with me as a husband and father or as a priest in the Church," she says.
Leaving the Seminary at the end of his fourth year, Mark moved to Perth where his sister lived and obtained a Graduate Diploma in Education. Then after obtaining a full-time position as a teacher of Religious Education at St Leo's College, Wahroonga, he returned to Sydney and proposed to Monica.
"It was 8 December which is the Feast of Our Lady of the Immaculate Conception. I was a bit stressed from assignments at Campion and I remember I was trying to buy a dress for some occasion. Mark followed me and my girlfriend into different shops even though he's like most men and hates shopping. Then in the evening we went out to dinner and then to Mass at St Mary's Cathedral. He took me to a park in Blacktown near where we grew up and where we used to meet. And that's when he proposed!" she says.
Now the couple are married and just over 10 months after their wedding day last year they are about to celebrate the birth of their first child.
"I feel very blessed," says Monica.
The Mass for Pregnant Women at St Mary's Cathedral will be held just one day after the Feast of the Queenship of Mary.
Now in its eighth year, the Mass which will be celebrated by Archbishop Fisher was an initiative of the former Archbishop of Sydney, Cardinal George Pell who celebrated the first Mass for Pregnant Women at the Cathedral in 2008.
Organised by the Archdiocese of Sydney's Life, Marriage and Family Centre the Mass will begin at 10.30 am on 23 August. All are welcome.