Double Ordination at St Mary's Cathedral
Catholic Communications, Sydney Archdiocese,
14 Aug 2015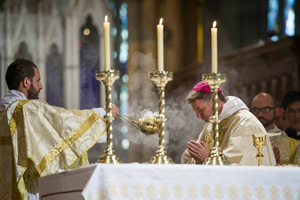 Two deacons of the Archdiocese will be ordained into the priesthood at St Mary's Cathedral tomorrow by Archbishop Anthony Fisher OP.
In a sacramental ceremony rich in history and tradition Deacon Thomas Stevens and Deacon Lewi Barakat will make their vows and become priests of the Archdiocese.
Deacon Tom has spent the past year at St Patrick's church, Mortlake assisting the parish priest, Msgr John Usher while Deacon Lewi has more recently been studying in Rome.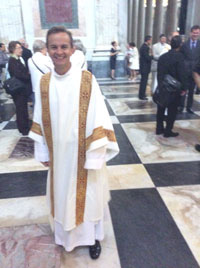 The Cathedral will be packed with family and friends, seminarians, priests and religious for the ordination ceremony which will begin at 11am.
All are welcome. The ceremony, which is also on the Feast of the Assumption, will also be streamed live on xt3 and can be seen at www.xt3.com/live