Former Sydney Rabbi Joins International Calls Against Desecration of Christian Sites in Middle East
Catholic Communications, Sydney Archdiocese,
10 Aug 2015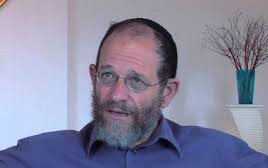 Rabbi Jeremy Lawrence, former Chief Minister of Sydney's Great Synagogue and now Leader of London's Finchley United Synagogue has expressed his profound concern for the well-being of the Christian community, their Churches and Holy sites in the Middle East.
The popular Rabbi who spent 10 years in Sydney before taking up his new appointment in London a year ago, is remembered with great affection by the Archdiocese of Sydney for his positive contribution to the ongoing dialogue and mutual respect of people of all faiths and cultures, and for his work with the NSW Council of Christians and Jews.
"Rabbi Lawrence's continuing commitment and respect for other faiths is shown by the way he has raised his voice in support of Christians suffering persecution in the Middle East," says Sister Giovanni Farquer RSJ, Executive Director of the Archdiocese of Sydney's Commission for Ecumenism and Inter-Religious Relations.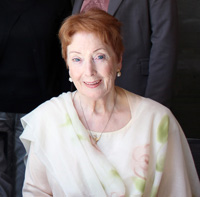 In Britain, Rabbi Lawrence has joined the Archbishop of Canterbury, the Most Rev Justin Welby and other members of the UK's Council for Christians and Jews (CCJ) calling for August to be a month of prayer, reflection and learning for persecuted Christians, particularly those in Israel who are under attack by extremist settlers.
Just over six weeks ago, the historic Church of the Multiplication of the Loaves and Fishes at Tabgha on the northern shore of the Sea of Galilee was torched by Israeli extremists. Anti-Christian graffiti in Hebrew was also scrawled across one of the Church's scorched walls.
The burning of the landmark Church was condemned by Prime Minister Benjamin Netanyahu, but it is the response by the Elijah Interfaith Institute Director, Rabbi Alon Gosyen-Gottstein that has won worldwide praise.
"Condemnation is not enough; after a while it loses credibility," Rabbi Gosyen-Gottstein announced from Jerusalem and backed by 17 leading Orthodox Rabbis, he immediately launched a crowd-funding campaign to repair the damage to the Church.
As of last week, the campaign topped its target of $US13,000 by more than $US2,000 with repairs and rebuilding of the important Christian church now under way.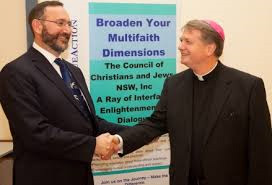 "When Jews reach into their pockets to support a cause, one knows they are serious," Rabbi Gosyen-Gottstein says.
The instant and overwhelming response by the Orthodox Rabbis together with Rabbi Jeremy Lawrence's public support condemning terrorist acts has been welcomed by Sister Giovanni who describes this as "Nostra Aetate in action."
Nostra Aetate is the succinct powerful declaration by the Second Vatican Council that laid down directions for all members of the Catholic Church about proper attitudes and conduct towards Jews and the people of the World Religions.
More than half a century later, it is even more relevant in today's world of religious fanaticism and the emergence of jihadist terror groups such as Islamic State (IS or ISIS).
"Nostra Aetate, in a unique way, raised universal questions relating to the whole of humanity and therein lies its relevance today. Such questions remain and grow daily more urgent. To address these questions dialogue is not an option but a necessity. As Christians we are mindful that Jesus, as the universal brother of all human beings, died for all, without exception," Sr Giovanni says.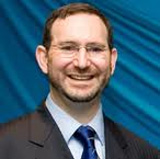 Last month to mark the 50th anniversary of Nostra Aetate, Sr Giovanni attended a four day conference in Rome convened by the International Council of Christians and Jews to celebrate "the Past, Present and Future of the Christian Jewish Relationship."
Expressing his concern for beleaguered Christians throughout the Middle East, Rabbi Lawrence says it is "incumbent of all peoples of faith ....to protest the desecration of Christian sites, the restrictions on their teachings, and the persecution and exile of their historic communities."
"We must add our voices to the protest and augment our prayers for their welfare," he said.
Rabbi Lawrence also pointed to a recent report by the CCJ which documented the thousands of Christians killed in the Middle East, and the countless hundreds forced to flee their homes, under the threat of violence from extremist groups.
Today there are just 300,000 Christians living in Iraq, down from the 1.4 million Christians living in Iraq in1987.
There are also few Christians remaining in areas controlled by the Islamic State and the Christians who have survived in Syria are under constant threat by rebel militias and IS-backed terrorists who loot their churches, destroy their homes and kidnap family members, holding them for ransom to finance their ruthless attempts to create a Caliphate across Northern Syria and Northern Iraq.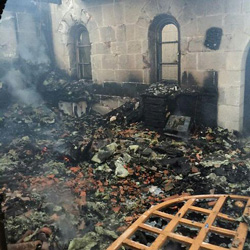 The persecution however is not confined to Iraq, Syria and Egypt, where Coptic Christians continue to be under attack. One of the areas of increasing concern is the persecution of Christians in Israel.
Last week, the Heads of the Catholic Churches in Israel, which included more than 20 Bishops and Archbishops, filed an official complaint to the Israeli police against the extremist settlers' leader, Rabbi Bentzi Gopstein who in a recent public debate declared he was willing to spend 50 years in prison for burning churches.
Rabbi Lawrence has long been outspoken against this type of extremism.
"As Chief Minister of the Great Synagogue Sydney, Rabbi Lawrence is remembered with esteem and affection. He is also remembered for his close relationship with the Archdiocese of Sydney during his decade in Australia and his friendship not only with Sydney's previous Archbishop, Cardinal George Pell, but with our current Archbishop, His Grace, Archbishop Anthony Fisher OP," says Sr Giovanni. "Rabbi Lawrence and Archbishop Fisher's interfaith debates around significant issues such as stem cell research will long be remembered and could well signal a more intense focus on Jewish-Christian Relations post Nostra Aetate."
To watch the 2014 discussion between Rabbi Lawrence and Archbishop Anthony on 'what is right?" see https://www.google.com.au/search?q=rabbi+jeremy+lawrence&rlz=1T4GUEA_enAU637AU637&source=lnms&tbm=isch&sa=X&ved=0CAkQ_AUoA2oVChMIvvOsut-dxwIVwymmCh1JXAnV&biw=1536&bih=721#tbm=isch&q=rabbi+jeremy+lawrence+and+bishop+anthony+fisher&imgrc=887ErDs-_M_xkM%3A