Sydney's Dominican Archbishop Ordains Two Dominican Brothers to the Diaconate
Catholic Communications, Sydney Archdiocese,
9 Jul 2015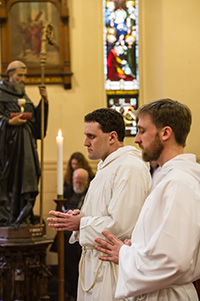 More than 150 family, friends and members of Sydney's Dominican community attended the ordination of two young Dominican Brothers as deacons by Sydney's Dominican Archbishop, the Most Rev Anthony Fisher OP at St Benedict's Church, Broadway on Saturday, 4 July.
Brother Matthew Boland, 38 and Brother James Baxter, 34 have spent the past five years in formation at the Dominican Studium, or house of studies, in Melbourne, and have now been ordained to the Diaconate.
Throughout their years of formation and intensive studies, the newly-ordained deacons said Archbishop Fisher had been a constant support and that over the years, he had attended each one of their professions and other significant milestones.
On Saturday, although the Archbishop had only just touched down at Kingsford Smith Airport after a delayed and arduous 21-hour flight from Rome, he was determined nothing would stop him celebrating the Ordination Mass of the two young confreres, and as soon as he cleared customs, he headed for the city and St Benedict's Church.
"It was a marathon effort by the Archbishop and a wonderful show of support," says Br Matthew.
Prior to entering the Dominican postulancy Melbourne in 2009, the now 38-year-old Br Matthew had been a publican and experienced in work and managing many of Sydney's hotels and bars. According to Br Matthew this has proved to be "handy experience" since he entered religious life as it involved constant interaction with people on a daily basis.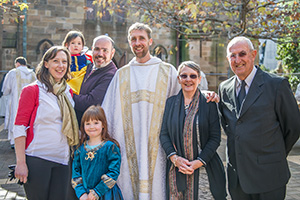 "You get into a lot of deep conversation over the bar and that carries over a bit into religious life," he says.
Both deacons say they were attracted to the Dominicans both by the writings and teachings of Thomas Aquinas, the 13th Century Dominican priest and Doctor of the Church, and by the balance the order had struck in its almost 800 year history between study and an active life of service.
Among those at Saturday's Ordination Mass giving their support to Sydney's newest deacons, were Dominican Provincial, Fr Kevin Saunders OP; Master of Studies, Fr Mark O'Brien OP; the Prior of St James, Sydney Fr Anthony Walsh OP; and Vocations Promoter, Fr Thomas Azzi OP.
The Dominican Sisters of St Cecilia were also present.
Before his marathon flight back to Australia, Archbishop Fisher who was coordinator for World Youth Day in Sydney in 2008, travelled to Poland for briefings on next year's World Youth Day in Krakow. He then journeyed to Rome joining up with a pilgrim group of family, friends and colleagues. Over a week the group visited many of the city's sacred sites before attending Mass with His Holiness, Pope Francis on the Feast of Saints Peter and Paul at St Peter's Basilica where Archbishop Fisher was presented with the Pallium, as the ninth metropolitan archbishop of Sydney.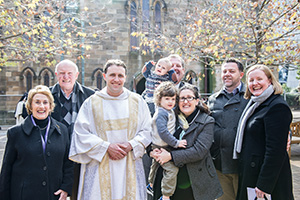 The Pallium is a vestment resembling a narrow scarf made from lamb's wool and has been worn by Popes since at least the Fourth Century. It is also the ancient symbol of office of Metropolitan prelates, signifying their close connection with the Church of Rome.
In a break with the tradition rather than being invested with the Pallium in Rome, this year Pope Francis decreed that the formal investiture take place instead in the newly-appointed bishops' and archbishops' home dioceses to enable local clergy and parishioners to participate in the Investiture Mass and share in this significant occasion.
Archbishop Fisher will be invested with the Pallium by Archbishop Adolfo Tito Yllana, the Apostolic Nuncio and Papal Representative in Australia at a Mass at St Mary's Cathedral on 25 July at 10AM to which all are welcome.