St Mary's Cathedral Recital by British Master Organist a Rare Treat for Music Lovers
Catholic Communications, Sydney Archdiocese,
9 Jul 2015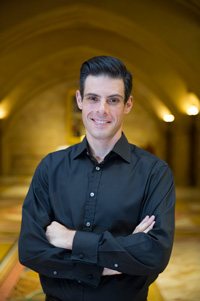 Thomas Wilson, Director of Music at St Mary's Cathedral is not usually given to hyperbole. But when it comes to the upcoming Grand Organ Recital at St Mary's Cathedral by British master organist, David Briggs, he doesn't hold back.
"Concert performances come and go, but the concert by David Briggs is a rare treat indeed. There are only a handful of living artists who could pull off a performance of Mahler's Second Symphony which is scored for a full symphony orchestra, but which will be single-handedly transcribed by David at the organ," Thomas says insisting that for music lovers there is no finer or more exciting performer than David Briggs.
On Saturday, 18 July David Briggs will present Mahler's towering "Resurrection" Symphony at St Mary's Cathedral as part of the Cathedral's immensely popular program of Grand Organ Recitals.
The concert is the fourth in the Grand Organ Recital 2015 program which began with a performance by Andrew Lumsden, world-renowned organist and Director of Music at Britain's historic Winchester Cathedral who presented the Toccata, the final movement from Widor's Symphony No 5, a favourite of British and European Royals and frequently used as recessional music at Royal wedding ceremonies.
This was followed in March with a performance by Thomas Wilson, also an internationally renown organist and director of music. With his concert scheduled during Lent, Thomas performed Dupre's Le Chemin de La Croix with the choir accompaniment provided by the St Mary's Cathedral Scholars.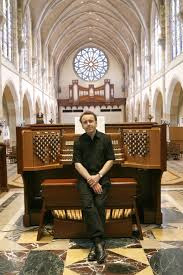 The third concert in the Cathedral's Grand Organ Recital series took place on 29 May when Colin Andrews, British-born American-based organist and Adjunct Professor of Music (Organ) at Indiana State University's Jacobs School of Music performed selections from Johann Sebastian Bach and interpretations of 20th century composers, Joseph Bonnet and Olivier Messiaen.
Each of the concerts so far has been an outstanding success, and as with the upcoming recital by David Briggs, have given Sydneysiders a unique opportunity to hear and appreciate music created by some of the world's most outstanding organists on St Mary's famous richly-toned 3600 pipe Letourneau organ.
The spectacular setting inside Sydney's iconic Cathedral with its treasures and precious artworks and superb acoustics gives added resonance making each Grand Organ Recital an unforgettable event.
While still a teenager David Briggs was already making his name as one of Britain's outstanding musicians. At 17 he had already been made a Fellow of the Royal College of Organists and won many prizes and awards. From 1981 until 1984 he was an Organ Scholar at Cambridge University's King's College during which time he took out the coveted Silver Medal of the Worshipful Company of Musicians. From Cambridge he travelled to Paris undertaking further studies with Jean Langlais.
The first British organist to win the coveted Tournemire Prize at the St Albans International Improvisational Competition, David Briggs also took out first price at the International Improvisation Competition at Paisley in Scotland.
Over the past 20-plus years, he has held positions at Hereford, Truro and Gloucester Cathedrals and is currently Artist-in-Residence at St James Cathedral, Toronto, Canada.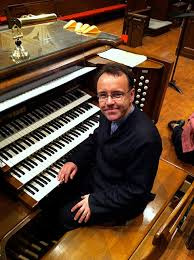 However it is as a concert performer he is best known and most admired. Giving as many as 60 concerts across the globe each year, he is renowned for his brilliant organ transcriptions of symphonic music by composers such Mahler, Schubert, Tchaikovsky, Elgar, Bruckner, Ravel and Bach. His performances are acclaimed for their musicality, virtuosity and ability to excite and engage audiences of all ages.
Fascinated by the art of improvisation since he was a child, David Briggs also frequently performs improvisations to silent film classics such as the Hunchback of Notre Dame which starred Charles Laughton, 1925's Phantom of the Opera starring Lon Chaney as well as a variety of Charlie Chaplin films.
David Briggs is also a prolific composer with works ranging from full-scale oratorios to compositions for solo instruments. Over the past two decades he has recorded a DVD and 30 CDs many of which include his own compositions and transcriptions.
But it is possibly his transcription of Mahler's Second Symphony, which he will perform at the Cathedral, which has won him the most admiration and plaudits. He performed the work for the first time in 2013 at New York's Cathedral of St John-the-Divine and won a standing ovation. A short time later, he premiered the work in Britain at the Truro Cathedral where international celebrity concert organist, Carlo Curley announced: "I have never heard a more thrilling performance - and you may quote me to the ends of the earth and beyond."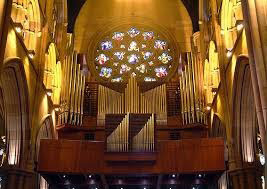 Music critic, Judith Whitehouse writing for the "West Briton" went even further, describing David Briggs' transcription of Mahler's "Resurrection" or Second Symphony as it is also known, as "a pulse-racing, life-enhancing experience which will long be remembered by those who were there. From the arresting opening, and for the next hour before the chorus entered in probably the longest wait in any major work, we were taken on an amazing journey."
At David Briggs' Sydney concert at the Cathedral he will be joined by the St Mary's Singers for Mahler's Second Symphony's final movement.
The Grand Organ Recital by David Briggs begins at 7.30 pm on Saturday 18 July. Tickets for general admission start at $20 and for reserved seating at $30 and are available at the door or can be purchased online from http://www.trybooking.com/Booking/BookingEventSummary.aspx?eid=141658