Archbishop of Hobart Defends Church's Position on Marriage Against Charges of Discrimination by Same-Sex Lobbyists
Catholic Communications, Sydney Archdiocese,
8 Jul 2015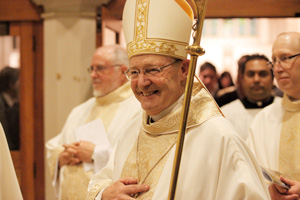 The Catholic Archbishop of Hobart, the Most Rev Julian Porteous has turned to social media posting a two minute video on YouTube to defend the Church's position on marriage and to answer charges of discrimination by Rodney Croome, Tasmania's advocate and lobbyist for the legalisation of marriage between same-sex couples.
Archbishop Porteous, who for many years served as Auxiliary Bishop to the Archdiocese of Sydney, says it is important there is a serious public debate in terms of any proposed changes to the legal definition of marriage in Australia which is currently defined under the law as the "union between a man and a woman to the exclusion of all others."
"The outcome in terms of Federal legislation about the definition of marriage has significant implications for the future of our society. People need to reflect deeply on these issues and all its implications," he says.
The Australian Bishops' 16-page pastoral letter, "Don't Mess with Marriage" was distributed to parents of students at the nation's Catholic schools last month, explaining the Church's formal teachings on the Sacrament of Marriage, and reaffirming and supporting the legal definition contained in Australia's Marriage Act 1961 and the Marriage Act Amendment of 2004.

While including the implications both legal and to society of changing the Marriage Act to permit same sex couples to marry, "Don't Mess with Marriage" also speaks out strongly against discrimination against others including those attracted to others of the same-sex.
"We all know and love people of same-sex attraction. They are our brothers and sisters, sons and daughters, friends and neighbours. They need love and support like anyone else," the Bishops write in their pastoral letter.
But same-sex lobbyist Rodney Croome nevertheless claims "Don't Mess with Marriage" is discriminatory against those of same-sex attraction and has launched a campaign in Tasmania against Archbishop Porteous where he has not only threatened to bring Archbishop Porteous before Tasmania's Anti-Discrimination Commission but has urged teachers and parents with children at Catholic schools across the state to make their own complaints to the State's Anti Discrimination Commissioner, Robin Banks.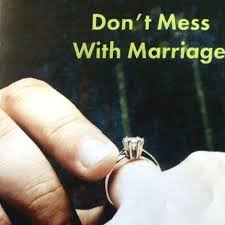 Croome, who is spokesman for Tasmania's Gay and Lesbian Rights Group and National Convenor of Australian Marriage Equality, the same-sex lobby group, describes the "Don't Mess with Marriage" booklet as "denigrating" and "demeaning of same-sex relationships." In an extraordinary tirade to the nation's mainstream media, he accuses Archbishop Porteous of being guilty of "child abuse" and a "hate crime," insisting that the Catholic Bishops' pastoral letter setting out Catholic teaching on marriage will do "harm to gay students and students being raised by same-sex couples."
In Tasmania, as in all other States and Territories, the "Don't Mess with Marriage" pastoral lettrer was placed in a sealed envelope and distributed to Catholic school students to take home to their parents.
"The Catholic Church has every right to express its views from the pulpit but it is completely inappropriate to enlist young people as the couriers of prejudice," Croome charged.
The Australian Christian Lobby instantly released a statement asking: "where have we come to as a society when the political activists for redefining marriage want to use the law to stop children in religious schools from being taught that religion's teachings?"
"If a family chooses to send their child to a Christian school they should not be surprised if their children are taught the faith and morals of the school's religious identity," Australian Christian Lobby spokesman, Lyle Shelton said.
Anthony Cleary, Director of Religious Education and Evangelisation at the Archdiocese of Sydney's Catholic Education Office (CEO) said it was most unfortunate the media attention given to Mr Croome and advocates for the legalisation of same-sex marriage had given the impression that the pastoral letter, "Don't Mess with Marriage" had been highly criticised by parents and students.
Of the 100,000 booklets distributed across the Archdiocese of Sydney, Mr Cleary has received fewer than 12 complaints, with a number of these about side issues rather than the Church's teachings on marriage or the same sex marriage debate.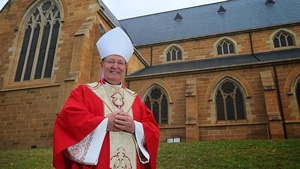 He also made it clear that there can be "no discrimination" when what is being supported in the booklet is the current Australian law on marriage, and points out that to disagree with another person's view does not mean you are discriminating against them.
Now three weeks after the booklet was distributed and Rodney Croome is continuing his campaign, Archbishop Porteous has taken to social media to help people better understand the Church's position on marriage.
In the two minute video, Archbishop Porteous also addresses criticism of the decision to distribute the "Don't Mess with Marriage" booklet to parents and guardians of Tasmanian Catholic school students.
"I have received many emails and personal words of thanks from parents," he says. "I have also received some criticisms of my action. I understand that some parents have disagreed with what I have done and I appreciate that some may find this teaching (on marriage) difficult to accept."
His wish is simply to clearly express the teaching of the Catholic Church and that by doing so he is fulfilling one of his roles as both Bishop and official teacher of the Catholic faith in the Diocese of Hobart.
"I present teaching as a positive contribution to the (marriage) debate as it outlines why the Church stands by the official and legal definition of marriage as found in our laws," he says.
The video of Archbishop Porteous' speaking on YouTube about Catholic teaching on the Sacrament of Marriage and defending the Church against some of its critics in the current marriage debate can be viewed at https://www.youtube.com/watch?v=BBx3_Cq2tAE