35 Couples to Renew Marriage Vows at Cathedral's Annual Marriage Mass
Catholic Communications, Sydney Archdiocese,
7 Jul 2015
Now in its fourth year, the Archdiocese of Sydney's Annual Marriage Mass and Renewal of Vows at St Mary's Cathedral has become a much-anticipated fixture by newly-weds as well as older couples who will celebrate their silver, gold, ruby or diamond milestone wedding anniversaries over the next 12 months.
"The annual Mass is a wonderful opportunity for the Church and the community to give thanks for the unique contributions that married couples make as husbands and wives, mothers and fathers," says the Archbishop of Sydney, the Most Rev Anthony Fisher OP who will celebrate the Mass and present couples celebrating milestone anniversaries with a certificate and small gift in acknowledgement of their selfless, life-giving and long, faithful married love.
"There is something irreplaceable about the intrinsic complementarity that a man and a woman bring to their marriage," he says.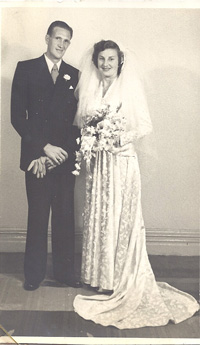 Since the first Marriage Mass and Renewal of Vows was held on 29 July 2012, more than 200 couples have renewed their vows and given thanks to God for His blessings on their marriage and the precious gift of children.
A further 35 couples will join together this Sunday when they will also give thanks and renew the vows they made on their wedding day, whether this was last year, 25 years ago or in the case of Waverley couple, Joan and Keith Dunsmore, almost 65 years ago.
Joan and Keith were married on 3 February, 1951 at Sydney's St Mary Immaculate Catholic Church, Waverley, where well over half a century later they are still active parishioners and seldom miss weekly Mass.
"Since we married we have renewed our wedding vows once before but it was a long time ago and so when we read about this year's Marriage Mass and Renewal of Vows to be held at the Cathedral on Sunday, 12 July, we wanted to attend. With our 65th wedding anniversary coming up, it seemed like a nice thing to do," Joan says.
Born and reared in Waverley, she met Keith who was a country boy from Scone, at one of the regular CYA dances in the St Mary Immaculate parish.
"We both loved dancing and all these years later we still go out dancing. But instead of ballroom dancing we've taken up square dancing," Joan says and believes the couple's shared interests and the fact they are best friends and partners is one of the key reasons for their marriage's happiness and longevity.
"We have always done things together, and we still do whether it's taking a ferry to Manly for a bit of lunch or getting on a train and just going wherever it takes us," she says.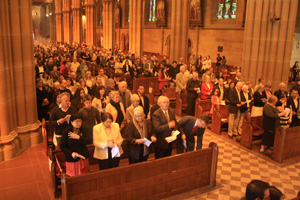 The couple are also jigsaw addicts and usually have a half completed jigsaw laid out on a table so that each can add a piece whenever they are passing.
"Keith is also a big fan of football which I don't even pretend to understand. I try to watch games with him but keep asking the same questions about why did they do that, which he patiently explains for the 50th or 60th time," she says laughing.
Although the couple have much in common, Joan believes the reason for the success of their marriage is also due to the fact they have different personalities. She is an extrovert and gregarious, while Keith is more of an introvert and more subdued.
"I talk alot, and I tease Keith telling him he has selective hearing and only hears what he wants to hear," she jokes.
Keith may not be a "talker" but throughout their marriage the couple say they have been able to talk through any problems and work them out before "they got out of hand".
In addition to their deep faith and belief in marriage as a holy sacrament, blessed by God, the couple's two daughters, sons-in-law, four grandchildren and one great grandchild, have also brought them great happiness and brought the couple ever closer together.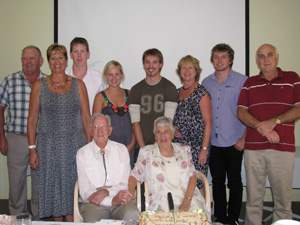 Their two daughters, Anne and Maree and their husbands threw a special 60th "diamond" wedding anniversary party for Joan and Keith in 2011 and are all set to throw another big bash for their parents on 3 February next year when they celebrate their 65th "blue sapphire" anniversary.
With both Keith and Joan full of energy and living life to the full, it's a certain bet their close knit family will also be on hand in five and a half years time when they celebrate their "platinum" 70th wedding anniversary and their enduring partnership.
All couples who attend this Sunday's Marriage Mass and Renewal of Vows at St Mary's Cathedral will have the opportunity of joining Archbishop Fisher for a group photograph on the steps of the Cathedral after the Mass and to meet the other couples renewing their vows at this special annual event.
The Marriage Mass and Renewal of Vows will be celebrated by Archbishop Fisher at St Mary's Cathedral at 10.30 am on Sunday, 12 July. To find out more information about the Mass see
http://www.lifemarriagefamily.org.au/
.