Australia's Newest Parish to Make Pilgrimage to St Mary MacKillop Tomb
Catholic Communications, Sydney Archdiocese,
30 Jul 2015
More than 100 parishioners from the newly-created St Mary MacKillop Parish at Oran Park will join their Parish Priest, Father David Catterall in pilgrimage to the tomb of St Mary MacKillop at North Sydney.
"We will pray beside her tomb, give thanks and ask for her intercession for our new parish ministry and works," Fr David says.
The Feast Day of Australia's first saint is celebrated on 8 August. But with more than 1500 expected to gather at the Mary MacKillop Place throughout the day to pay tribute to St Mary MacKillop's holiness and remarkable life, Fr David and his parishioners will make their pilgrimage a week later on Sunday, 16 August.
"The Sisters of St Joseph will be there to welcome us when we arrive, and at the moment we're organising buses to bring us to North Sydney and deliver us home again. Originally we thought we'd need just one bus but the number of parishioners who keep telling me they want to make the pilgrimage may mean that we have to take several buses," a delighted Fr David says.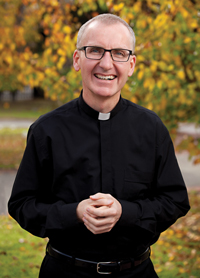 The new parish at Oran Park which is part of the Diocese of Wollongong borders the Archdiocese of Sydney's nine-year-old Holy Spirit parish at Carnes Hill. Both parishes were created to minister and provide pastoral care to families in one of Sydney's fastest growing areas.
"I've been in contact with Fr Danny Meagher, who was founding priest at the Holy Spirit Parish and is now Rector at the Seminary of the Good Shepherd. He has been very generous with his time and his advice and help has been invaluable," Fr David says.
The 42-year-old priest, who trained and studied at the Seminary of the Good Shepherd prior to his ordination on 25 March 2000, has a deep connection with St Mary MacKillop. Battling cancer as a 27-year-old, he prayed for her intercession and after a gruelling year of radiation and chemotherapy, he was pronounced cancer-free.
Then in 2005 after returning from World Youth Day in Cologne, a shadow picked up in a scan suggested the cancer may have returned. As he prepared for surgery, a fellow priest visited him and offered him the loan of a small piece of wood taken from Mary MacKillop's original casket. The coffin had been replaced in 1914 after she was reburied at the Mother House in North Sydney and the wood from the original casket is nowa rare and treasured relic of Australia's first saint.
Fr David held the blessed relic as he was wheeled into surgery.
When he woke he discovered the shadow was not cancer as he and his doctors had feared but in all likelihood a small now healed fracture.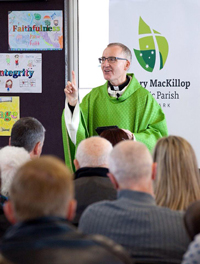 His prayers had been answered. Pronounced cancer-free and healthy he was determined to give thanks to the Sisters of St Joseph who had prayed for him and to Mary MacKillop. Travelling to Sydney with family and friends, the Sisters presented him with his own precious relic taken from Mary MacKillop's original casket.
Then in June last year, Fr David was diagnosed with another form of cancer: Non Hodgkin Lymphoma, a blood cancer that affects the body's lymphatic system and which can in rare cases be a side effect of intensive chemotherapy.
Chemotherapy however was deemed the best way to treat the cancer. By December last year, the chemo finally over, he underwent a series of scans.
No trace of Non Hodgkin Lymphoma was found. For Fr David this was definitely a miracle and proof of Mary MacKillop's intercession.
Eighteen months later, his close connection to the beloved Australian Saint continues.
Not only is the parish for which he is now the founding priest named after her, but his first day as the official priest of the new St Mary MacKillop Parish was 23 June this year, the date Mary MacKillop left Penola to found a ministry in Adelaide back in 1867.
Although the new parish at Oran Park still has no Church, Fr David held his first Mass on 19 July at St Justin's Catholic Primary School. More than 600 attended the Mass and stayed on afterwards for a sausage sizzle and to meet their new priest.
But before the end of this year, St Mary of the Cross MacKillop Parish will have its own parish centre and worship space. Already plans have been drawn up and staff and students at St Benedict's Catholic College are designing and building the altar and furnishings for the new church.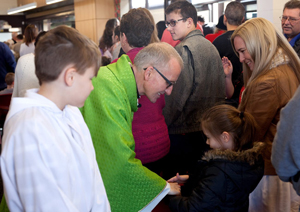 "My hope and prayer is that the relic from St Mary MacKillop's coffin given to me by the Sisters of St Joseph will be imbedded into the altar and be there for posterity," Fr David says.
This Sunday, he will be officially installed by the Most Rev Peter Ingham, Bishop of Wollongong at St Mary Mother of God Church at nearby Leppington, and on Sunday, 9 August he and his parishioners will hold what he calls a "Dreaming Day."
"It will be a day of festivities and fun for the children and a time for us to share our hopes and dreams for the Parish," Fr David says.
The following weekend, he and his parishioners will make their pilgrimage to St Mary MacKillop's tomb to give thanks and ask her for her intercession for the parish that bears her name.