Emergency Continues in Nepal Three Months After Catastrophic 8.1 Earthquake
Catholic Communications, Sydney Archdiocese,
29 Jul 2015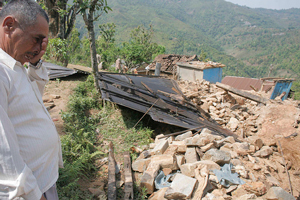 In the three months since Nepal was struck by a massive 8.1 quake and its devastating after shocks, Caritas Australia in collaboration with Caritas Nepal and America's Catholic Relief Services have provided emergency relief to more than 20,200 households and over 101,000 men, women and children.
But in one of the poorest nations on earth with many hard-hit mountainous regions accessible only by helicopter, life-saving support to Nepal's stricken population is still desperately needed.
"It's not easy to hold onto hope when all around you there is terrible destruction. But the Nepali people have been very resilient and have shown the spirit of co-operation and compassion between neighbours," says Father Pius Perumana SJ, Executive Director of Caritas Nepal.
In some regions the emergency has not only brought neighbours closer but in the chaos and struggle for survival, Nepal's caste system has occasionally taken a back seat with families of different castes sharing whatever they have. In rare but encouraging instances communities have also shared tarpaulins, food and essentials with people of the Dalit caste - or "untouchables" - who have the lowest status in Nepal and are denied higher education and government jobs.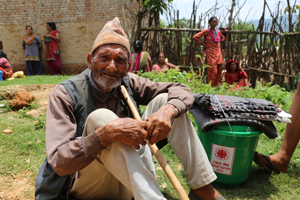 Caritas Australia has ensured that Nepal's Dalit people who comprise 14% of Nepal's population receive vital aid and are not overlooked as people from higher castes with government connections use their influence in a bid to take a lion's share of the wide range of help and supplies provided by international NGOs.
Nepal's 8.1 earthquake killed more than 9000, injured as many as 23,000 and left 450,000 homeless. An earthquake-triggered avalanche on Mount Everest swept through base camp where many climbers, including an Australian woman lost their lives. Historic temples and buildings dating back thousands of years were destroyed in Nepal's capital, Kathmandu. World heritage sites in the Kathmandu Valley were also destroyed.
Caritas Australia's on-the-ground team has worked in Nepal over many years with a range of programs to help lift communities out of poverty by teaching them sustainable farming and fishing and helping them to establish schools and much needed health clinics.
Almost immediately after the quake hit, the team from Caritas Australia were assessing the damage and together with staff from Caritas Nepal, distributing urgently needed tarpaulins, tents, blankets and fresh drinking water and food.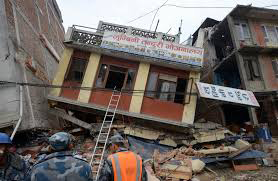 Joined by Catholic Relief Services and emergency teams from Caritas agencies in the Uk, the Netherlands, Germany and other parts of Europe, Caritas Australia and Caritas Peru set about bringing emergency aid to some of the hardest hit and most inaccessible areas of the steep mountainous country.
In some cases what roads there were had been badly damaged, in other instances the only way in was by helicopter.
"Caritas and local communities have moved mountains, literally to reach people in need," says Fr Pius Perumana and tells the story of how a group of drivers of Caritas trucks had to shift rocks and rubble from hillsides in Sindhupalchowk in order to clear the roads and reach the villages beyond.
Melville Fernandez, Caritas Australia's Humanitarian Emergencies Manager, is currently in Nepal and while he says Caritas and its fellow agencies have much to celebrate, there is still a long way to go.
"We are not through the hardest part and are racing to reach some of Nepal's most remote communities with life-saving aid before the monsoon rains intensify and make access impossible," he says adding that Caritas has prioritised the distribution of corrugated iron sheeting so families will have as much protection as possible in the monsoonal downpours.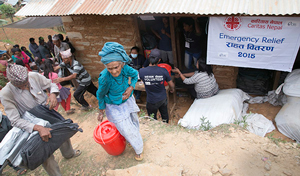 "The rains are desperately needed to ensure the growth of crops that so many Nepali families rely on for food and income, but we know that the downpours will also bring further landslides, mud and misery to many of those who are still struggling to recover," he says.
The United Nations Children Fund (UNICEF) has also issued a warning this week that children in Nepal continue to face multiple risks as their families have been forced into even deeper poverty by the quake with many still in need of aid and assistance.
Although the humanitarian situation had improved over the past three months, UNICEF's representative in Nepal, Tomoo Hozumi says hundreds of thousands of Nepali children still need shelter, food, access to water and sanitation, medical care, education and protection.
About one million continue to live in areas at high risk of floods and landslides. More than 10,000 have been identified as acutely malnourished since the April earthquake, with more than 200 without a parent or carer and with more than 600 children who have lost either one or both parents.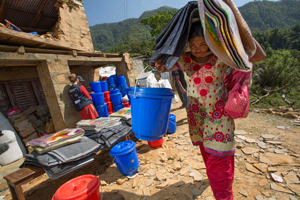 As families sink further into poverty and desperation, there are fears women and children will become easy prey to people traffickers. Unscrupulous and persuasive, the traffickers offer children and young women the promise of jobs and education. But this is no more than a guise for a multi billion dollar trafficking industry where women and children are forced to work as sex slaves or unpaid labourers in Malaysia, the Middle East, India, Turkey and many other nations worldwide.
For Caritas Australia, although still working to bring emergency relief to thousands of quake-stricken displaced families, plans are being made for the longer term when the agency's support teams will stay on the ground in Nepal to help people to revive their means of making a living, build better and stronger homes and restore their own communities.
"It is the extraordinary generosity of our Catholic community in Australia and the world over, who ensure we work in solidarity and honour the dignity of Nepal's most vulnerable people long after the news has moved on," says Melville Fernandez.
To donate to Caritas Australia's Nepal Appeal see www.caritas.org.au/nepalearthquake