St Mary's Cathedral Full for Archbishop's Pallium Mass
Catholic Communications, Sydney Archdiocese,
25 Jul 2015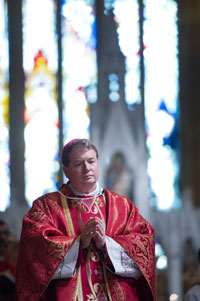 The Most Rev Anthony Fisher OP was officially invested with the pallium as the ninth Metropolitan Archbishop of Sydney at St Mary's Cathedral on Saturday morning.
Family, friends, colleagues, students, parishioners, community, business and political leaders as well as more than one hundred priests, bishops and religious filled every pew.
On the Feast of St James the Greater the pallium, a narrow woollen band was placed on the shoulders of Archbishop Anthony by the Apostolic Nuncio to Australia, His Excellency Most Rev Adolfo Tito Yllana.
A sign of communion between the Holy See and the Metropolitan Sees around the world, it is also a sign of the Archbishop's jurisdiction within their Province.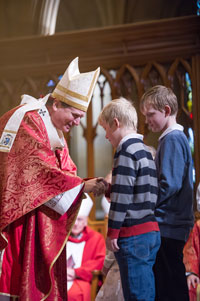 In Rome on 29 June at the Mass with Pope Francis on the Solemnity of Saints Peter and Paul, Archbishop received the pallium from the Holy Father who blessed it and asked that the Nuncio in Australia confer it upon the Archbishop with his people present.
During his homily Archbishop Fisher said he will wear the pallium as his sign of commitment to be a shepherd for the people and clergy of his archdiocese, after the heart of the Good Shepherd.