Hundreds Expected at Archbishop's Pallium Mass at Cathedral
Catholic Communications, Sydney Archdiocese,
24 Jul 2015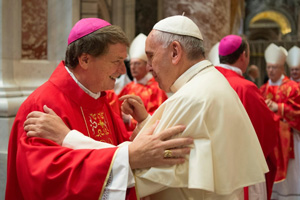 Family and friends, parishioners and students, Indigenous and community leaders, students, priests and fellow bishops will gather at St Mary's Cathedral tomorrow for the Solemn Mass for the Imposition of the Pallium upon the Most Rev Anthony Fisher OP, Archbishop of Sydney.
The relatively new Apostolic Nuncio to Australia, His Excellency Archbishop Tito Yllana will impose the pallium on Archbishop Fisher, Sydney's ninth Metropolitan Archbishop.
The pallium is made of wool from lambs the Pope has blessed on the feast of St Agnes (21 January) and is an important liturgical vestment of the Catholic Church. It is worn by the Pope and also given to Archbishops as a sign of communion between the Holy See and Metropolitan Sees around the world.
A narrow band of wool the pallium is sewn in a circle which is worn on the shoulders with two ends of the band arranged to hand down the front and back.
On the feast of Saints Peter and Paul, 29 June, Pope Francis blessed the new palliums at St Peter's Basilica Archbishop Anthony was one of 46 new archbishops who concelebrated this mass with Pope Francis and was given the pallium to bring home for the Nuncio to impose it on him in the presence of the bishops of his home province and the priests and people of the archdiocese.
Archbishop Anthony was in Rome with a pilgrim group at this time comprising family, friends, colleagues and fellow priests.
"This very happy occasion for me, my family, friends and colleagues marked the particular communion between the Pope and Metropolitans, between the Church of Rome and the major archdioceses, and between those sees and the surrounding ones," he said.
" It reminded me to be a pontiff or bridge-builder in our region and from our region to the Holy See so that ours will be a Church of churches, truly united in Christ."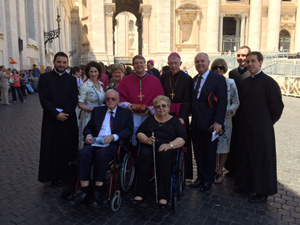 Thirteen bishops plus priests from the Archdiocese of Sydney and other dioceses and seminarians will also attend the mass tomorrow which will begin at 10am.However all are welcome to the Cathedral.
"I warmly welcome you to this special occasion when the pallium will be imposed upon me," Archbishop Anthony said.
"I will wear it with honour and as a sign of my commitment to be a shepherd after the heart of the Good Shepherd for you, and as a mark of communion both between the dioceses of our provinces, and between our Archdiocese and the Holy See."
The mass will also be streamed live at http://www.xt3.com/pallium/