Full House for Archbishop's Talk on "Same-Sex Marriage".
Catholic Communications, Sydney Archdiocese,
23 Jul 2015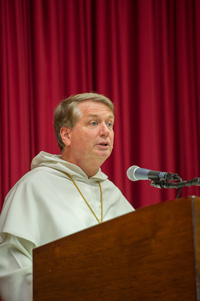 Around 500 people packed into Cathedral Hall at St Mary's Cathedral Wednesday night for an address by the Archbishop of Sydney, Most Rev Anthony Fisher OP titled
"Same-Sex Marriage" - Evolution or Deconstruction of Marriage and Family
?
The evening was hosted by the Order of Malta (NSW Branch) was the fifth in a lecture series on the Order's Defence of the Faith.
With the campaign to redefine marriage gaining momentum and attention Archbishop Fisher was keen to outline that with three and soon to be four bills before the Federal Parliament a change to the Marriage Act was not a "done deal".
Supporters of classical marriage, between a man and a woman, are often presumed to have no real arguments to offer however Archbishop Fisher said he wanted to offer reasons - "not decrees from on high, or from the past, not expressions of hatred or prejudice" but clear reasons people can understand and which can be helpful in proclaiming and witnessing to true marriage among families, friends and colleagues.
"The redefine marriage campaign has concentrated on the use of five common slogans and Archbishop Fisher addressed each one - that it's all about justice, that sexual differences don't matter, that it's all about love, that it's all about the numbers and that it doesn't affect me - while outlining the reasons for preserving the classical understanding of marriage," Archbishop said in concluding his address.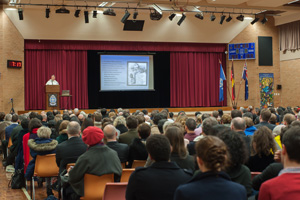 "The push to redefine marriage in Australia is not the done deal some think it is and those who resist it are not all bigots without reasons to offer as some suggest. Too much of the supposed 'debate' over the issue so far in Australia has been slogans, emotional spin and almost unprecedented public bullying of opponents. The real debate has hardly begun and we should resist been railroaded into this social change too quickly. That said, I must confess some admiration of the highly motivated and well organised minority[i] who have so effectively used the media, corporations and law to press this change on the general public. I only wish that the 'silent majority' of Australians, who enjoy the benefits of real marriage, would stand up for that institution with a similar passion and effectiveness.
"Some think the way to shore up all friendships is to treat them as marriages. Perhaps this is because modernity has forgotten how to love. That sounds odd in a culture saturated with love songs and talk of 'making love'. Yet the most common "How to?" and "What is?" questions asked of the Google search engines are "How to love?" and "What is love?"[ii] Modernity struggles with any kind of love that goes beyond feelings and intimacy: the cross-shaped, self-giving, Easter Day sort of loving rather than the heart-shaped, self-pleasing, Valentine's Day sort of loving. I believe that the SSM debate highlights the crucial importance of recovering healthy non-marital friendships - self-giving, other-directed, generous and chaste. We must learn again the arts of loving. These habits of heart that are no monopoly of the married, but the truly married are models for the rest of us of persevering in loving despite radical differences, of commitment and self-sacrifice for the sake not just of personal or even mutual goals but of yet-to-be-met children and a yet-unknown future society.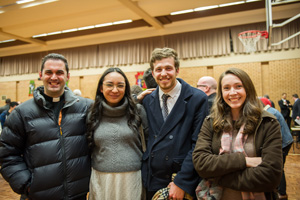 "Marriage is a precious patrimony of humanity, just too important to be treated as anyone's plaything. The further deconstruction of marriage is not inevitable - nothing is, except death and taxes - nor is it desirable. So do not be afraid to spread the good news about marriage and family. "
Archbishop's full address here