Waterloo Youngsters Among State's Super Achievers
Catholic Communications, Sydney Archdiocese,
23 Jul 2015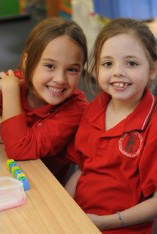 John Farrell, Principal of Waterloo's Our Lady of Mount Carmel Primary, describes his young students as "miracles." Against all the odds, these youngsters are among the State's best performers in literacy and numeracy.
"What they have achieved under what are often very difficult circumstances, is amazing," he says.
The majority of the 127 students who attend OLMC Primary live in Sydney's inner city public housing estate in Redfern. Some are from highly challenged homes. Most are from families on low incomes or entitlements. Around 70 percent of the youngsters are Indigenous. The other 30 percent come from Greek, Pacific Islander and other diverse backgrounds. For a number of these children, English is frequently their second language and is seldom spoken at home.
Despite this, the students at OLMC continue to perform above all expectations and in the most recent NAPLAN tests for reading, persuasive writing, grammar and punctuation and numeracy, Year 3 students at the school scored 100 points ahead of their counterparts at similar NSW primary schools.
Year 5 students at OLMC did equally well.
"When compared to schools of similar socio-economic backgrounds we've always gone pretty well but the latest results show we are getting even stronger," John Farrell says and immediately pays tribute to his fellow teachers.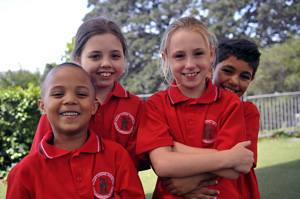 "I am blessed with incredible educators and with the wonderful staff I work with, the children are proving they can achieve just about anything," he says.
Not only were students at OLMC standouts in this year's NAPLAN tests but the school was singled out as one of NSW's top five primary schools relative to their ICSEA, which measures a child's educational advantage according to their parents' educational attainment and occupation combined with census data.
The ICSEA (the Index of Community Educational Advantage) is used by the My School Website to give fair and more accurate comparisons of achievements of the state's private, independent and public schools.
The most common ICSEA for most NSW schools is 1000 or above. However although at OLMC the ICSEA computed by the My School Website is 819 this has stopped students' at OLMC from aiming high and not only achieving their goals but outperforming their peers at other schools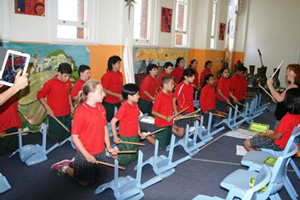 From the time children begin kindergarten at the Waterloo primary school, they embark on an innovative "transition to school program" which helps build the child's confidence as well as improve their language and communication skills. At OLMC ahead of reading, writing and arithmetic, what the children need to learn first is how to speak and interact with other children, and above all, how to play, John Farrell says.
"A lot of these children don't do a lot of imaginative play and they haven't had any experience of social play. Our kindy teachers help to develop the social skills so they can discover how to play with other children, how to share, take turns and to adapt," he says.
One of the ways to help children adjust is directed play involving interactive activities, many of which centre around OLMC's kindy shop and kitchen set up.
In many cases the youngsters also have to learn to speak. For this OLMC conducts an intensive program using speech and occupational therapists to help children learn proper pronunciation and to encourage them to express themselves in speech as well as play.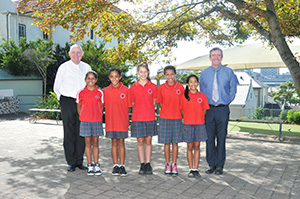 "We've had children who initially really baulk at the challenges presented by being at school and being in the classroom. But that is due to a lack of confidence and with patience as time goes on this changes and they become much more resilient and love coming to school and the challenges offered," John Farrelly says.
At kindergarten level as well as throughout the rest of their time at OLMC primary, students are encouraged, stimulated, challenged and empowered.
Together with Assistant Principal Kelly Bouris who teaches Kindergarten and what John Farrell describes as "all our other great teachers," the school has also developed a vibrant music and arts program. Rachel Scott from the Australian Children's Music Foundation spends one day a week fostering a love of music and musical expression. In addition the school has joined up with the Sydney Story Factory, the not-for-profit writing centre in Redfern. Volunteers from the Centre give their time free and hold workshops at OLMC to encourage students to use their imaginations and tell their own stories.
For youngsters at OLMC, the South Sydney Rabbitohs are their undisputed heroes with members of the team giving their time to help underscore a message whether this is on road safety tips for the entire school or the importance of dental hygiene to the kindergarteners.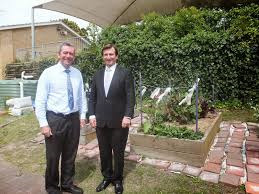 With his and his staff's leadership, dedication and love of the children they teach, OLMC is helping turn lives around and create a strong positive futures.
"By the time the children are in year six they are talking about finishing high school and the careers they would like. They have really strong ambitions of what they want to become and we encourage them to have ambition and aspirations and goals for their future," he says.
While OLMC is indisputably a school of achievers, John Farrell says it's important to keep raising the bar.
"Our children are truly amazing and keep proving to us with the right guidance and encouragement, they can achieve anything," he says.