Archbishop Hosts Annual Iftar Dinner at Cathedral House
Catholic Communications, Sydney Archdiocese,
17 Jul 2015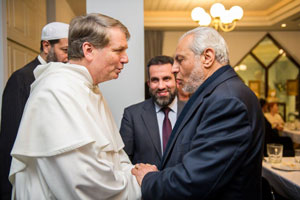 The Archbishop of Sydney, the Most Rev Anthony Fisher OP welcomed more than 70 guests representing 12 different belief traditions at Cathedral House last night for the Archdiocese of Sydney's annual Iftar dinner.
"Tonight, I am pleased to host the celebration of an Iftar meal with our Muslim brothers and sisters at the end of the Month of Ramadan" Archbishop Fisher told those present. "To my delight, gathered in solidarity here in my home this evening, are also leaders from Catholic, Orthodox and other Communities, together with guests from other faiths including the Jewish, Hindu, Buddhist, Sikh and Mandaean traditions," the Archbishop said and described the evening as a "celebration and sign of the very real mutual respect and cooperation of our various faith leaders in working together for peace and harmony in our local communities, our country and our world."
The Archbishop said the dinner was also an opportunity for all those present to reflect on what he and all faith leaders have in common in multicultural Sydney and Australia, what they shared in common as people of faith and what challenges they faced together and what ways they could better collaborate.
In a world where ignorance has lead to intolerance of other cultures and different faiths, the Archdiocese of Sydney's annual Iftar for leaders of Sydney's different faith traditions as well as those from other Christian denominations has become a symbol of mutual respect, friendship and hope for the future.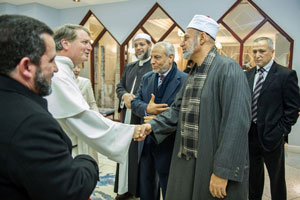 Iftar refers to the evening meal when Muslims break their fast during the Islamic month of Ramadan and is a religious observance frequently shared by extended family, friends and local communities where people come together after sunset to break their fast together.
Ramadan which officially ends tomorrow, Saturday 18 July, began on 18 June this year and represents 30-days of prayer, reflection and charitable giving by Muslim people of faith, who fast from sunrise to sunset each day throughout this holy period, and who invite others to share their Iftar meal each evening as a way of giving to others and offering charity to those in need.
Although Ramadan is one of the holiest periods on the Islam calendar, the Archdiocese of Sydney's annual Iftar dinner not only includes Muslim leaders but men and women from other major faiths across the city.
"By their observance of the Month of Ramadan the Muslim community challenges all of us to live a commitment to holiness and asceticism in which bodily needs are subordinated to discerning and living God's will and in which our desire to satisfy personal cravings is subordinated to our duty to be signs of God's love and generosity to the world," Archbishop told those at the dinner. "All of us here tonight recognise this primacy of prayer, fasting and charity, which can strengthen the body, nourish the human spirit and direct our focus and energies towards our neighbour in need and above all the Creator of the Universe, the all-powerful, merciful, compassionate and righteous God who is the source of all that is and all truth and beauty and goodness."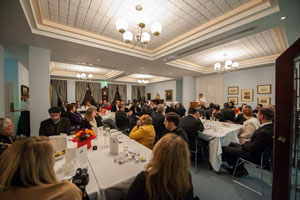 Archbishop Fisher discussed his concerns that in increasingly secularized culture such as our own, people of faith are being increasingly marginalised and the value of faith itself questioned.
"Witness the same sex marriage push where arguments proffered by religious groups are rejected precisely for being 'religious,' and where religious believers are subject to persecution for upholding their millennia-old traditions," he said.
The sexual revolution which dates back at least as far as the 1960s, had helped spawn not only the current campaign to legalise same-sex 'marriage,' but the ongoing push for easy divorce, for complete sexual licence, for mass abortion and for euthanasia including physician assisted suicide for the elderly and the handicapped.
"A virulent campaign is under way to silence the experience and example of the world's great religions and civilisations on matters of life and love," he said.
In his response to the Archbishop's address, the Grand Mufti of Australia, Dr Ibrahim Abu Mohamed acknowledged and praised Pope Francis for declaring 2015 as the Year of Mercy.
"He (Pope Francis) aspired to baptise mankind through its own spirit of Mercy to earn them the blessings of paradise," Dr Mohamed said. "Mercy is the foundation to all divine messages that were called by all the prophets and a widely-inclusive concept that includes such values as justice, freedom and love, because the dignity of man is at its core."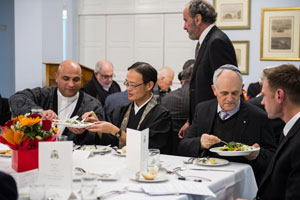 "For this reason words praising the majesty of God are meaningless without an appreciation and a striving towards mercy," he said. "No religion, or indeed no civilisation can thrive without these values."
The Archdiocese of Sydney's annual Iftar dinner at Cathedral House was established by former Archbishop of Sydney, Cardinal George Pell as a way of building peace and harmony among Sydney's many different faiths and as a sign of respect for diversity and tolerance.
Four years later, the dinner has become a much-anticipated tradition during the final weeks of Ramadan.
"This is the first such dinner that I get to host as the new Catholic Archbishop and I want to say to you all that you are always most welcome in my home," Archbishop Fisher told those present.
Among the religious leaders, clerics and members of the city's different faith traditions who attended last night's dinner at Cathedral House were Grand Mufti, Dr Ibrahim Abu Mohammed; His Excellency Sheikh Kamal Moselmane, Chairman of the Supreme Shi'ite Council of Australia; Maronite Bishop Antoine-Charbel Tarabay OLM; Rabbi Jeffrey Kamins; Chief Minister Rabbi Benjamin Elton who replaces the Great Synagogue's Rabbi Jeremy Lawrence who has taken up a new position in London; Greek Orthodox Archimandrite Father Apostolos Trifuyllis, Bishop Terry Brady, the Rev Dr Gerard Kelly, Coptic Orthodox Priest the Rev Shenouda Mansour, Antiochian Orthodox Archbishop Paul Saliba, and Buddhist Priest Shigenbu Watanabe.
Archbishop Fisher who grew up in Lakemba is immensely proud of his multi-cultural background which includes a Spanish Basque maternal grandfather and an Egyptian-born half-Romanian half Italian maternal grandmother. His mother, Gloria Maguregui was born in China and grew up there and in the Philippines before immigrating to Australia with her family.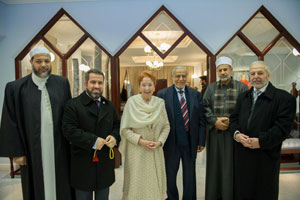 Not only does Archbishop Fisher have ancestors from four different continents but he has long been a champion of interfaith dialogue and inter-religious understanding.
"I have known the Archbishop over a number of years and he has a great capacity to learn from others," says Sister Giovanni Farquer RSJ, Executive Director of the Archdiocese of Sydney's Commission for Ecumenical and Interfaith Relations, and who helps organise the Archdiocese's annual Iftar dinner.
"Archbishop Fisher is someone who does not pretend to know it all. He is also someone who is able to delegate and is consultative, astute and very intelligent. In addition he increasingly grasps the vital importance of interreligious dialogue, particularly in today's world where interreligious dialogue is simply not an option," she says. "We have to foster mutual respect and mutual admiration between Christian denominations and even more importantly, between different faiths. Not to understand this or take it seriously is not worth thinking about. And this is something Archbishop Fisher has long recognised."
Read the full text of the Archbishop's address here