Sister Philomene Remembered as World Marks First Anniversary of MH17 Tragedy
Catholic Communications, Sydney Archdiocese,
16 Jul 2015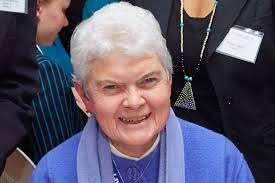 Students and staff at Kincoppal-Rose Bay will come together on Friday, 17 July for a special prayer service to remember Sister Philomene Tiernan RSCJ who lost her life when Malaysian Flight MH17 was shot down over the Ukraine exactly one year ago.
The school will also observe one minute's silence as they remember Sr Phil, as she was affectionately known, and who for more than 30 years was associated with Kincoppal-Rose Bay and the Rose Bay community. The variety of roles held by Sr Phil included that of teacher and pastoral care provider both to students inside as well as those outside the school. She was also Director of Boarding at Kincoppal-Rose Bay and from 2002 until 2012 was Director of the Kincoppal-Rose Bay School Board.
"We are all honoured to have known her," says Hilary Johnston-Croke, Principal of Kincoppal-Rose Bay who says flags at the school will be flown at half-mast on Friday.
"Sr Phil always wanted us to fly the Aboriginal flag alongside Australia's national flag," she says, explaining that one of the first things the school did to honour Sr Phil and her memory was to install an additional flagpole so that both flags could be flown together.
The Sydney community of the Sisters of the Sacred Heart of Jesus will also remember Sr Phil on Friday this week at a Mass at Our Lady of the Sacred Heart, Randwick.
The 77-year-old much-loved Queensland-born Sister was among the 298 men, women and children who lost their lives when their flight from Amsterdam to Kuala Lumpur was shot down over East Ukraine. All on board including Sr Phil and 37 other Australian citizens and residents were killed.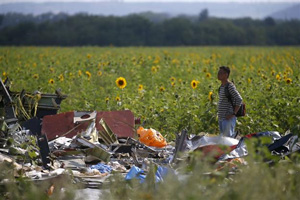 In one of life's strange coincidences, Sr Phil had been visiting the Netherlands with other members of the Tiernan family for the memorial service in the Dutch town of Dodwaard Uden for her uncle, Flight Sergeant Patrick Tiernan who was shot down and buried in the town during World War II.
After the memorial service, Sr Phil had travelled to All Hallows College, Dublin where she spent the month of May last year completing a faith and spirituality renewal course. As part of her time abroad, she visited St Francis Xavier Church in Paris where the founder of the Society of the Sacred Heart is buried and spent time in a retreat in Joigny, before returning to Amsterdam for the flight home.
While the horror, shock and loss of so many lives will remain for decades to come, for the students and staff at Kincoppal-Rose Bay, for her close and extended family and for the Community of the Sacred Heart, Sr Phil is remembered not because of the terrible circumstances under which she died, but for her joy, her love, her faith and compassion, and as an ongoing role model and inspiration for students at Kincoppal-Rose Bay.
"We have tried our best to normalise her memory. With each other and with our students, we talk about her in the most natural way, saying Sr Phil would enjoy this, or Sr Phil would have said that," Ms Johnston-Croke says. "At graduation last year I also spoke of Sr Phil's wisdom, compassion and joy and how she was a Sacred Heart Woman we aspired to be."
For the Principal of Kincoppal-Rose Bay, Sr Phil was both a mentor and close personal friend.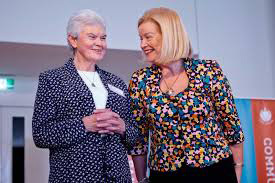 "She raised me to help me become the Sacred Heart educator that I am today. She was a great role model - as a Sacred Heart woman, educator of great faith and intellect with a strong commitment to social justice and to personal growth. She has left a wonderful legacy for us all to treasure for the rest of our lives," she says.
While Sr Phil will be remembered on the first anniversary of the downing of Malaysian Flight MH17 on Friday this week by the school and students she loved, and to whom she dedicated so much of her life, a celebration of her remarkable life will take place 12 days later when Kincoppal-Rose Bay's officially opens a new Learning Centre and a Boarding Bursary program, both of which will bear her name.
The Sister Philomene Tiernan RSCJ Learning Centre will be formally opened by Sr Phil's first cousin, close friend and fellow religious, Sr Rita Carroll RSCJ and will be blessed by Monsignor Tony Doherty, Parish Priest of St Mary Magdalene, Rose Bay.
Invitations to the launch and blessing feature one of Sr Phil's much-loved sayings: "Darling, you are doing so well!"
Together with Sr Rita, who is also Deputy Chair of the Kincoppal-Rose Bay School Board, the ceremony will be attended by the Provincial of the ANZ (Australia and New Zealand) Sisters of the Sacred Heart of Jesus, Sister Joan Pender and members of the Sydney Sacred Heart community.
The new learning centre named after Sr Phil will provide Kincoppal-Rose Bay with state-of-the-art collaborative learning spaces along with the latest in audio visuals for collaborative teaching and learning.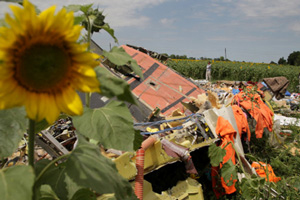 "The Centre is very much about how Kincoppal-Rose Bay is creating spaces for students so they can develop the skills needed for the future and a 21st Century world," Ms Johnston-Croke says.
Not only would Sr Phil approve of such a Centre being established but she would be equally delighted with the Boarding Bursary, particularly in light of her long and close engagement with boarders, particularly during her time as Director of Boarding at Kincoppal-Rose Bay.
The Sr Philomene Tiernan RSCJ Boarding Busary will means-test applicants and provide the financial support to families on lower incomes to enable their son or daughter attend and board at one of Australia's oldest private Catholic schools.
Within less than 12 months of the MH17 tragedy efforts by members of the Kincoppal-Rose Bay community and those who knew and loved Sr Phil have not only managed to raise enough money to operate the Boarding Bursary over the next few years, but enough money to operate the Bursary in perpetuity.
"This is not just a tribute to the hard work many people put in to raise these funds but a tribute to Sr Phil, and how much she was loved and the esteem in which she was held," says Ms Johnston-Croke.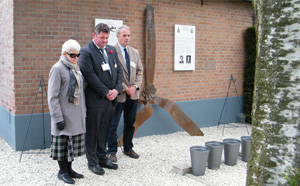 Later in spring there will be another ceremony dedicated to Sr Phil when sunflower seeds collected from the field in which the doomed MH17 flight came down in East Ukraine will be planted in the school grounds in her memory.
Award-winning Australian journalist Paul McGeogh and photographer Kate Geraghty were among the foreign journalists reporting from East Ukraine after the Malaysian flight was shot down, and who on impulse collected sunflower seeds from the killing fields to give to grieving families to plant as a special keepsake and potent reminder of those they had lost.
"Our seeds are among the second batch to be sent to Australia," says Ms Johnston-Croke who believes that the garden of sunflowers along with the Boarding Bursary and Learning Centre created in Sr Phil's name will ensure her legacy is not only meaningful but continues to resonate with students and staff for many years to come.
Sr Phil was among the last of the 298 passengers and crew on the ill-fated Malaysian Airlines' flight to be identified, and it is understood that members of Sr Phil's large extended family are currently in the process of organising dates and finalising plans to travel to the Netherlands to attend her cremation and bring the ashes back home to Australia for burial.