Same-Sex 'Marriage': Evolution or Deconstruction of Marriage and the Family? - Archbishop Fisher OP
Catholic Communications, Sydney Archdiocese,
16 Jul 2015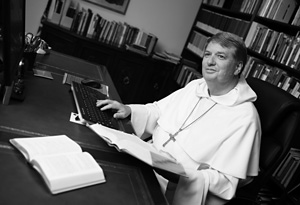 The Archbishop of Sydney, Most Rev will give an open address next week on why marriage matters and the importance of marriage and family in today's society.
The address will be held early Wednesday evening in the school hall of St Mary's Cathedral College.
Supported by the Order of Malta, the address is the fifth in a lecture series on the Order's Defence of the Faith.
As founding Director of the John Paul II Institute of Marriage and Family Archbishop Fisher has spoken often in Australia and internationally in defence of marriage.
However the challenges thrown out to traditional marriage have become more intense recently with strong lobbying and campaigns for a change in Federal law.
A change from the long-held legal definition of marriage as a "union between a man and a woman to the exclusion of all others" to "the union between two people".
Redefining marriage this way would enable those of same-sex attraction to be legally married.
But marriage doesn't just harmonise two people's emotional lives.
"Reducing marriage to whatever gives adults emotional satisfaction leaves us with no real reason such a union should be for life (as feelings aren't), why it should be between only two people (three or more may love each other too), or why government should regulate it at all (we don't need a registrar to tell us who to love for how long)," Archbishop Fisher has said.
The Archbishop has also expressed concern that those who support the traditional view of marriage are considered bigoted and discriminatory.
" This can be an uncomfortable position, for some politically, culturally and commercially powerful forces are determined to silence any alternative to the politically correct position in this matter; to bully us all into accepting the deconstruction and redefinition of a fundamental institution; and to relegate questions of what marriage is and is for as secondary to an homogenizing 'equality'," he said in a recent homily to celebrate the renewal of marriage vows for 120 couples at St Mary's Cathedral.
Those interested in attending Archbishop Fisher's address on Marriage and Family in Contemporary Society next Wednesday at 6pm at the Cathedral Hall should contact info@smom.org.au