Archbishop Welcomes New Ethiopian Cardinal
Catholic Communications, Sydney Archdiocese,
10 Jul 2015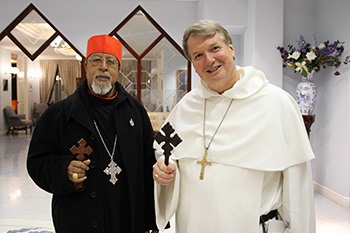 Australia maybe a long way from Ethiopia but there is a large and vibrant Ethiopian community here - and they're very happy to see their new Cardinal visit.
However one of the first stops was to visit Cathedral House where Cardinal Berhaneyesus Demerew Souraphiel was welcomed by the Archbishop of Sydney Most Rev Anthony Fisher OP.
Cardinal Souraphiel of Addis Ababa was one of twenty new Cardinal created by Pope Francis earlier this year at St Peter's Basilica.
He is in Australia to visit his Vincentian confreres and also attend the 25th General Assembly of the International Federation of Catholic Universities next week in Melbourne which is hosted by Australian Catholic University. This coincides with the 25th anniversary of the establishment of ACU.
The theme of this year's General Assembly is "Times Change. Values Endure", something with which the new Cardinal would surely be familiar coming from a country which has seen both spiritual riches and bloodshed, periodic droughts and famines. However the landlocked African country, Africa's oldest independent country and its second largest in population, has a unique cultural heritage.
It is the home of the Ethiopian Orthodox Church, one of the oldest Christian churches, and a monarchy that ended in the coup of 1974. Despite the hardships of widespread poverty and illiteracy the Christian faith has endured. And grown.
Archbishop Fisher and Cardinal Souraphiel spoke of the challenges generally facing the universal church but also of the issue on which both churchmen speak often - family values.
After receiving the "red biretta" from Pope Francis in February, Cardinal Souraphiel said he wanted to bring the richness of African values to bear in the College of Cardinals.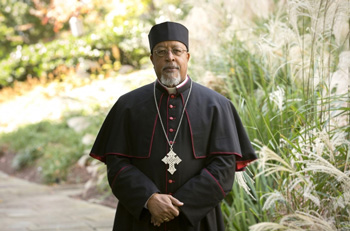 "Africa may be poor in material things but is very rich in values, especially traditional values; family values; the treasure of the extended family; the value for life; respect of elders; the value of receiving the pilgrim, the stranger, the guest, as an angel of God. Africans should not be ashamed of our roots and our values and we should not copy or exchange them for cheap ones coming from elsewhere. What we need is to strengthen them. We also need to know our histories," he said.
Archbishop Fisher said he was delighted to welcome the Cardinal and told him of the richness and vigour the Ethiopian community brings to the church in his Archdiocese.
Following the meeting the Cardinal was also welcomed by one of the many women from Sydney's Ethiopian community, Youdit Desta.
He will be welcomed by many more of his compatriots and those who have settled here during his visit to Melbourne.
(Sydney images from The Catholic Weekly)