Man of Stature Mourned: John McEwen 1930-2015
Catholic Communications, Sydney Archdiocese,
4 Jun 2015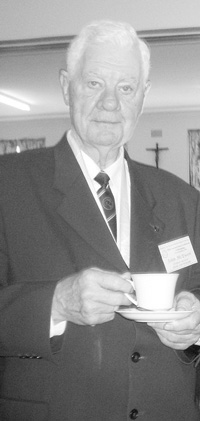 Admired, respected and loved by many, John Cleland McEwen, Warden of St Mary's Cathedral for 30 years and a former NSW Chairman of the Knights of the Southern Cross, died on Monday, 1 June. He was 85.
"John was a man of stature and more than just physically," says Greg Briscoe-Hough of the Knights of the Southern Cross and a long-time friend of Mr McEwen. "Whilst his height and outgoing nature made everyone aware he was in the room, it was his dedication, profound faith and commitment to the Church, family and the welfare of others that made him impressive."
Paying tribute to Mr McEwen this morning, Mr Briscoe-Hough who is a Knight Consultor and also a former State Chairman of the Knights of the Southern Cross, recalled how the pair first met.
"It was during his long-time role as the Warden of St Mary's Cathedral where he was always ready with an anecdote of past experiences and personages. As Warden he had the capacity of being able to tread that fine line between being the welcomer of a bereaved family while taking care of the unruly who challenged the quiet and sacredness of the Cathedral," he said.
In remission for several years, after being diagnosed with multiple myeloma, Mr McEwen was hospitalised four weeks ago after the cancer returned. Surrounded by his family, he passed away on Monday evening at Neringah Hospital, Wahroonga.
Mr McEwen is survived by his wife, Patsy, their four daughters Peta, Kate, Monica and Sara Jane, their two sons, Malcolm and Robert and the couple's 19 grandchildren and four great grandchildren.
Born on 28 February 1930, Mr McEwen was the eldest of six. He grew up Adelaide, South Australia where he and his siblings attended primary school. In 1940 after World War II broke out, he was sent to Sacred Heart College, Somerton.
An electrical engineer and lieutenant in the militia, his father Herbert Robert McEwen enlisted and within a short time was promoted to Lieutenant-Colonel in charge of 28,000 men.
In the early years of the war, the family moved to Nathalia in Victoria's Goulburn Valley. However once Mr McEwen's father, Dominic McEwen joined the Australian troops fighting in New Guinea in 1943, the family returned to Adelaide.
Immensely proud of his forebears, Mr McEwen frequently told the story of how his grandmother, Ethel Freeman became a Catholic.
"She was a Methodist and stood up for a young pregnant and unmarried friend who was being expelled from the Methodist Church in Gawler. 'If she goes I go,' my grandmother declared and walked out with her friend. The next Sunday the Minister of the Church called for prayers for Ethel's father, saying she had disgraced him, my great grandfather stood up and said: 'would that I had the same courage if one of my friends was in trouble.'"
According to Mr McEwen a short time later his grandmother became a Catholic where she met his grandfather, Dominic McEwen.

He was equally proud of the family's distant cousin Veronica Lawrence who was one of St Mary of the Cross MacKillop's sisters when Bishop Shiel of Adelaide excommunicated Mary and her congregation of 47 nuns in 1871.
"Veronica took Mary to stay for a time with her uncle, John McEwen. Eventually the order was rescinded and the congregation reinstated," he was found of telling family and friends, adding that: "Veronica was a smart woman and went to Ireland where she bought an old castle, stripped and sold its marble to pay for it and turned it into a convent for young women to recruit them for Australia."
The Josephites Ireland connection continues to this day.
Trained as a pharmacist, John McEwen completed his degree at the University of Sydney and worked extensively in the field of pharmaceuticals in Australia and Asia. He was appointed Managing Director of Knoll Laboratories Australia and its subsidiary Berk Pharmaceuticals in the 1970s. Then in 1981 he joined financial planning group, Robert Morrison& Associates. Later he would obtain his financial planning license and set up a financial planning business with his son Robert.
Mr McEwen joined the Knights of the Southern Cross as a 21-year-old in 1951 and held many executive state and national positions over the years, including being the Knights representative on the Board of the Aboriginal Medical Centre for more than a decade. He was also a Life Member of the Order.
In 1986, as a member of the Knights of the Southern Cross Pymble branch, he headed up a pilgrimage to Australia's many dioceses to promote the canonisation of Mary MacKillop.
The same year he also organised the Knights of the Southern Cross in Penola to construct two large crosses, one of which became the gift of the Archdiocese of Sydney to St John Paul II during his visit several months later.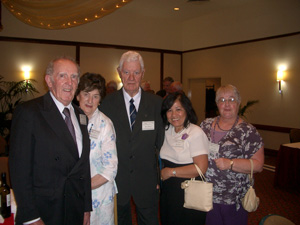 During his 33 year involvement with St Mary's Cathedral which included his three decades as Warden of the Cathedral, he helped organise ushers for the 1986 visit by St John Paul II as well as for the Holy Father's second visit in 1995.
"Whenever we met, John would also give me an update on the latest challenges facing his children and grandchildren, constantly reassuring me that despite her frailty, his wife Patsy was 'still in charge," Mr Briscoe-Hough said and believes it was Mr McEwen's personal experience of being an inter-generational carer that give him such an awareness of the plight of others.
"For many years John sought the ways and means of establishing a care option for those individuals who would be left alone once their parent carers had passed to their eternal reward. While this specific goal was not achieved in bricks and mortar, the associated lobbying gave much impetus to the National Disability Health Scheme," he said.
The Requiem Mass for John McEwen will be held on Tuesday, 9 June at Corpus Christi Catholic Church, St Ives commencing at 11.a.m.