People on a Search for Peace, Healing & Meaning to Their Lives
Catholic Communications, Sydney Archdiocese,
3 Jun 2015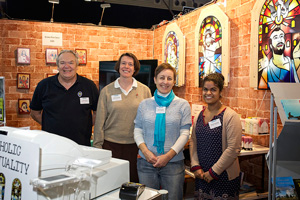 At Sydney's Mind Body and Spirit Festival last weekend one of the big surprises among the 200 stalls showcasing everything from soul cooking to free spine and health checks, Equinox Astrology and face readings was a stall on the corner of one of the aisles sporting the banner: "Catholic Spirituality."
Even more surprising were the 1300-plus people who visited the stall over the four days of the Festival wanting to know more about the Catholic faith. Some were already strong Catholics, but the majority were still searching. These included some lapsed Catholics but most were people from other denominations or faiths, or those with no faith at all.
"Instead of waiting for people to come to us, it's up to us to reach out to them and go where they are," says Catherine Kennedy, Director of the Archdiocese of Sydney's Office for Catholic Renewal and Evangelisation Diocesan Office (CREDO).
"Overwhelmingly people today are searching for meaning in their lives. This was one of the main motivations for the thousands who attended the Festival. From large numbers of those we spoke with, we discovered they were also looking for healing and to find peace," she says.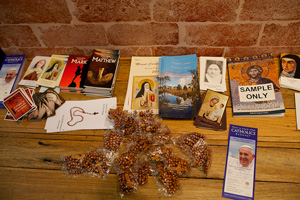 Of the 17000 who attended the four day Festival that began on Thursday, 28 May and ended last Sunday, 31 May, the majority were women between 25 and 54.
"This was also the same demographic we experienced at our stall," Catherine says. "Quite a few men and a number of teenagers stopped by our stall but there is no doubt most of those who wanted to talk about their concerns, their lives and their spirituality were women."
The Catholic Church warns of the spiritual dangers inherent in disciplines such as Yoga, Reiki and Meditation and teaches us not to believe or support quackery such as fortune-telling whether by astrology, tarot or psychic readings. Some of these different practices and disciplines had stalls at the Mind Body & Spirit Festival along with fitness stalls and a wide range of stalls devoted to organic foods, nutrition and health.
To set up an informational stall on Catholic Spirituality amongst all of these various types of clairvoyant and face reading stalls was not only new but historic.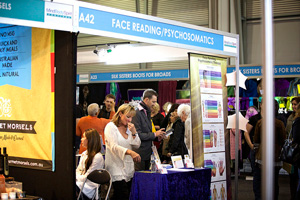 It also required a certain amount of courage.
"We thought we might get a few nasty comments or bullying but the entire four days were extremely positive. Not one person said anything against the Church or the Catholic faith. Instead the majority were keen to find out more," says a delighted Catherine.
The idea to hold the first "Catholic Spirituality" stall at Sydney's bi-annual Mind Body and Spirit Festival was the brainchild of John Collins, Acting Director of the Australian Catholic Bishops Conference's Catholic Enquiry Centre.
"John and I talked about his idea when we were at last year's Proclaim Conference and I was immediately on board. It was such a great opportunity to evangelise, I jumped at it," Catherine says.
Together the pair went through the statistics of attendances at past Festivals and firmly believed that setting up a stall offered a not-to-be-missed chance to reach out to a large number of people giving them the opportunity to encounter Christ and the great gift and healing power of His love.
But both admit they never expected or imagined such a huge response.
"It really was the New Evangelism 101," says John, adding that in today's fast-paced time-poor world there is a need for people to connect with someone, to talk to someone who listens and to find meaning, depth and substance to their lives.
"Of all those we met and spoke with, there was an overwhelming sense that what they wanted most was healing. Some had been hurt emotionally and were looking to heal. Others were hurting physically while still others wanted healing for their mind and their spirit," he says.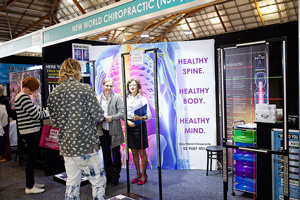 One woman, who said she was a musician, had just been told she was going to lose her hearing, and asked for prayers to help her heal.
Also part of the team giving advice, counsel, a friendly ear and information on "Catholic Spirituality" were Sister Rosie Drum MGL, Father Gerard Moran OCD, CREDO's Simone Fernandes, volunteer seminarians and the Manager and Secretary of the Mount Carmel Retreat Centre at Varrowville.
During the Festival Catherine says they also gave away more than 1,000 rosaries along with an accompanying information sheet headed: "What these beads are for" which explained what the rosary was, its meaning as well as prayers to be said while praying the rosary.
Resources such as DVDs, books and leaflets were also popular, as were bookmarks featuring an image of Pope Francis and a prayercard.
"Even though they were not Catholic, many of those who came to the stall wanted to talk about Pope Francis and how much they admired him," Catherine says.
The icons intrigued many people as well, particularly a pair of youngsters who wanted to know what the symbols on the different icons meant.
"I explained the symbols and told them about the Resurrection and a little catechesis," Catherine says.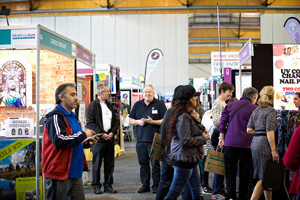 By the time the Festival ended there were 83 specific requests from those who had visited the stall to the Catholic Enquiry Office asking for follow-up calls. A large number also gave email addresses and other details to CREDO. Many also wanted more information on the Mount Carmel Retreat Centre and were keen to attend a five day retreat.
"I am still going through all the requests we received and the prayer intentions," says Catherine.
After weeks of organisation, two days of setting up the stall and its display, and a further four days at the stall from 10am to 7 pm at the Festival which was held at the Exhibition Hall, Sydney Olympic Park, Homebush, Catherine admits she is tired. But she quickly adds she is also "buoyed and excited" about the success of the venture and with John Collins hopes to run another stall on Catholic Spirituality at the next Mind, Body and Spirit Festival in October.