Vinnies 10th CEO Sleepout Hopes to Raise $10 million for Homeless
Catholic Communications, Sydney Archdiocese,
2 Jun 2015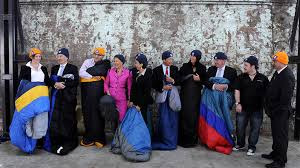 Donations in NSW have already topped $2 million with millions anticipated from sponsors, friends and families of Australian CEOs over the next two weeks ahead of St Vincent de Paul Society's 10th annual CEO Sleepout on 17 June.
In Sydney the Sleepout will be held at Luna Park and although all those sleeping rough will be doing so for a good cause there might not be too much amusement - just a little soup, bread roll and sheet of cardboard to bunk down on for the cold night ahead.
Since the first CEO Sleepout in 2006, Vinnies' CEO Sleepouts have raised $24 million to support homeless services across the country and raise awareness about the 105,000 Australian men, women and children who are without shelter and a safe place to sleep on any given night of the year.
The brainchild of Bernard Fehon, the Penrith-based financier and long time volunteer and supporter of Vinnies, the CEO Sleepout began on 21 June at Telstra Stadium, Homebush - as the ANZ Stadium used to be known - when 20 local CEOs including Bernard, climbed into sleeping bags and spent the night in freezing temperatures to experience a little of what it is like to be homeless. They also managed to raise $30,000 for Vinnies' Homeless Services.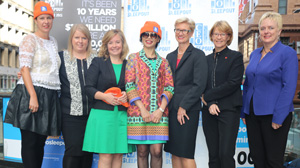 The following year double the number of CEOs took part who raised $60,000, double the amount of the previous year.
By 2010, the CEO Sleepout had gone national. For the first time Perth, Darwin, Adelaide, Melbourne Brisbane and Canberra joined Sydney. Each Sleepout was held on 17 June with more than $2.9 million raised to help the homeless.
This year along with Melbourne, Sydney, Canberra, Perth, Adelaide and Brisbane, CEOs from Darwin, Newcastle, Alice Springs, Launceston, Townsville and Wollongong will also take part in Vinnies' 10th CEO Sleepout fundraiser.
A record 1189 CEOs from towns and cities across the country have signed on for this year's event.
The target for the 2015 CEO Sleepout has been set at $10 million to mark the 10th year of what has become one of Australia's most successful fundraisers. With $2 million already donated and two weeks to go, it is more than likely that this year's CEOs and their sponsors will achieve their goal.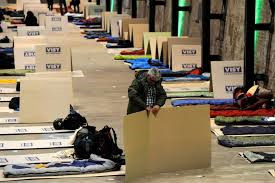 In addition to raising money, Vinnies' CEO Sleepouts help increase awareness of the plight of those experiencing homelessness, and dispelling many myths that surround those who are homeless.
Contrary to popular belief, those experiencing homelessness are not men in late middle age who may or may not have problems with alcohol or substance abuse. Instead the majority are young people aged between 19 and 34. Even more troubling is that 17% of Australian's who have nowhere to sleep are children under the age of 12.
For many it will also come as a surprise to discover that 44% of those who are homeless on any given night of the year are women.
More than two thirds of these women are under 35.
Female homelessness, which is on the rise, is the focus of this year's CEO Sleepouts.
To raise awareness of homelessness among women, particularly among young women, seven of Sydney's leading female CEOs gave their time and clout at the public launch of this year's Sleepout in Martin Place on 9 April this year.
One of the major causes of female homelessness is domestic violence.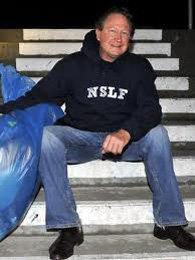 Fleeing situations of family violence, women are frequently unable to find safe, affordable, alternative accommodation for themselves and their children, and are forced to live from hand to mouth in refuges, overcrowded boarding houses or even in their cars.
"Female homelessness is on the rise and intrinsically linked to a lack of social and affordable housing," says Michael Perusco, CEO of Vinnies NSW.
In past years CEOs taking part in Sleepouts for the homeless have included many of Australia's best known business leaders, corporate chiefs and politicians. As Opposition Leader, Prime Minister Tony Abbott was a regular at Sydney's CEO Sleepout along with Minister for Communications, Malcolm Turnbull, former PM Kevin Rudd, billionaire mining magnate Andrew "Twiggy" Forrest, Minister for Education, Christopher Pyne, CEO of CatholicCare, Bernard Boerma, Bishop Bill Wright of Maitland-Newcastle, NSW politician Linda Burney, media personality Deborah Hutton and long time CEO Sleepout supporter, Holly Kramer, CEO of Best and Less.
Malcolm Turnbull is a veteran of four of Vinnies' CEO Sleepouts and this week began emailing constituents in Sydney's Eastern Suburbs urging them to donate to this year's Sleepout.
"The campaign will raise important funds so the Society of St Vincent de Paul can continue the important work they do in helping the homeless break the cycle of despair by offering them short term crisis accommodation, counselling and opportunities for education and training."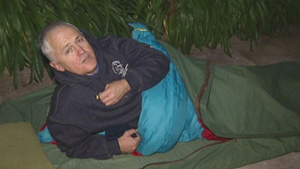 Each year funds raised by the CEO Sleepout go towards helping those who are homeless or at risk of becoming homeless in each state and territory across Australia.
Last year NSW raised just over $2 million with this money spent supporting vocational education and employment programs delivered through Vinnies Ozanam Learning Centre . Funds also went towards the roll out of the successful Ozanam Learning Centre in Sydney to regional a centre in NSW. In addition funds raised by in NSW supported food and accommodation for people experiencing homelessness as well as providing affordable medium-term accommodation for individuals and families until they are able to get back on their feet.
Projects in each of Australia's other states and territories also benefited from funds raised by the CEO Sleepouts, and put these funds towards projects that were most needed.
Queensland for example expanded its home visitation service to families at risk of becoming homeless, funded Vinnies' ongoing provision of food and food vouchers and the provision of blankets, clothing and medication to both the homeless and those at risk of becoming homeless. Other funds went to mental health outreach services, drug and alcohol counselling programs, disaster relief assistance and other vital initiatives.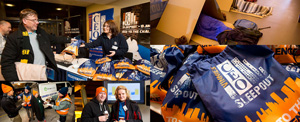 Funds raised by the CEO Sleepout in Tasmania helped support Bethlehem House, a 24-hour service centre for homeless men in Hobart, Vinnies' night patrol ban that distributes food and blankets for those sleeping rough and help for renters who have fallen into arrears due to financial challenges, and at risk of losing their homes.
Vinnies in the other states and territories distributed funds raised by the 2014 CEO Sleepout to support projects that help those experiencing homelessness as well as providing them with opportunities for education, job skills and a leg up.
This year's Sydney CEO Sleepout will be held at Luna Park on Thursday, 17 June.
To sponsor a CEO or donate to the 10th Vinnies' CEO Sleepout log for the homeless log on to https://www.ceosleepout.org.au/