St Mary of the Cross Parish Priest's Deep Connection to Australia's First Saint
Catholic Communications, Sydney Archdiocese,
26 Jun 2015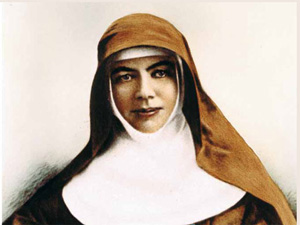 Prayers by family, friends, clergy, parishioners and the Sisters of St Joseph asking St Mary MacKillop for her intercession for the recovery of youthful Wollongong priest, Father David Catterall in his challenge with cancer have been answered not once but twice.
Now Fr David, who trained at the Seminary of the Good Shepherd, Homebush, has been appointed founding priest of the first new parish to be established by the Diocese of Wollongong over the past 21 years.
This week the Bishop of Wollongong, the Most Rev Peter Ingham announced that the new parish at Oran Park would be named after Australia's first saint and would be known as St Mary of the Cross Parish. He also announced his appointment of Fr David as founding priest for the new parish.
"It's been an exciting time and in God's Providence, my first day as parish priest at Oran Park coincided with the exact anniversary of Mary MacKillop's journey on 23 June 1867 when she left Penola to found a ministry in Adelaide," Fr David says.
For the past 15 years, Fr David has been parish priest at Albion Park, where he grew up and where his parents, sister, brother-in-law, niece and two nephews are active parishioners. Albion Park was also visited by St Mary MacKillop several times and was where she established St Paul's Primary School back in 1882, which 133 years later is still in use and still part of the parish.
At his farewell from Albion Park on Sunday, 21 June family, friends and parishioners packed the Church where a candle engraved with Mary MacKillop's name was passed down the main aisle and handed to Fr David, whereupon his family jumped up and surrounded him, joining him in prayer.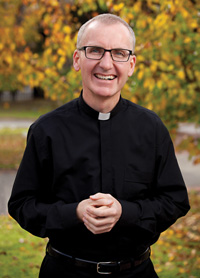 But perhaps the most revealing comment came from one of Fr David's Albion Park devoted parishioners, who spoke of his second battle with cancer last year, telling him "we journeyed with you and prayed for your recovery, and to see you today in restored health makes it clear Mary MacKillop planned something greater for you, and that you had to get well."
At 27, Fr David had just completed his studies at the Seminary of the Good Shepherd in Sydney and was serving as a deacon, and looking forward to his ordination, when he noticed a small hard lump on his chest. Convinced he must have injured himself playing sport, he thought it would disappear within a few days. But when it didn't go away, he had his doctor check it out.
His doctor instantly referred him to an oncologist where after a series of tests, Fr David was shocked to hear the lump was malignant. He had breast cancer.
Unlike women, malignancy of the breast in males is extremely rare and affects less than one percent of the population.
"With no history of cancer in the family, it was a freak thing and took me completely by surprise," Fr David admits, adding until that day in the oncologist's office he wasn't even aware men could get breast cancer.
But what worried him even more than being told he had cancer was treatment including surgery might interfere with his ordination planned for 20 May, 2000, a little over 10 weeks away.
Almost immediately Fr David was admitted to hospital where he underwent a radical mastectomy. An intense course chemotherapy was scheduled to follow once he recovered from the surgery. However, aware this would mean many months of debilitating nausea, weight loss and weakness, Fr David approached the then Bishop of Wollongong, the Most Rev Philip Wilson (now Archbishop of Adelaide) and asked if the date of his ordination could be brought forward.
"John Paul II's writings gave me great comfort at this time, particularly the book about his own priestly journey. In this book he speaks about his time as a Cardinal in Krakow and how in times of war, ordinations often had to be carried out privately and in secret. I told Bishop Wilson that while Australia was not at war, my family and I were going through our own war situation, and asked if there was any chance of being ordained earlier than planned, even if it meant there'd only be a few people present," Fr David says.
"Which was when the Bishop got up from his desk, opened his diary and said: 'what about next Saturday morning?'"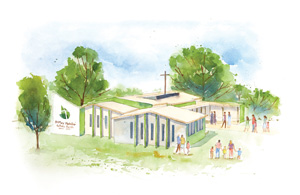 Although the ordination at Wollongong's St Francis Xavier Cathedral on 25 March 2000 was rushed, parishioners from across Wollongong filled the Cathedral. Many came from Oak Flats and Albion Park, where Fr David had grown up in a ceremony that was both joyful and poignant, with many there unsure if the popular young priest would survive.
News of the hurriedly organised ordination, and Fr David's battle with cancer became big news in Wollongong with local radio, the ABC and commercial TV networks covering the ceremony.
"I was told I didn't have to go public with my illness. But I believed sharing my story was a way of helping other people," he says, adding he gained strength to do this from the example set by Cardinal Joseph Bernadin, Archbishop of Chicago whose book, "The Gift of Peace" was a personal reflection on the Cardinal's discovery he had terminal cancer. Diagnosed with pancreatic cancer, he died a little over a year later, but his book and cancer ministry continues to touch the lives of millions on both a spiritual and personal level.
Four days after he was ordained a priest, Fr David began eight months of gruelling chemotherapy, followed by an intense course of radiation. To help him on this difficult journey, prayers for his recovery were offered by the clerics and parishioners of Wollongong, and those in his home parish of Albion Park. Also praying he would win his battle with cancer were the Josephite sisters in the region, asking their founder, Mary MacKillop for her intercession in Fr David's recovery.
"The Josephites' charism is like a wonderful mantle over the entire area around Albion Park," says Fr David, remembering how in his final years at school, he had joined a prayer group run by the Sisters of St Joseph, during which time he had his first serious thoughts about the priesthood as a vocation.
Appointed assistant priest at Wollongong's Cathedral, Fr David ministered to the Diocese while juggling chemotherapy and radiation treatments, working alongside Bishop Philip Wilson, and later alongside the current, Bishop of Wollongong, the Most Rev Peter Ingham.
As assistant priest, Fr David found great joy in his work and also discovered his battle with cancer gave him a deep understanding and empathy with parishioners who were going through similar situations. "I could genuinely say, I know what you're going through," he says and remembers one evening when he was called to anoint a young man who was dying. "I was in the middle of chemo and had no hair and as I began the anointment, I heard his wife and his mother, who were at the bedside, whisper: 'it's him, it's the priest who's got cancer.' I finished the anointment and turned around, and said: 'yes, it is me and I know what you are going through'."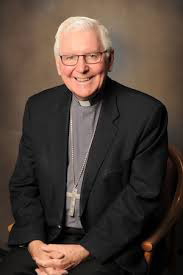 After more than a year of chemo and radiotherapy, during which time he lost his hair and battled nausea and fatigue, it seemed the Sisters of Joseph's prayers to their founder Mary MacKillop had been answered, and Fr David began to regain his health and his energy.
But like all cancer survivors, he was aware the battle might not be over and in 2005, after attending World Youth Day in Cologne, Germany and returning to the Rosemeadow Parish, near Campbelltown, where he had been appointed Assistant Priest, he experienced pain in his chest cavity. Heading back to Wollongong to see his oncologist, he yet again underwent scans and examinations.
The results were not promising and Fr David was told there was a 90 percent chance there was a malignancy.
Clergy and parishioners throughout the Wollongong Diocese were told their young priest was about to undergo exploratory surgery to determine if the shadow on the scan was in fact cancer, and were once again asked to pray for him and his family. The Sisters of Joseph, as they had done before, prayed for Mary MacKillop's intercession so Fr David could be restored to full health.
Then as Fr David was prepared for surgery, he was visited by a fellow priest, who offered him the loan of a small piece of wood taken from Mary MacKillop's original casket. The coffin had been replaced when she was reburied in the Josephites' Mother House at North Sydney five years after her death in 1909, and the wood from the original casket had become rare and treasured relics of Australia's first saint.
Holding this blessed relic, Fr David was wheeled into surgery. The relic remained with him throughout the operation and when he woke, he discovered the shadow on the scan was not cancer as he and his doctors had feared, but in all likelihood simply a small but now healed fracture.
Pronounced cancer-free and healthy, Fr David was determined to give thanks to the Sisters of Joseph and Mary MacKillop and in late 2005, he travelled to Sydney with his family, and friends from the Wollongong Diocese, for a Thanksgiving Mass at the Mary MacKillop Memorial Chapel on Mount Street, North Sydney. And this was where the Sisters of St Joseph presented him with his own precious relic taken from the wood of their founder's original casket.
The relic is one of Fr David's most treasured possessions and along with his own prayers and those of family, friends and the Sisters of St Joseph gave him hope after being diagnosed with another form of cancer in June last year.
Non-Hodgkin Lymphoma is a blood cancer that affects the body's lymphatic system and can in rare cases be a side effect of intensive chemotherapy. In Fr David's case the intense chemo he received for breast cancer may well have led to this new form of cancer.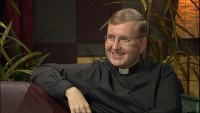 Chemotherapy, however, was deemed the best way of beating this new cancer, so for the next six months, Fr David again underwent this often gruelling and debilitating therapy.
Finally in December last year, the chemo was over. Even better, was the results of his first scan which revealed no evidence of Non-Hodgkin Lymphoma.
St Mary of the Cross Mackillop, as one of his Albion Park parishioners had insisted, had greater plans for Fr David and interceded to ensure his recovery.
Today, physically healthy he has already begun his ministry at St Mary of the Cross Parish. He has met with many of the parishioners of the new parish, visited St Benedict's Catholic College, the fast-growing co-ed high school which opened its doors in 2011, as well as St Justin's Primary. He has also met with the local Anglican and Uniting Church ministers and contacted Fr Danny Meagher, Rector of the Seminary of the Good Shepherd to ask for his advice and counsel.
"Fr Danny was founding priest at the Archdiocese of Sydney's Holy Spirit Parish at Carnes Hill which borders the Oran Park Parish and his help and advice are invaluable," Fr David says.
At present, St Mary of the Cross Parish has no church but work will begin almost immediately on a new parish centre and worship space which is set to open before the end of the year. This will operate as the church and parish centre until a permanent structure is required as the fast growing district of Oran Park continues to expand. In the meantime, Fr David will celebrate Mass in a demountable in the grounds of St Justin's Primary School at Oran Park as well as at the nearby Catholic Church at Leppington.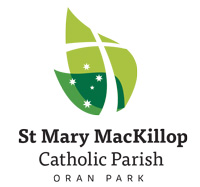 "No doubt you've heard the phrase a house is not a home, and the same applies to a Catholic parish. A parish is not just a church building but is created by the people who make up the community," he says.
Looking further ahead, Fr David is already making plans for 2 August, six days before St Mary MacKillop's Feast Day on 8 August, when Bishop Ingham will install him as parish priest at a special Mass to be held at St Mary's Catholic Church, Leppington. A week later, on 9 August Fr David will celebrate St Mary of the Cross with Mass and a day of festivities for the whole family.
Then on 16 August, exactly a week after the Feast Day, he will be joined by his new parishioners and make a pilgrimage to Mary MacKillop Place at North Sydney to pray beside the tomb of St Mary of the Cross, and give thanks.
Congregational Leader of the Sisters of St Joseph, Sister Monica Cavanagh RSJ has written to Bishop Ingham to say she prays St Mary of the Cross would bring many blessings to the new parish.
"We are aware of Fr David Catterall and his devotion to St Mary MacKillop and it is wonderful to know that his parish will bear her name," she said.