Notre Dame Study Week Gives HSC Students a Head Start
Catholic Communications, Sydney Archdiocese,
24 Jun 2015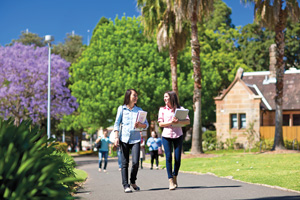 In July schools across NSW are on their winter break. But for 100 Year 12 students the final week of their school holidays will be spent back in the class room at the University of Notre Dame's Broadway Campus learning all the skills and tips to give them a head start when they sit the all important HSC exams in October.
From Monday 6 July until Friday 10 July, students from Sydney's Catholic, Independent and public schools and from high schools on the NSW Central and South Coasts will spend six hours a day gaining valuable insights and advice from a team of HSC teachers, all of whom are either current or past HSC markers.
"The emphasis of the week's course is not on covering content but concentrates on the practical skills of studying such as time management, the importance of organisation, application of knowledge together with a wide range of practical tips and advice," says Associate Professor Alistair Symons, Director of Academic Enabling and Support Centre at UNDA.
Although other universities in Sydney offer HSC preparation courses to Year 12 students, despite high demand Notre Dame limits its HSC Study Week intake to just 100 students.
"The philosophy at Notre Dame is personalised learning and by capping our intake at 100, we are able to give each student individual attention. Each of the classes offered during HSC Study Week have no more than 15 to 20 students. This means each student is able to receive one-to-one attention from his or her teachers," Associate Professor Symons says. "With small class sizes we are able to address individual learning needs as well as individual problems or fears over the upcoming HSC."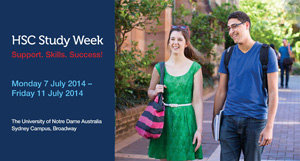 The jam-packed curriculum organized for the 2015 HSC Study Week at UNDA's Sydney campus equips students with a range of study skills to help alleviate stress and pressure, enabling students undertaking the HSC this year to perform to the very best of their ability.
Each of the 16 teachers who will be taking HSC preparation classes not only has experience as an HSC marker but is also highly qualified in their specific areas. Among the outstanding teachers conducting workshops and classes this year are Chris Gould from St Aloysisus College where he teaches HSC Chemistry and has clocked up more than nine years experience as an HSC marker; Bill Bourke who is Senior HSIE Teacher at Patrician Brothers College, Fairfield with 18 years experience teaching HSC geography and HSC Business Studies and has been a marker of HSC Business Studies for 16 years and a marker for HSC geography for five; Brett Hall of Monte Sant Angelo Mercy College where he has taught senior Mathematics and Physics for six years as well as senior International Baccalaureate Higher Level Physics; Amanda Julian, also from Monte Sant Angelo where she is a senior teacher of Studies of Religion, has had more than 25 years HSC teaching experience and four years of HSC marking experience.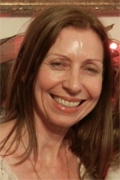 Other expert teachers participating in next month's HSC Study Week at Notre Dame include Jeanette Holland, Assistant Principal of Marian College, Kenthurst who has taught Economics for 27 years and been a marker of HSC Economics for four years; Jaime Rodriquez, Head of Secondary School at All Saints Grammar where he teaches HSC English and has had 15 years HSC marking experience; Mark Kambas senior HSIE teacher at Patrician Brothers College, Fairfield is an experienced HSC marker and for the past three years Senior examiner for the HSC Business Studies course.
Each day of this year's study week will begin at 8.30 am for a meet and greet and coffee or tea followed by classes from 9 am until 4 pm each day with breaks for morning tea and lunch.
Monday, 6 July will kick off with workshops on time management, reading skills, note taking skills and managing stress. Later in the day there are classes for students studying maths, legal studies and English (critical study) and English (creative study). There are also times set aside for supervised study.
Tuesday, 7 July includes preparation for the HSC English (standard) including detailed analysis of texts. English is compulsory for all students sitting the HSC and Tuesday also includes English Standard and English Advanced exam Essay Writing workshops.
English exam preparation and analysis of texts as well as the Essay Writing workshops continue throughout the week. Students may also attend classes in Physics (core and electives), Modern History (core), Economics I and II, Modern History (electives), Studies of Religion I and II, Business Studies I and II, Chemistry Module 1 and II, Biology, Ancient History and Geography I and II.
Although this is only the third year since UNDA introduced HSC Study Week at its Broadway campus, the response from students as well as their parents has been overwhelming with strong feedback continuing to come in from last year's inaugural cohort.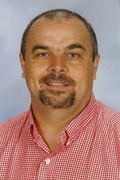 "What I gained from the study week last year was invaluable. It was a great environment and I received guidance in those areas where I needed help," says Hannah McGrory, a former Cheltenham Girls High School student who is now in her first year at Notre Dame where she is studying for a degree in Communications and Media.
Molly Hayward, another former Cheltenham Girls High School student participated in HSC Study Week last year. Now undertaking an Arts degree at UNDA, she says the week gave her immense support and also helped her gain a greater understanding of the subjects she was studying for the HSC.
"Knowing the HSC Trials were approaching, I felt stressed and unprepared, and was really concerned about how I would cope. But after attending HSC Study Week the fears vanished and I was in the right frame of mind to sit the trials. And by the time I did the HSC I was well prepared and confident," she says.
School leavers face enormous pressures and expectations when it comes to the HSC, some of which is played on them by their families, by their school and most of all by themselves.
"A big part of what we try to do in our program is to build their capacity to confidently sit exams which will pay dividends not only during the HSC later this year, but when they enrol at University," Associate Professor Symons says, adding that the $345 cost of attending classes for six hours each day, the five day HSC study week which includes all meals and morning coffees and afternoon tea is great value.
To find out more go to http://www.nd.edu.au/academic_support/hsc-study-week.